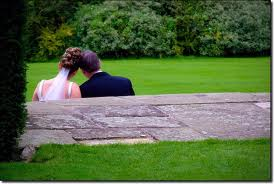 Summer means weddings, whether planning your own or participating in one. June is the most popular month of the year to get married, with August coming in a close second.
My August wedding was almost 20 years ago, yet the memories of planning and preparation are still as vivid as the event itself. The legal ceremony requires little else besides the license, bride, groom, officiant and witnesses, but from there anything goes and is indicative of the personal creativity and budget constraints of the couple getting married.
Tip 1: Make it meaningful.
Remember that your commitment to love each other is the reason for this occasion, so make it meaningful to you as a couple. Music has been an important part of our life, so we gave it an integral place in our special day. Our flower girl (groom's sister) even danced her way down the aisle dropping the dried flower petals I had saved from the many bouquets my fiance had given me.
Tip 2: Name your price.
Decide the amount you want to spend and how much you can comfortably afford; then create a budget that works each desired element into the total cost. The average wedding in the United States costs almost $30,000. But just because you can spend that much, doesn't mean you should. Some couples prefer to use that money for a car or a down payment on a house. Our friends and family members offered their skills as photographer, caterer, musician, event planner, florist and seamstress. The talented participation of our loved ones enabled us to have a memorable day on a smaller budget and surrounded us with a supportive camaraderie.
Tip 3-6: Determine who, what, when, and where.
Each of those four integral words will need distinctive determinations for each option you include in your events. Attendants, attire, parties, ceremony, reception and other related activities bring a myriad of choices. For us it was worth it. It was fun to have interesting aspects reflect our personalities.
Sixteen years ago, we were part of our close friends' gorgeous garden wedding. At their rehearsal dinner we surprised them with a quasi-rap song we wrote just for them. To this day, mutual friends chant the memorable refrain of "Hey, hey, hey, it's your wedding day...."
Tip 7: Discuss the event without discord.
Difficult decisions will need to be made, and differences will surface. Tensions can escalate further when the desires and finances of parents are involved. Choosing the guest list, as well as the wedding party, can be very stressful and may determine the size of the event, which affects cost and location. Focus on what really matters to each of you and keep a healthy perspective. My husband and I have very different ideas so we agreed early on to find solutions that we would both be comfortable with. The enormity of details and the stress of making decisions have led many to elope! Take a deep breath and read these top 10 tips again.
Tip 8: Aspire to be inspired.
Go surfing!! Well, it is summer, and beach ceremonies are popular events...but I really mean, surf the web. Cedar hope chests were commonly given to girls as a coming-of-age gift in the 1950s and '60s. Precious items were collected and stored in hopes of a glorious wedding day and married life. Today, the modern equivalent is Pinterest, the online site where men and women freely save, sort, and swoon over ideas, images and information organized by category and personalized with a pin-it feature. Social media has expanded our sphere of reference, and you can like Weddings on Facebook and follow them on Twitter.
Trends come and go and wedding styles are no exception. From elopements to destination weddings, classic traditions blend with new ideas. Sending out electronic Save the Dates has become a standard practice that was unheard of two decades ago, even by regular mail. Martha Stewart's huge Tiffany blue wedding book was the definitive go-to resource when I was planning, along with a few classic bridal magazines. Now Martha has a site devoted to all things weddings, as does world-renowned event planner Colin Cowie. LifeTips has more than 1,000 tips in 26 different wedding-related categories.
Tip 9: Stay organized.
Planning and preparation will keep your dream wedding from becoming a nightmare. Numerous websites offer free online tools. Even if you hire a wedding planner, detailed lists are a must. Some brides begin a checklist as early as 16 months in advance. Emergencies may happen even with the best-laid plans, but serendipity can be found in the midst of a mess. Minutes before I walked down the aisle, my heirloom lace wedding dress (groom's grandmother's) needed a last-minute repair. The private time my mom and I shared as she calmly mended it was precious.
Tip 10: Enjoy your wedding, your way.
This is your time to sparkle and shine! The intense planning and preparation and the many events from engagement announcements to parties and showers all lead to the ceremony and reception that begin your life as a married couple. We coordinated a wedding weekend itinerary with out-of-town friends and family before we left for our honeymoon. Bask in every exciting moment; then relax together at a romantic resort, bed and breakfast, upscale inn or boutique hotel.

--Shirley Anitra Swagerty