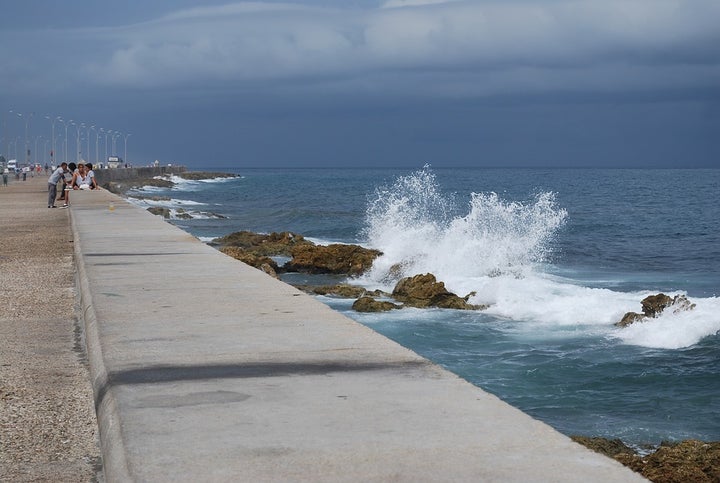 When you go to certain places, there are certain things that really need to be seen. It's not as though you would pass through Paris without seeing the Eiffel Tower. You wouldn't simply saunter through Sydney without visiting the Opera House. And let's face it - you're probably going to take a whole bunch of selfies with these icons in the background. Perhaps Cuba doesn't have all that many internationally iconic buildings and monuments, but who cares? There is certainly a heck of a lot to see and do while on the island. So what are some of the top-rated tourist attractions in the country?
1. Havana's Old Town
While it would be a pity to not see everything else on offer, you could probably spend your entire time in Cuba happily strolling along the streets of the old town (La Habana Vieja). When the sun hits the brightly colored buildings they almost look lurid, and you will want to get lost in the alleyways and narrow streets. The district contains remarkable examples of colonial architecture, with certain landmark buildings looming above others, such as the Church of Angel Custodio and the Cathedral of Havana. The old town was once all that there was to Havana, a small village from which the bustling city emerged and grew.
2. The Malecón
Formally known as the Avenida de Maceo, the Malecón is technically part of the old town, and yet it's a world unto itself. It's simply a long esplanade that stretches along the harbor for 8 km (about 5 miles). The esplanade is a vibrant hub of Havana and many people simply come here to sit by the water and watch the world go by. While it's entire length is a bit too long to walk for some people, it's not as though you need to hike along the whole thing. Just take a gentle stroll, grab a cold beer from one of the many vendors and then sit down and watch the real Havana.
3. Morro Castle
Some people call it the Castillo de los Tres Reyes Magos del Morro, but it's much easier to just call it Morro Castle. This is a mammoth fortress that was constructed in 1589 to protect the Spanish settlement of Havana from hostile forces. It's a forbidding looking building that sits on a small hill at the mouth of the harbor, and while it now mainly observes leisure craft and cruise ships as opposed to naval fleets, it's still a remarkable sight. It's worthwhile to pay the entry fee that allows you to climb to the top of the battlements and imagine what it must have been like to be on guard duty all those centuries ago.
4. University of Havana
Not many visitors to the city will go to the University of Havana (Universidad de La Habana) so you'll only have to share it with the students. The buildings are lovely, and yet you're there for the view. The main campus sits atop a gentle hill that offers an uncrowded view of the city. Truly remarkable.
5. José Martí Memorial
The memorial is one of the highest spots in Havana and has an austere beauty. Martí was a national hero who was killed in battle during Cuba's struggle for independence from Spain. There are numerous monuments to him across Cuba but the tower in Havana is the most impressive. The building has 5 points (so that it looks like a star from above) and climbs to a height of 109 meters. There will be an entry fee, but to climb to the top of the structure is to be rewarded with unforgettable views.
6. Viñales
Viñales is a few hours drive from Havana and it looks like the quintessential sleepy village of your dreams. It offers a relaxed pace of life that allows you to get close to nature. The town is surrounded by lush, rolling fields filled with greenery you might be unfamiliar with. These plants are in fact tobacco crops and Viñales is where a lot of tobacco begins a journey that culminates in being rolled into a cigar. If you tire of the hustle and bustle of Havana (however unlikely that might be), Viñales is the ideal spot to get away from it all for a few days.
7. Valley of the Sugar Mills
Your jaw will drop when you go to this green valley just outside of the city of Trinidad. In addition to tobacco, sugar remains one of Cuba's most important crops and a lot of the sugar production used to be centered around the Valley of the Sugar Mills (Valle de los Ingenios). There are some 70 disused sugar mills in the valley, which has a dark history as the sugar was harvested and produced using slave labor. There are many private tours in Cuba that will allow you to explore the valley in depth, and the most enjoyable way to see it is perhaps on the back of a horse.
8. Bay of Pigs
The beauty of Playa Girón (also known as the Bay of Pigs) gives little clue to the history of the place. It was here that a US-backed attempted invasion of Cuba was staged in 1961. The invasion of course failed, and now you can enjoy the tranquility of the spot where history almost changed for the island.
9. Varadero
Varadero is a geographic oddity. There's so much crammed into the area and yet the town sits on a peninsula that is only 1200 meters across at its widest point. The town is home to some of the fanciest luxury resorts in Cuba, although if your budget doesn't quite stretch so far, you can still enjoy the beach… unless it happens to be a private beach leased by one of the resorts!
10. Che Guevara Mausoleum
Che Guevara was born in Argentina and died in Bolivia, but his exploits in the Cuban Revolution made him one of the most-loved adopted sons of the country. After his remains were discovered in an unmarked grave beside a Bolivian airstrip, he was returned to his adopted homeland to be laid to rest in a purpose-built mausoleum near the town of Santa Clara. The place has a refined, classical beauty that befits Che's respected status in Cuba's society. It really is a must-see.