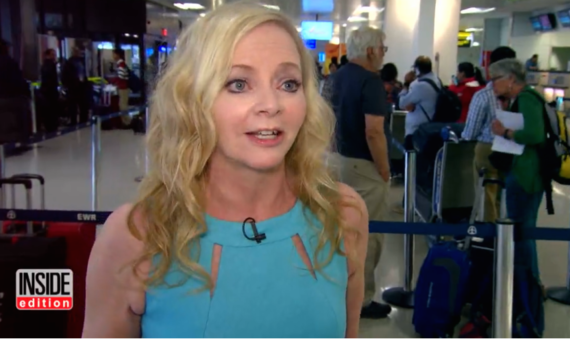 I was back on the television show Inside Edition recently, as a travel expert, giving my Travel Therapy travel tips on how to survive the epic security lines we're seeing at airports across the country. These long security lines are taking people more than two hours to get through, with many people missing flights.
Even more concerning, we're being told many airport security lines are only going to get worse as we head into the popular summer travel months so we need to be prepared.
In case you missed the TV segment I'm sharing some of my insider travel tips here to help you have an inspiring, empowering Travel Therapy trip, and not need "Therapy" after your experience at the airport!
Top 10 Travel Therapy Tips To Beat Epic Airport Security Lines
1) Get Thru Lines Faster: Avoid the epic lines all together by signing up for TSA PreCheck ($85 for 5 years) or Global Entry ($100 for 5 years), NEXUS ($50 for 5 years) that fast tracks you through security. I've gotten through security lines in five minutes that took other people two hours! Sure, there are some steps you have to take and the cost, but isn't it worth $17 a year for five years ( TSA Pre-Check) to avoid those huge lines?
2)Get to the Airport 2 to 3 Hours Before Flight: The TSA is saying forget about the old advice of getting to the airport an hour before your flight boards, saying now you often need to arrive at the airport least 2 to 3 hours early to get through the longer lines and make your flight.
3)Research Before You Fly: A quick Google search or social media search ( #IHateTheWait) will let you now what airports are seeing the longest security lines so you can plan accordingly. It's no surprise you're often seeing the longest lines in the largest airports like Los Angeles International Airport, Chicago's Midway, New York's JFK and La Guardia, New Jersey's Newark, and Seattle's Sea-Tac, but smaller airports are also feeling the crunch, so don't let the size of an airport fool you.
4)Look for Shorter Lines: Don't just go to the first security line you see if that line is long. As a TSA agent if there's a shorter line somewhere else. Wouldn't you rather walk a little more to another gate then be stuck standing in line for an extra hour or two?
5)Pick Your Line Carefully: When it's your turn to go through security quickly check out who is in front of you and don't get behind the family with a bunch of kids, or someone who is untying their shoes or looks confused like they don't fly often. Instead pick the line where it looks like there are business travelers, people who know what they're doing, because that line is going to move a lot faster.
6)Travel Off-Peak: If you can avoid flying on the traditionally busiest travel days ( Friday, Sunday, Monday) and try to fly on a Saturday or Tuesday, you'll will not only usually see shorter airport security lines but find cheaper airfare, a win-win! If you have to travel around a holiday, like Memorial Day Weekend, expect the crowds and plan for the extra time.
7)Be A Smart Packer: Know the TSA rules before you get to the airport and pack accordingly and be ready to go before you get in line. Have things like your boarding pass, ID, computer and cell phones ready to go. Make sure any allowed liquids are in a one-quart clear bag, take off jewelry, shoes, watches, belts, anything that can cause a problem before it's your turn to go through security. Think about it, if everyone in line was prepared how much time it would cut down waiting for the people who aren't. Don't be that person!
8)Carry-On Only: Having carry-on luggage can save you a ton of time at the airport. You can check in online before you get to the airport and then just go straight to the security line, avoiding the other long lines to check in. Just make sure your carry-on is the legal size and you're following the rules of your airline or else you could experience even more delays when security sends you back to the counter to check a too big bag, and you'll have to start all over again waiting in line.
9)Be Charged Up and Connected: Make sure your phone is fully charged so you can stay connected with what's happening with your flight. This is not the time to run out of battery, creating even more stress.
10)Be Patient and Polite: There's no doubt long security lines at the airport can cause a lot of stress and anxiety, but if you follow the tips above and are polite to airport staff and other travelers you can help take control of your travel experience and make the best of a difficult situation.
Related