Virtual receptionists are remote receptionists that take on tasks an in-house receptionist might normally handle; call answering, appointment scheduling, customer service, etc. But searching for a virtual receptionist provider can be pretty frustrating for the uninitiated - what virtual receptionist features and services offer the most value? What are the "bare minimum" features you should look for?
I checked in with Tanya Lamont, the CEO of virtual receptionist provider Conversational Receptionists, to find out the top 10 virtual receptionist features and services.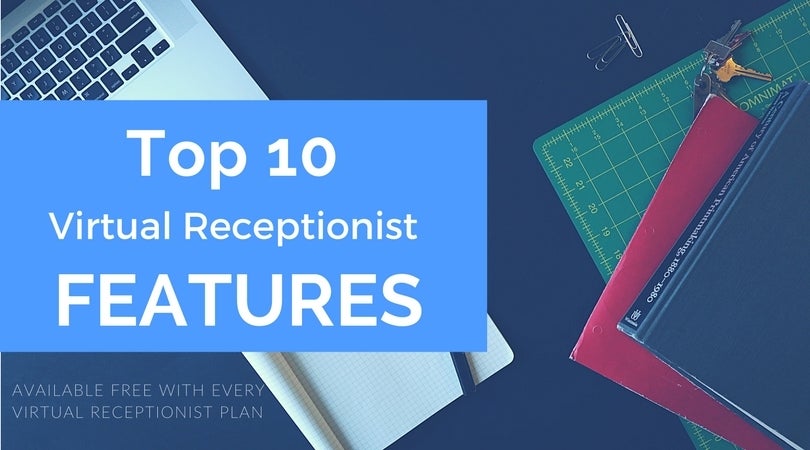 Top 10 Virtual Receptionist Features and Services
1. Call answering of the human variety
Sorry, but Lamont says automated call answering just doesn't cut it when you're looking for the right virtual receptionist provider. "Live call answering should be the number-one priority on your list as you look for the right virtual receptionist. So many callers hang up immediately upon realizing they're talking to a machine, and hang-ups never result in a sale."
2. Offering basic customer service
If you want to keep your callers thinking your virtual receptionist is actually working from your office (I won't tell), it's essential that your virtual receptionist provider offers basic customer service to callers. Sometimes, you'll have a customer who just needs the operational hours or wants to find out where you're located. A good virtual receptionist will have information like this close at hand so (s)he can offer it to customers without needing to look it up first.
Lamont offers a piece of advice: "If someone calls about your business hours, what your company does, or looking for location details, a virtual receptionist should be able to answer those questions with ease and keep the caller moving through the sales funnel."
3. Warm transfers/call screening
A "warm transfer" works like this: A customer calls your business and asks to speak with you. A virtual receptionist gathers information about the caller - name, affiliation, purpose of the call - and reports it to you immediately. You decide whether to accept the call. If you do choose to accept the call, the virtual receptionist will connect you to the caller right away. If you choose to screen the call instead, the virtual receptionist will take a detailed message from the caller so you can return the call when you have time.
4. Custom call handling
Every business and entrepreneur is different, so the ideal virtual receptionist provider should be able to customize your call handling preferences to meet your needs. Whether that's by telling callers about current promotions and discounts or always putting a certain caller directly through to your line, a good virtual receptionist will be able to accommodate your requests.
5. Ability to set temporary instructions
You should be able to contact your virtual receptionist provider to set temporary call instructions. Here are a few examples from Lamont:
Take messages for all callers when you're out sick
Request "Do not disturb" due to an important meeting until 11am
Issue a special holiday greeting for callers from November-December
6. Returning calls on your behalf
The position of "business owner" probably leaves you with a growing sea of missed calls at the end of every business day. The problem with missed calls is that some of them are from potential clients or clients who need assistance. A good virtual receptionist can return calls on your behalf to cut down on the time you spend on the phone outside of work hours. Outbound calls are an uncommon virtual receptionist feature, but Lamont notes that Conversational does offer this feature.
7. Appointment management
If you've found a good virtual receptionist provider, you'll know because they'll offer appointment management at no extra cost. Whether it's booking, rescheduling, or cancelling appointments, a virtual receptionist can manage your appointments and ensure double- and under-booking are problems of the past.
8. Appointment reminders
But setting appointments doesn't mean those appointments will be kept. That's why another important feature is offering appointment reminders - phone calls to upcoming appointment holders to confirm their appointment. Conversational completed a study and found that by issuing appointment reminders, they were able to reduce clients' no-shows by up to 75%. It's one feature you don't want to skip.
9. Voicemail delivered via email
Wouldn't it be nice if someone else could check your voicemail for you? That's just what a qualified virtual receptionist will do. They'll send your voicemails directly to your email address so you don't have to wait to get important messages.
10. Virtual receptionists that care
It's all too common - you speak to a receptionist who sounds bored, annoyed, or downright angry that you've called. Rude receptionists are a customer-service killer and can ruin your chances of earning loyal customers. That's why looking for a provider that staffs virtual receptionists who actually care is so important. How can you tell if you've found a good provider? Go sleuth and call the provider to ask a question. How do they respond? Are they friendly and patient with you? Do they seem warm and professional? This is a great indicator that you've found the right provider.
A special thanks to Tanya Lamont for taking the time to answer my questions and share her knowledge about the virtual receptionist industry. Have you worked with a virtual receptionist in the past? Are you currently using a virtual receptionist? I'd love to interview you for an upcoming article! Email debradc@icloud.com with your information.
Calling all HuffPost superfans!
Sign up for membership to become a founding member and help shape HuffPost's next chapter
This post was published on the now-closed HuffPost Contributor platform. Contributors control their own work and posted freely to our site. If you need to flag this entry as abusive,
send us an email
.