Not all wedding rules are written in stone. Here are some you can feel free to ignore.
You have to wear a white dress.
If the idea of a big, white dress and veil has never appealed to you, don't feel pressured into wearing one. Hair clips with feathers or even just a fresh flower (floral crowns, anyone?) can replace a traditional veil, and there are plenty of bridal fashion designers who have created dresses in other colors -- think: blush pink, dusty blue and even floral print. You can also add color (and personality!) to a simple dress with a bold sash, bolero or cardigan.
Hiring talented friends is the same as hiring professionals.
Just because your friend's Flickr account is full of beautiful nature shots doesn't mean your wedding pictures will yield the same results. An experienced wedding photographer knows how to shoot a mix of action shots (getting ready, first dance, exchanging vows) while also capturing all the must-have family and bridal party photos. The same goes for all other categories, like flowers and music. Look for local pros in your area, and if money is a concern, just be open and honest about your budget from the start. If you really can't afford a pro, ask them for recommendations of lower budget professionals with similar styles.
If you went to their wedding, you have to invite them to yours.
Don't feel trapped into inviting someone just because they invited you to their wedding. It's your day -- invite the people you feel closest to. If someone assumes they're invited, let them know up front (sooner rather than later) that because of space or budget constraints, you had to limit the guest list.
A wedding planner is too expensive.
Here's the deal: Not only can a wedding planner help you stay organized and suggest incredible never-been-done ideas, but she can also end up saving you thousands and keep you on track with your budget! Many planners work closely with florists, rental companies and other pros and often have access to industry discounts, which they can pass along to you. Not a bad deal, eh? Even if you can't afford a full wedding planner, look into hiring a day-of one (to take some of the wedding day stress off of you) or a wedding coordinator who can give you recommendations before you start planning.
Going DIY will save you money.
Make no mistake -- DIY isn't always the cheapest route. Unless you have unlimited access to the supplies it takes to create your own stationery or flower arrangements, the cost of these items alone is really going to add up (not to mention the amount of time it takes to create invitations for 100!) Do some research before you start buying paper and flowers in bulk to make sure it wouldn't be worth your while (or your sanity) to simply hire someone else to do it.
You have to have the same number of bridesmaids and groomsmen.
So maybe he has a ton of friends, and you just have a few close girlfriends. Don't feel like you have to hire extras to even out the sides. What's important is that everyone you feel close to is a part of your day. Divvy up the jobs: Make some of the guys ushers and others readers. One can even be your honorary toast-giver. If those positions are filled, that's okay too -- there's no rule that says both sides should have the same number.
You have to take out a second mortgage to pay for a wedding.
There are easy ways to save money, so don't start your marriage together in terrible debt! Set your priorities straight -- if you've always known you want a designer wedding dress, a venue with a view or an amazing bouquet, make those your splurge items. Then, look for ways to save in other areas that carry less weight.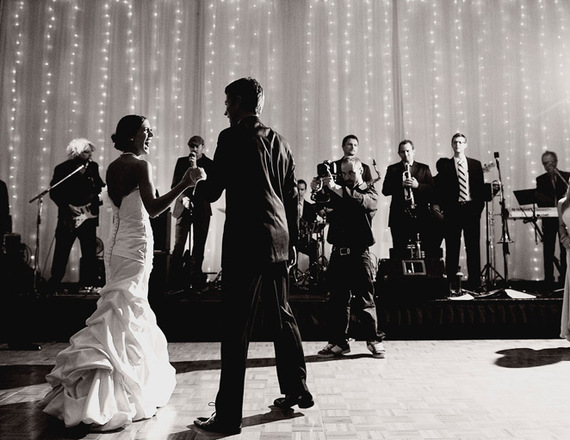 A DJ will play too much cheesy music while a band will take too many breaks.
You've probably heard about a wedding where the DJ played outdated music with cringe-worthy results. Simply talking to your DJ about which songs you love and which you'd rather not hear (um, ever) can help guarantee a playlist that everyone will enjoy. As for bands, you know the drill -- the dance floor is packed, but as soon as they take a break, the floor clears and everyone gets bored. Instead, see whether they can go down to a two- or three-piece set without popping in an iPod.
Wedding food always tastes bad.
Just because you've been to weddings with less than tasty food doesn't mean that's the norm. Some of the hottest wedding catering trends involve comfort foods, like sliders, French fries and sundae bars. Plus, many catering companies are bringing farm-fresh items to the reception table with localized gourmet menus that will make everyone's taste buds happy.
All wedding dresses are created equal.
Why do some dresses cost $500 and others $5,000? It's about the quality of the fabric, the embellishments, the construction of the dress and, sometimes, the luxe brand name. In other words, those pricey gowns have some serious style. That's not to say you have to go over budget to find a dress -- a good bridal salon consultant can suggest stylish gowns that fit and flatter in your price range, so rely on them to help you find your perfect fit.
More from The Knot: