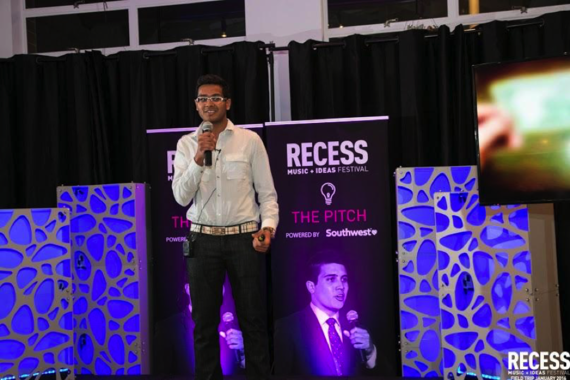 Remember back in the day when you were a twenty something college student? Did you want to be a rockstar, DJ, actor, or rapper?
College students today have slightly different aspirations. Now more than ever students look to role models like Mark Zuckerberg of Facebook, Elon Musk of Tesla, or Evan Spiegel of Snapchat. More than half of millenials (54%) either have started or want to start a company according to a Kauffman Foundation survey. According to the Young Entrepreneur Council, 90% of young people believe that entrepreneurship education is important, and that interest amongst students seems only to be growing.
RECESS, a company founded by two former college students from Indiana University's Kelley School of Business (Jack Shannon 2010 & Deuce Thevenow 2011), didn't have it so easy.
"Indiana University has a leading business school with some of the best teachers and programs that made it attractive to attend, but wasn't exactly a hotbed that attracted the same level of investment attention for student startups like Stanford, Harvard, and MIT," says Thevenow. "We experienced this firsthand and knew students at other schools felt the same and always wanted to create a way to be able to help out and create the same opportunities for all students."
The two students launched a college music festival when they were students that included booking the likes of major dance music artists like Avicii, Zedd, Pretty Lights, Krewella, and Porter Robinson. "Towards the end of 2012 we knew that entrepreneurship was starting to grow on campuses and knew it was the opportunity we have been waiting for to create a March-Madness-style pitch competition tournament. We made it our mission to help the next budding entrepreneurs achieve that dream by taking their ideas from the dorm room to the boardroom," Shannon said.
Earlier this month, they hosted their 3rd National Finals to their Fall 2015 Tour in Los Angeles, CA including a National Pitch Competition in partnership with Southwest Airlines that featured 15 of the leading college startups competing in a "March-Madness-style" competition from top schools including Babson, University of Pennsylvania, University of Southern California, Dartmouth, Cornell, and more that have aggregately raised more than $2M in funding to date.
"Taking a seemingly small idea and making it into something that People need is the beauty of Innovation." says Heather Figallo, Southwest Airlines Senior Director of Products & Innovation. As a mentor at this year's Pitch Finals Competition, Figallo was able to share Southwest's inspiring story with students. "Our history dates back to an idea sketched on a cocktail napkin, when two friends came up with a crazy idea to begin an airline. Forty-five years later, Southwest remains a maverick in the airline industry,zigging when others have zagged, going against the grain when it wasn't popular. Today, we're the largest domestic airline and are now serving many destinations across Latin America and the Caribbean."
RECESS spent the entire month of October traveling to 9 colleges to host several events during the day including a Shark Tank-style college Pitch Competition where student startups would pitch their business to a panel of judges. The winning team from each college and six At-Large spots open to any US college student all advanced to an all-expenses paid excursion to sunny Los Angeles courtesy of Southwest Airlines for the 3rd Annual 'RECESS Field Trip'. Here these young innovators had the opportunity to talk strategy with mentors, learn from industry giants, and pitch some of the biggest investors in the world while getting to meet other business-minded peers.
The field of 15 teams was narrowed down to 5 teams at the Startup Playground held at Expert Dojo, a tradeshow-style event with students showcasing their startups to the community and 14 judges which included the likes of Steve Mehr, a well-known serial entrepreneur and social media influencer; Chris Denson, Director of Ignition Factory; and David Brey Director of the Blue Ocean Enterprise Challenge.
The top five teams below advanced to the National Pitch Finals powered by Southwest for a once-in-a-lifetime opportunity to pitch 12 major venture capitalists, investors, and leading brands including the likes of Karlin Ventures, Mark Cuban Companies, Pritzker Group Venture, Capital, United Talent Agency, Upfront Ventures, Southwest Airlines, Softlayer, Pivot TV, and more.
"It is inspiring to judge the RECESS Pitch Final," says Kara Nortman, who is a partner at the world renowned Upfront Ventures. "They do a great job of unearthing uniquely talented college students from across the nation who are looking to do no less than build commercial business that will change the world. At Upfront, we are firm believers in supporting the next generation of college students across the country as the innovators of tomorrow."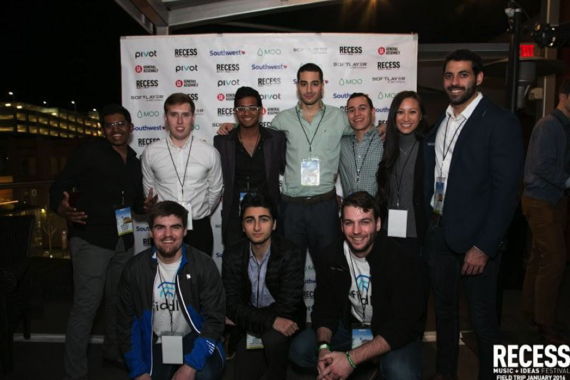 (Top 5 Pitch Finalists: Wavve Stream Inc - University of Houston, Fiddler - Southern Methodist University, Ziel Solutions - Rice University, HubCharge - Babson College, ThirdEye Technologies - University of Pennsylvania)
"The goal for us is not to instill a sense of competition between students but a sense of community and opportunity to help these students with valuable things money can't buy like relationships, access, knowledge and resources," Shannon says of his own startup, RECESS. "From our own experience in running a startup we know that these are the things that can really catapult a young startup's success."
One such opportunity was a special Travel Pitch Category sponsored by Southwest Airlines. It is no surprise that Southwest selected a team from Babson College, the top Entrepreneurship Program in the nation where HubCharge was founded. "It's been really exciting to have RECESS come to campus with their unique pitch competition. Babson students learn from Day 1 about Entrepreneurial Thought and Action, which creates a bias for doing and creating. This competition really supports that. We are so proud of our two Babson teams that have made it to the finals from the 2015 competition - HubCharge and PlayBusiness," states Debi Kleiman - Executive Director of the Blank Center For Entrepreneurship at Babson College.
HubCharge is a wireless charging technology startup solution for mobile devices. Co-founder Chris DeLeon says that, "Ever since day one we have shared a vision and strived towards creating a more wireless and connected world. We are grateful to have the opportunity to now share this vision as RECESS has enabled us to not only expand our networks and meet with investors, but also use this event as a launch pad for HubCharge."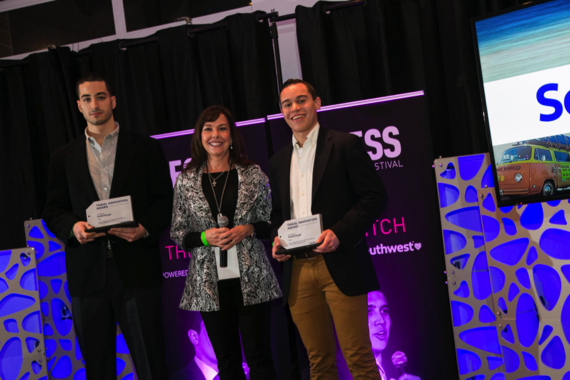 (Southwest Travel Category Winner HubCharge, Babson College. Pictured left to right Dardan Ostrozubi, Kathleen Wayton, Christopher de Leon)
Other opportunities included a Speed Mentoring event (think: speed dating for startups). In these speed mentoring sessions, students had the opportunity to sit down and learn from seasoned mentors from a variety of companies and industries including Softlayer, Southwest Airlines, Participant Media, Macro Ventures, and OMD.
"At Softlayer, we're all about fostering growth and development within the startup ecosystem and make it a point to offer early-stage companies the support they need to be successful," says Chris Pearson, Partnerships Manager for SoftLayer, and IBM company.
Following the Speed Mentoring was a Startup Bootcamp which co-founder Deuce Thevenow described as "an opportunity to learn from seasoned entrepreneurs about the fundamental knowledge not usually taught in the classroom of what it takes to understand how to launch your startup."
The culmination of the event was the National Pitch Finals held at General Assembly's Santa Monica location where the LA startup community joined to watch, meet, and try to recruit the brightest students in the nation.
1st Place & Audience Choice Award Winner- Wavve Stream Inc, University of Houston.
WAVVE Stream Inc produces patented technologies that significantly enhance contaminant removal capabilities for existing water filtration membranes and systems. The nanomaterial coating and hydrogel bead systems are more effective and cost efficient solutions for water filtration.
"It was an incredible opportunity to be a participant at the RECESS Field Trip. The event attracted a top caliber proactive audience," WAVVE Stream Co-Founder Eric Beydoun said. "We received enormous support and interest and RECESS did a fantastic job at putting on a quality event that benefitted all student entrepreneurs."
2nd Place - FIDDLER, Southern Methodist University
Current wind energy solutions are expensive, ugly, and inaccessible to the consumer. That's why Fiddler developed the fiddler turbine; the first smart-connected wind energy source for the modern home. It sits at the crest of the roof in a sleek housing, generating enough clean energy to pay for itself in 5 years or less.
"The RECESS field trip and pitch competition was an incredible opportunity to network, learn, and compete. We were overjoyed to get 2nd place, but getting to know other like-minded entrepreneurs and hearing from experienced investors and mentors was the real prize of this competition," says CEO Jonah Kirby.
3rd Place - Ziel Solutions, Rice University
Ziel Solutions develops wearable technology to help minimize the risk of injury from repetitive physical activity. Their first product is a patent-pending sensory sleeve for baseball pitchers to reduce the risk of arm injuries.
"We made some incredible connections and got some amazing publicity that no other organization could have offered to us," Ziel Co-Founder Senthil Natarajan reflected. "It's one of the few times that we didn't really care if there was a cash prize or not, because it was so valuable even without direct monetary rewards. In due time, the connections and experience we had as a result of RECESS could potentially prove to be the transformative moment for Ziel."
You can learn more about RECESS and find a full list of participating companies at RecessPitch.com.
Related
Popular in the Community