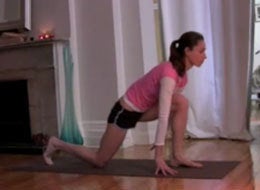 2. Anusara with Bridget Woods Kramer...mmmm...nice voice...
3. The master,
, in this oldy goody classic:
4. Another old Freeman, stand back ladies:
5. More Freeman, too good not to include:
6. Patricia Walden, in a onesie, looking verrry early 90s.
7. Call me biased, but Elena Brower of Vira Yoga with our video man Alex's cut...is pure perfection.
8. Our interview with Seane Corn, the one the only the amazing the charming the real:
9. More Seane:
10. A million viewers can't be wrong:
11: New
has a practical, bite-size series of yoga for
...yoga for
, yoga for the office, yoga for sex, yoga for stress, yoga for waking up...
!
12.
of course:
13.
14. Everyone loves
,
15. Finally, lovely-inside-and-out yoga diva
Rea:
16. We've covered this before, but here's Krishnamacharya, granddaddy of modern yoga, in 1938:
17. Pattabhi Jois, venerable founder of Ashtanga yoga:
18. A youthful BKS Iyengar:
19. We've covered this before, love it: Enlighten Up! with elephriend Nick Rosen.
20. For dessert,
, leading the pack with 2 mill views: