As an array of Southern-eclectic art lovers ushered into this familiar evening at Georgia's Serenbe, I was greeted by the picturesque sentiments of Summer. Commencing on twelve evenings throughout the year, amidst a long festival style table, Serenbe's Art Over Dinner(AOD) was the perfect, intimate setting for an art-themed chat & chew. Presented by Lexus, this series of intimate gatherings with artists, personalities, curators, and critics is a collaborative event, and a well anticipated moment for chefs and farmers to bring in seasonal meals, while particularly inviting resident artists to spark endearing conversations. Back in April, I was invited to join Serenbe for their 4th occasion of 2017.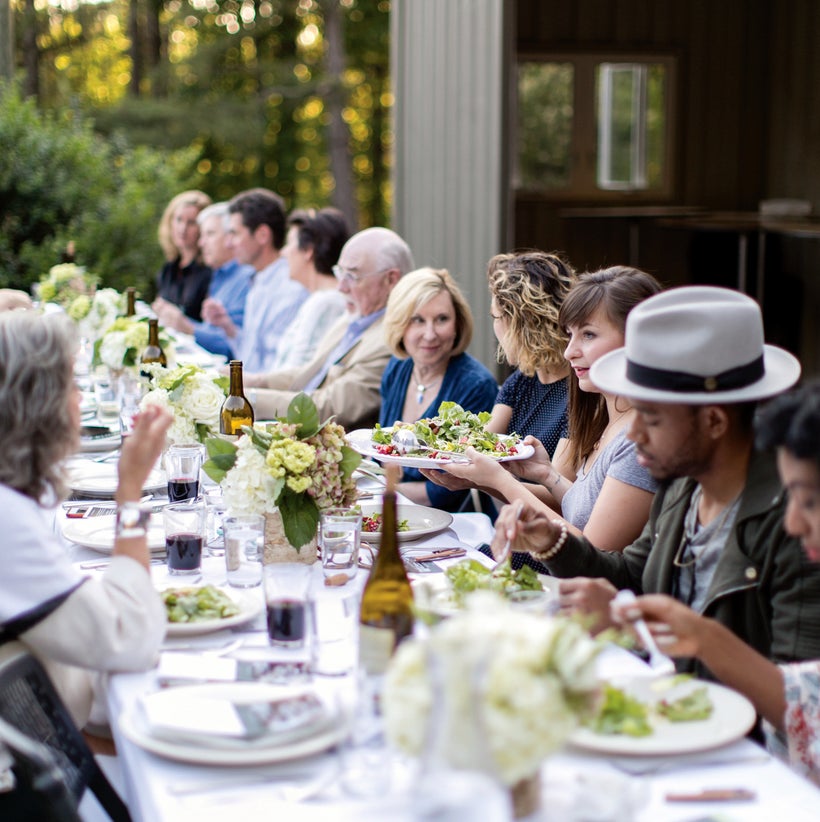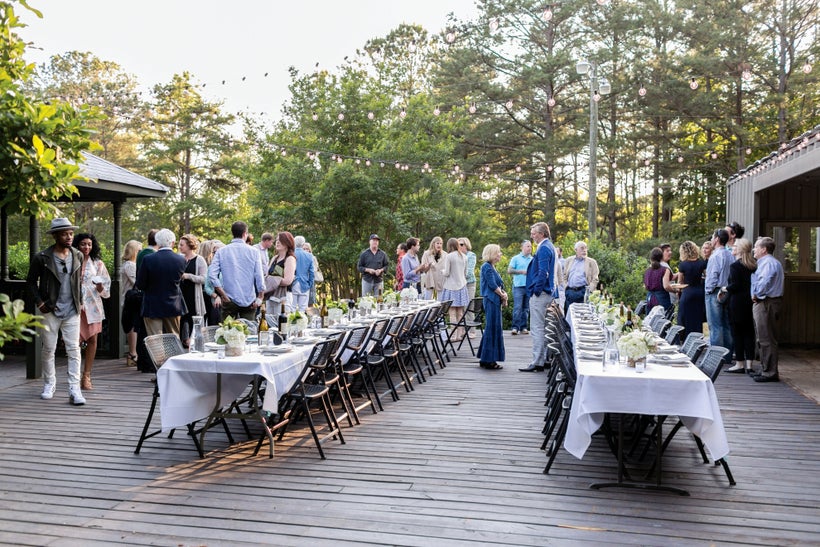 While our lives are indescribably shaped by our foods, fellowship, and the festivities we partake in, Art Over Dinner was the perfect compilation for a digital nomad to shut-down and appreciate a real-live moment. Naturally, AOD was also a cell-phone free zone. Scribed behind our dinner menus was "Thoughts Over Dinner"- four guided questions from Alex & Emily West, founders of fine-art management platform Artcloud, and one of AOD's partners and host for the evening.
"Please, take a seat next to someone you don't already know." Advised Serenbe's AOD rep.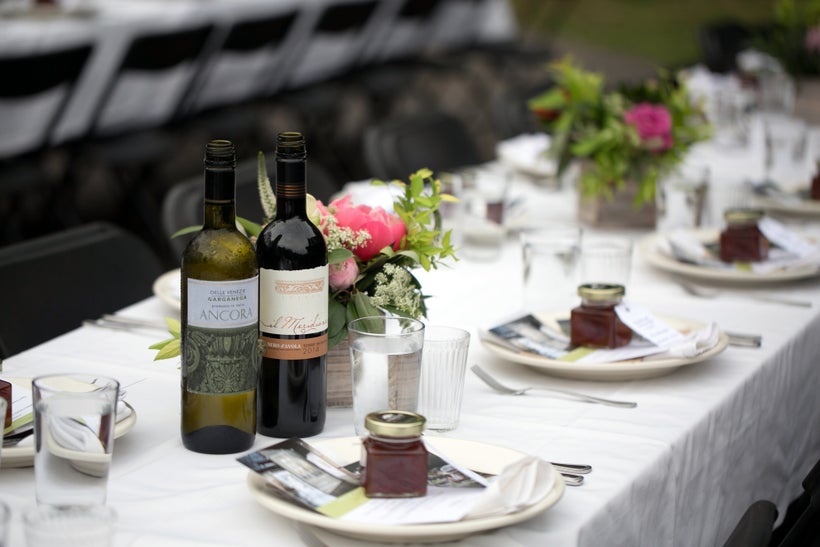 Whilst separation from your guests and non-use of digital devices were not overly emphasized, as a first time patron and content creator, it was this suggestion that jumped out to me the most. Would I be pushed outside of my comfort zone to spark up a conversation with a complete stranger, on my own, and without the revert of social media should I need a conversational escape? And begone to the momentum of dining under the stars with my colleagues I'd journeyed down with for the weekend. An ode to its intimacy, seating was limited to 40 guests on the outdoor deck of The Art Farm at Serenbe.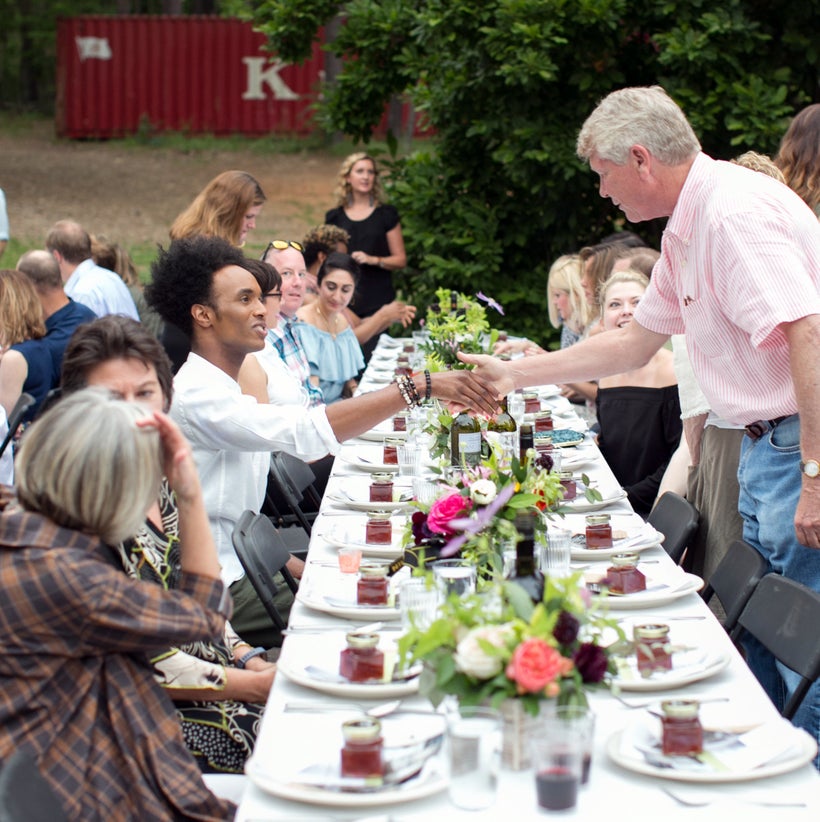 Yet as quickly as I'd taken my seat(and a selfie or two- the ambiance was too breathtaking not to), I'd shaken hands and been introduced to nearly every person on my end of the table. All in differing age-brackets, and enthusiastic art collectors who were just as inquisitive on my 'elementary-art-lover' thoughts as I were theirs. Most memorable, I'd sat across and exchanged a few laughs with Georgia based abstract painter Augusta Hyland Wilson, who was expecting a baby at the time. Each of us seated had quite the distinct life story, and with a spunky approach to the topics at hand, came a sudden trust and familiarity to AOD's communal mission.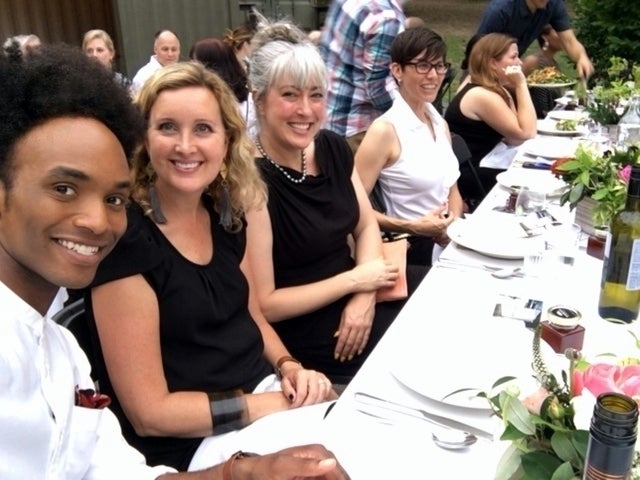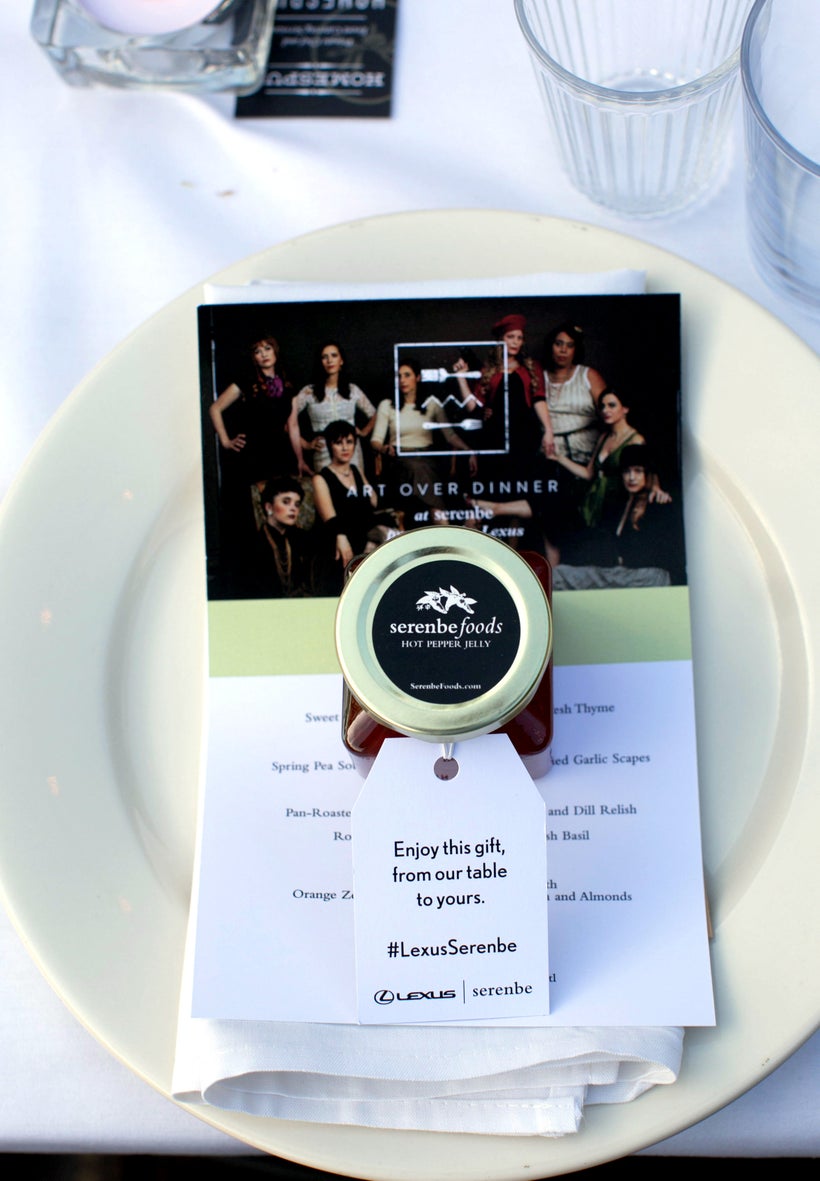 Gazing around, my levels of contentment quickly arose as I'd noticed how instant and effortlessly my colleagues had embedded into deep conversations across the outdoor patio. Indeed, the purpose of this AOD experience has manifested within the first 10 minutes, while awaiting our 4 course meal from the chefs at HomespunATL.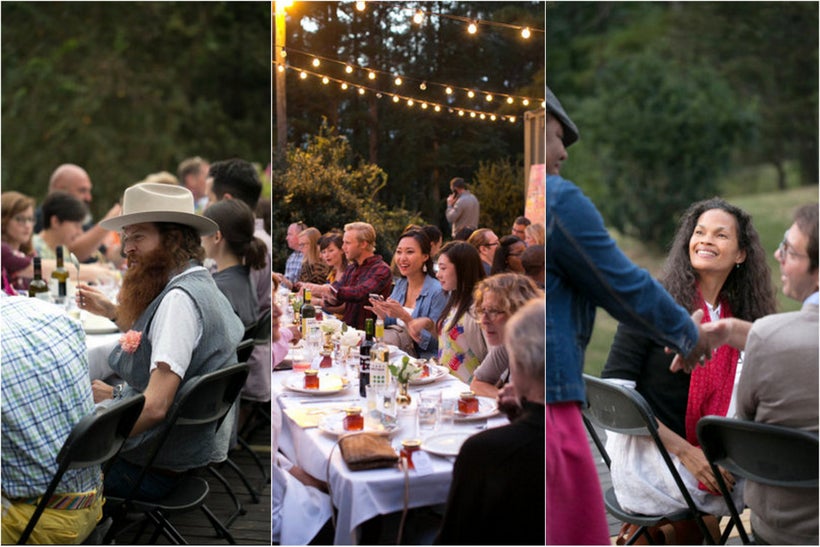 After an announcement and quick intro from our AOD hosts, we were kissed by our first course for the evening, Strawberry Gazpacho with Creme Fraich Thyme. A choice of red or white wine came topped with each course to follow.
"Our vision is to be a nationally recognized forum for dialogue around arts and culture," declared Steve Nygren, Serenbe's Founder. "One way we'll do that is by continuing to build a vibrant community with cultural events, artist cottages and workspace that provides a serene and stimulating environment for engagement." Nygren stated with certainty.
As we chucked through forkfuls of Pan-seared Chicken, Polenta, and Roasted Garlic Asparagus, and through the thrill of our guided conversations, dawned on me the cultural necessity of art, connection, and community. How guided dinner talks can seemingly lead to trust and new understandings with complete strangers, and why they were inspiring enough to spark personal growth and revelation, while appropriating the joys of life.
REAL LIFE. REAL NEWS. REAL VOICES.
Help us tell more of the stories that matter from voices that too often remain unheard.
This post was published on the now-closed HuffPost Contributor platform. Contributors control their own work and posted freely to our site. If you need to flag this entry as abusive,
send us an email
.