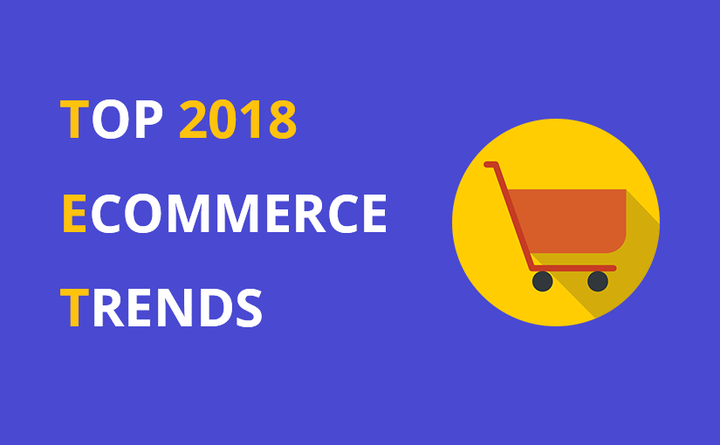 eCommerce revenues are expected to eclipse $400 billion by the close of 2017. This surge was made possible by leaps in social media, omnichannel strategies, and mar-tech. Now, new trends are on the horizon, and 2018 expects to see eCommerce revenues of $460+ billion. eCommerce also promises to be more competitive than ever.
Amit Bhaiya, CEO of NJ-based web development company, DotcomWeavers, says, "In 2018, customers will be harder to win, easier to lose, and more concerned with price and user experience than ever before."
It's time to ask: Is my online store equipped to earn a slice of that $460 billion pie? In this article, we present 7 of the top 2018 eCommerce trends you should watch for – and capitalize on.
2018 eCommerce Trend #1. Voice Search and Purchases
Smartphones and home smart speakers allow users to search and act online with a word. Approximately 40% of millennials (the group you should focus on most) have used a voice assistant prior to making a purchase. By 2020, this number will pass 50%.
Currently, most voice searches have local intent or seek answers to simple questions. Users are looking to order pizza, research a restaurant, or find the closest ATM.
To capitalize on this usage, experts recommend optimizing your Google My Business listings, to ensure that your local pages have unique URLs and are indexed. This includes your name, address, phone numbers, and other relevant data in your on-page content.
Remember to think like the customer. For example, if you sell pizza, ensure that your content is relevant to the queries and terms someone would use when searching for local pizza delivery. Try adopting a long tail/conversational approach.
#2. Go Omni-Platform and Omni-Device
In 2018, many online platforms and the devices people use to access them will become increasingly integrated. It won't be enough anymore to have a presence on multiple channels. They must be integrated with each other to be competitive.
According to Google, "About 85% of online shoppers start a purchase on one device and finish on another."
To reach multichannel shoppers you must provide seamless visual and UI experiences from one platform to another, so they feel like they're interacting with one entity. This means that your eCommerce strategy must include consistent design, branding, navigation, messaging, sales processes, payment gateways, social media content and advertising.
#3. More Fulfillment Options
As online sales competition heats up, brands that are adept at delivering orders fast will win. The key is how fast you can get shipments out the door once an order is received. Brands should look for fulfillment companies that offer shipping cutoff times that are later in the day – not at the close of normal business hours to improve the odds that orders go out the same day.
Beyond shipping, remember that a great brand experience is in the details – right down to packaging and order customization. This may seem like an unnecessary expense, but these extras add a 'wow factor' that customers will remember. Whether it's custom packing tape with branded designs or a free sticker in the box, show customers that their experience matters to you.
#4. Video Content
We live in a mobile-first culture where video is the fastest growing ad format. It is estimated that by 2020, video will make up 80% of all online consumer Internet traffic. As the technology improves, video will be the closest you can get to a face to face conversation with your audience.
Statistics show that video marketing can boost click-through rates by 200-300% and increase purchase intent by 97%.
New apps and platforms that allow users to create affordable, high-quality videos are saturating the market. For example, Slidely allows users to create video content ready for social sharing, and Wistia offers video analytic features to show where viewers watched or stopped watching. Finally, when it comes to video, live is your best friend. Not only are live videos a more affordable option, they also drive 300% more engagement than recorded videos.
#5. Messenger Apps and Chatbots
In 2018, Chatbots will provide an instant connection with customers on a 24/7 basis. The quickest adopters of chatbots are millennials, with nearly 60% having already used chatbots and 71% saying they would like to try one. Chatbots that operate through messenger apps will likely play a larger role in 2018, and businesses can use them to send customers personalized content, suggest purchases, and offer special deals. With over 1.2 billion people on FB Messenger every month, marketers can expect explosive reach and engagement rates.
#6. Augmented Reality
The use of Augmented Reality (AR) on mobile devices provides an engaging way for marketers to reach their audiences. AR is quick, easy, and interactive. In 2018 it is likely that social channels will introduce new ways of integrating AR into their platforms. We have already seen Snapchat roll out an AR feature that allows users to add their Bitmoji and 'project' themselves through the app's camera. Similarly, brands could project their products into the homes of social media users through special filters, such as IKEA's 'Place' app.
#7. Creative Storytelling to Drive Conversions & Differentiate
In 2018, brand stories need to be creative and engaging to connect with consumers and drive sales. Inviting customers to browse your wares is not enough – you need to make shopping an experience. How do you do it? Hire an experienced writer or content strategist who can develop content for your eCommerce audience across a range of topics. Then, apply those stories to all the aspects of your business, from order confirmation and packaging to your newsletters and social media.
In conclusion, 2018 promises to be an unprecedented year for eCommerce and adopting these trends will help you succeed. For more information about eCommerce in 2018, or to start your next project, visit DotcomWeavers today!
Related
Popular in the Community