With fewer state dollars being appropriated for K-12 education funding, deficit spending by Illinois school districts has risen sharply in recent years.
In fiscal year 2014, school districts issued $356.5 million in new debt in their operating funds, an increase of $72 million from FY 2013, according to the Illinois State Board of Education.
While annual financial reports for FY 2015 were due on Nov. 15, an official with the board's public information office said the data won't be available until February. However, based on revenue and expenditure projections submitted by school districts earlier this year, 62.4 percent of the state's 859 districts were expected to be deficit spending during the 2015 budget year.
The infograhpic below shows the top 25 school districts in Illinois that were projected to have both the highest amount of deficit spending and surplus spending in FY 2015.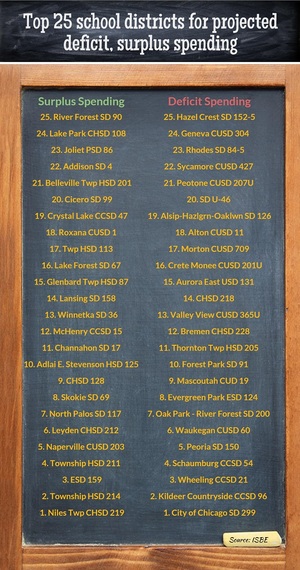 You can see the amount of deficit and surplus spending, as well as the number of schools, total enrollment and operating expense per pupil in each district at Reboot Illinois.
We also looked at these districts' 2014 annual financial reports to find out how much in cash reserves they had as of June 30, 2014.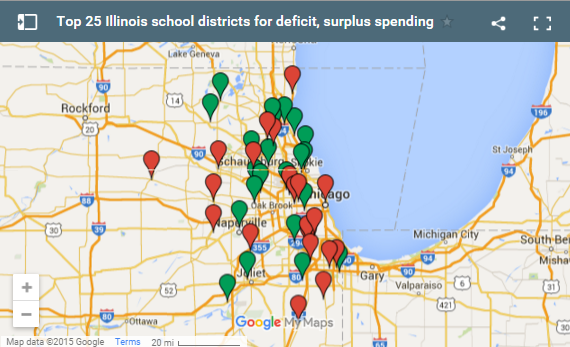 Here are the top 25 school districts in Illinois with the highest projected deficit spending and surplus spending for the 2015 budget year.
Calling all HuffPost superfans!
Sign up for membership to become a founding member and help shape HuffPost's next chapter