Do you keep a gratitude list? Because, I don't. Not regularly anyway. And with good intentions this month to write one thing down a day that I'm grateful for, I did not. Because by the time I get the kiddos to bed, I'm too excited to sit on my couch ALONE with my husband IN THE QUIET to watch The Voice, The Blacklist, and Madam Secretary for a few beautiful moments. GRACE.
But, with Thanksgiving now upon us, I've been really noodling over the things that top my gratitude list. Here's my top 25. What's on yours? Send me a note or comment below!
25. Therapists. I think we can always benefit from talking it out with strangers, even if our lives are picture perfect. And, while on occasion I have run into a total nut job sitting across from me, my therapists (yep, that's plural) have helped me make peace with my path and guided me to embrace the fears and uncertainties that are an inevitable part of life.
24. Forgiveness. Both giving it and receiving it. Without forgiveness I would live in complete misery.
23. Clinical Trials. Placebo effect or not, I'm all in. Just keep signing me up. I consider them one of the greatest adventures in Cancerland.
22. My husband's deodorant. I love to curl up in a freshly showered Aaron and waft in his deodorant. It has played a hint of matchmaker from day one.
21. The wee small hours of the morning. I am grateful for waking when the house is still, little boys slumbering away and the big one off to hot yoga at the crack of dawn. Alone and in silence, I huddle on my couch wrapped in my blanket with just my laptop and my words.
20. Caller ID. Enough said.
19. Hair. Losing my hair was worse than losing my boobs. I've gotten them both back (kind of) and my hair still wins.
18. Surrender. Giving up trying to understand and becoming comfortable with not knowing means being able to live more fully in today without fearing tomorrow. It is one of the greatest adventures in BRAVERY. And I am grateful to attempt it.
17. The Ellen Degeneres Show. Because, laughter and dancing.
16. A Mercedes paired with a good Nellie. I refer to neither cars nor horses. Rather, two beautiful hilarious nurses who cared for my crazy and still remain dear to my heart.
15. Friends streaming on Netflix. Including ALL the Thanksgiving episodes! Because who doesn't love an English Trifle with beef and peas? #MmmmmGooood
14. Wrinkles. Recently, I noticed some crazy lines around my mouth that I hadn't seen before. I gently clean my face and apply creams ALMOST EVERY NIGHT! And by almost every night, I mean HARDLY EVER! Because I'm too tired by the time I crawl into bed because of ALL THE THINGS. And, while I really WANT to keep these fine lines away, it's just not happening. So instead, I find myself being content with a GRATEFUL HEART for their mere existence. Because I would much rather grow old with wrinkles than not grow old at all.
13. Awesome pajamas that masquerade as funnish pants at morning drop off. Perhaps, they aren't masquerading.
12. Fear. Embracing it makes us fearless.
11. The Word "No." It's my favorite, so please don't ask me for anything.
10. A good memoir. I love to hear the stories of our lives and remain hopeful that one day you'll read mine.
9. A husband who does all the laundry, dinner dishes, and vacuums voluntarily when needed. Personally, I attempted the vacuum once and then promptly GIFTED him one for Christmas. He has totally drunk the Kool-Aid. #HappyWifeHappyLife
8. "Your Are My Sunshine." My love song with little Nathan without which slumber will never fall upon him. So, LOVE SONG + CHILD SLEEPING = EXTREME GRATITUDE.
7. Third grade math. Not so much, I'm just testing you. Are you still reading?
6b. People who were forced into loving me through marriage. I have the BEST [fill in the blank]-in-laws. The whole lot of them somehow were duped into loving me despite the fact that they don't really have to. But, they do. And, I do, right back.
6a. People who were forced into loving me through my birth. Yep, my family is pretty awesome too. ALL OF THEM.
5. Peace. I've discovered that peace does not happen around us, but instead within us. And I am SUPER GRATEFUL for the days that I can find my PEACE and the GRACE to forgive myself on the days I cannot.
4. An 8-year-old who sets the water glasses at dinner and asks if I'd like him to pour me a glass of wine. Duh.
3. Holiday movies. I run a dedicated movie-a-thon in my home from the dawn of Thanksgiving through Christmas. Here's what's showing: When Harry Met Sally, You've Got Mail, Love Actually, Miracle on 34th Street, It's a Wonderful Life, The Holiday, The Family Man, The Family Stone, The Polar Express, The Wizard of Oz, How the Grinch Stole Christmas.
2. Hot sweaty rooms where I lay my dog down. A hot yoga class is where I fully detox -- body, mind and soul.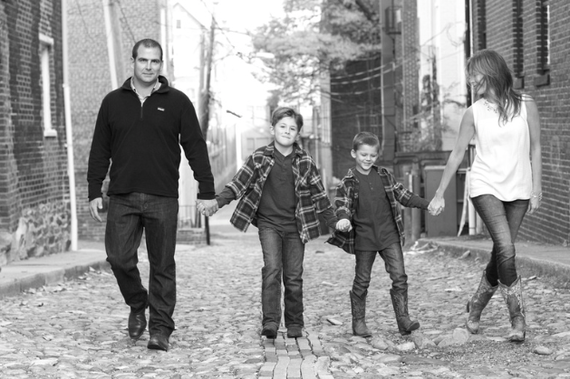 Calling all HuffPost superfans!
Sign up for membership to become a founding member and help shape HuffPost's next chapter