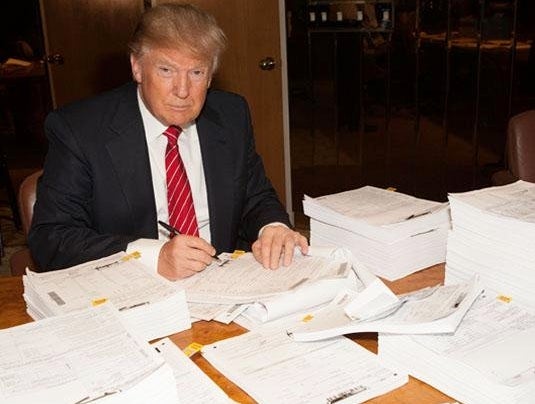 This broad-based public demand makes sense. There are at least three important questions that can only be answered by the release of President Trump's tax returns.
There's good reason to believe Trump has paid no taxes for years or even decades. His tax-obliterating billion-dollar loss from the '90s is the kind of tax dodge readily available to real estate investors like Trump. Through that and other special breaks—such as depreciation, exemption from "at-risk" rules, and "like-kind exchanges"—real estate tycoons can delay, shrink or completely eliminate their federal tax bills.
Second, what are Trump's foreign entanglements? Our president should be working only for us—not for his own enrichment through deals with offshore partners closely tied to foreign leaders. One ethics expert has noted that many of the foreign businesses with which Trump has struck deals are connected to "unfriendly governments." Such deals could conflict with our national security goals.
A veteran U.S. senator, Ron Wyden (D-OR), has asked the Senate Intelligence Committee to investigate Trump's business ties to Russia as part of its larger probe of Russian meddling in our elections.
Trump's tax returns might reveal how indebted he is to foreign investors—and how much his ties undermine American national interests.
Finally, how much would Trump personally benefit from his proposed tax overhaul? During the campaign, Trump proposed a $6.2 trillion tax giveaway heavily slanted towards rich people like him: 47% of the tax cuts go to the top 1% of households. The top 0.1%—people like Trump—would receive an average tax cut of more than $1 million a year, while average middle-class families making about $50,000 a year would get just $1 a day.
Three parts of his tax plan in particular would be financial bonanzas for Trump and his family.
He would cut the tax rate by up to 60% on a type of business he uses extensively, the so-called "pass-through". Pass-through owners pay their business taxes on their personal returns at individual rates, which for rich taxpayers like Trump can be as high as 40%. Trump would cut the top tax rate to just 15% (20% for undefined larger entities). The president is sole or partial owner of over 500 pass-through businesses, and so could save millions of dollars every year from what's been rightly dubbed the "Trump Loophole."
In Washington, D.C., and cities throughout the country, tens of thousands will be marching April 15 to demand answers to these questions. The first answer is for President Trump to release his tax returns.
Frank Clemente is executive director of Americans for Tax Fairness.
Popular in the Community