With the average wedding costing nearly $30,000, brides every where are coming up with creative ways to cut costs, but not sacrifice style. They find DIY hacks on Pinterest, comparison shop online and opt for off-season wedding dates. Now a new service is becoming more and more popular -- renting and returning for your wedding, particularly with fashion.
Just a few years ago, the only fashion element a bride would consider renting was the groom and groosmen's tuxes. Now there's a rental option for everything -- wedding dresses, jewelry, bridesmaid dresses, exit dress and fashionable tuxes (not the moth-eaten powder-blue tuxes we think of when envisioning rentals). These are some of the hottest brands that are changing the game:
For the Bride:
Say yes to the dress, look perfect on your wedding day, and then what? Sell your dress? Preserve your dress and hang it in your closet? Through Borrowing Magnolia you can find your perfect dress, achieve your dream wedding day look and then ship it back in the mail for the next bride to enjoy. Easy peasy!
More and more brides are opting for a 2nd look during their wedding, which can really add to the dress budget. My solution to this problem? Vow to be Chic. They just launched an entire line of Little White Dresses perfect for a 2nd look dress at the reception, or a getaway dress. Rentals start at $50.
Sure, one piece of costume jewelry isn't THAT expensive, but when you factor all your accessories in, it starts to add up - earrings, necklace, bracelet, veil, sash, hair combs, headbands... need I go on? Happily Ever Borrowed has brought together some of the best bridal accessory designers to offer brides a wide assortment to choose from to complete their wedding day look. Rentals start at $20.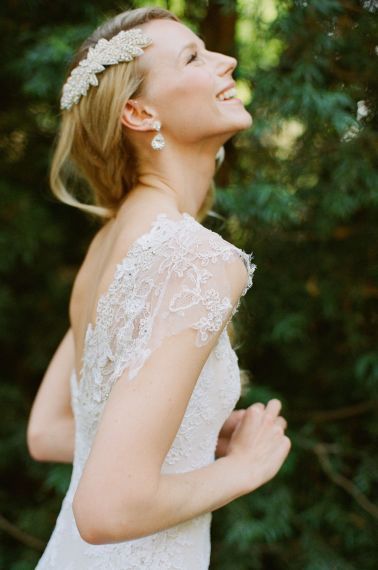 Photo via This Modern Romance
For the groom:
The Black Tux has stepped up men's fashion with stylish tuxes and suits at a fraction of the purchase price. Grooms and groomsmen can choose a custom ensemble - color, cut, neckwear, shirt, cufflinks, even shoes! - or they can choose from popular curated looks. Rentals start at $95.
For the bridesmaids:
Don't want to over ask of your bridesmaids, but still choose dresses you love? Vow to be Chic also rents designer bridesmaid dresses! Brands include Swoon, Joanna Kate, Lula Kate and their newest design partner - Jenny Yoo! Choose the same style or mix and match - your bridesmaids will love not having a dress they'll never wear again cluttering their closes. Rentals start at $95.
These companies know what brides are looking for - online browsing, quality products, shipping prices included, easy returns (no cleaning and pre-paid shipping labels!), and discounted prices on trustworthy brands. Would you consider renting for your wedding?