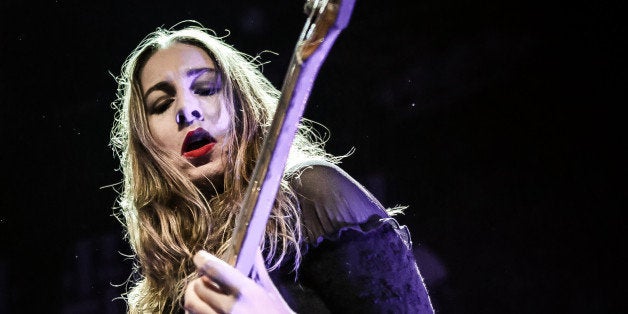 2013 was an interesting year for music: We saw Robin Thicke destroy Beetlejuice-chic, begrudgingly partook in Miley Cyrus' Twerknado (whether directly or as innocent bystanders), watched the Internet explode with Beyoncé's secret album launch and actually enjoyed the biggest hit of the summer with "Get Lucky" from our resident helmet-clad robots.
But other things happened.
Below is a breakdown of this year's top five albums. Largely dismissive of these outrageous moments in popular culture? Yes. Highly subjective? Absolutely.
1. Arcade Fire / Reflektor
In Noel Gallagher's Epic Year-End Gripe Session with Rolling Stone, he had a few choice words for Arcade Fire regarding their latest LP, Reflektor.
"Who has the fucking time, in 2013, to sit through 45 minutes of a single album?" said Gallagher. "How arrogant are these people to think that you've got an hour and a half to listen to a fucking record?"
Simply put, anyone who still gives a shit.
Plenty were willing to sit through the 70+ minutes of disco-noir for all of its rock, glam, punk, electro and Haitian-inspired grooves. Coming off a Grammy win for "Album of the Year" for The Suburbs, the members of Arcade Fire were acutely aware of the task at hand with their fourth LP, and they delivered. One of indie's biggest success stories, the Montreal collective proved, once again, its ability to offer a grandiose but completely reimagined sound. The album is at once nostalgic and present, a deference to the musical fantasy of the future as defined by their new moniker, the Reflektors. Co-produced by former LCD Soundsystem frontman James Murphy, the album is a dance epic few have come close to matching in 2013. Though the record trades in Arcade Fire's typical orchestral grandeur for a more nuanced classic rock, it's one deserving of another Album of the Year title.
2. Local Natives / Hummingbird
The LA-based rockers broke out big in 2010 with their debut LP, Gorilla Manor. It was a near-perfect first album marked by hyperactive drumming and psych-pop grooves that centered around thoughtful three-part harmonies. With their sophomore album, the gaiety that defined Gorilla Manor is largely absent, replaced by subtle soundscapes that tread on more melancholic ground. Kelcey Ayer's vocal soars with the album's leading track, and we're given one of Local Natives' most genuine lyrics with "Columbia," which pays tribute to the recent passing of Ayer's mother. But with every heavy moment in Hummingbird we are met with heightened consciousness, a temporal awareness that was not immediately visible with their debut. If Gorilla Manor was as an homage to twentysomething resilience, then Hummingbird is its beautifully serious counterpart that, through cathartic swells and nuance, charms.
3. Lucius / Wildewoman

Few albums in 2013 sounded as fresh as the '60s-infused dance rock that mark Lucius' debut LP, Wildewoman. The lock-tight harmonies of Holly Laessig and Jess Wolfe, the band's leading vocalists, are a rare commodity that make Wildewoman one of the year's most immediately pleasing albums. The Brooklyn five-piece saw some success in the summer festival circuit, winning over audiences with fuzzy guitars, polyrhythmic perc and a driving force that reshape the retro girl-group post-Shangri-Las. From the album's hard-hitting "Turn it Around" to the anthemic "How Loud Your Heart Gets," Lucius have crafted something complete and satisfying.
When L.A. sister trio Haim released Days are Gone, it was well worth the wait. Produced by Ariel Rechtshaid and James Ford (production credits include Vampire Weekend and Arctic Monkeys, respectively), the full-length debut LP dropped after much anticipation. Years of extensive gigging (and advice from artists like Julian Casablancas to "stop playing live and start making hits") eventually drove the three-piece into the studio, pouring over every detail of their Fleetwood Mac-inspired LP that, ultimately, lived up to the hype. Haim quickly became the paradigm for '80s-indebted pop rock at a time when it's most needed. "The Wire" and "Falling" are immediate standouts, bringing us synth-rock jams that may as well have come off a Top 40s chart circa 1985. But the group's range of influences makes them a sort of nu-folk-meets-'90s-R&B power trio and Days are Gone a knockout. Its dateless quality (and its damn sunny disposition) is what excites music-lovers about Haim.
5. Kurt Vile / Wakin on a Pretty Daze
It's easy to dismiss Kurt Vile as a longhair Jeff Spicoli, but all of the stoner jokes in the world can't take away from the success of Wakin on a Pretty Daze. The album's quasi-title track, "Wakin on a Pretty Day" is exactly what it sounds like, strumming along for a warm, syrupy nine-and-a-half-minutes and lulling us into the world of one with Kurt Vile. The singer-songwriter seduces with his psychedelic coo, but rather than brush us off with space case isolationism, he invites us into his contented sphere of being. Fear of desertion is what brings Vile's easy vocal to a place of commonality, making Wakin on a Pretty Daze the most accessible non-stoner album of 2013. Languid, almost stationary songs can be a hard sell, but when done with the warmth of Kurt Vile's guitar, slays.
Popular in the Community