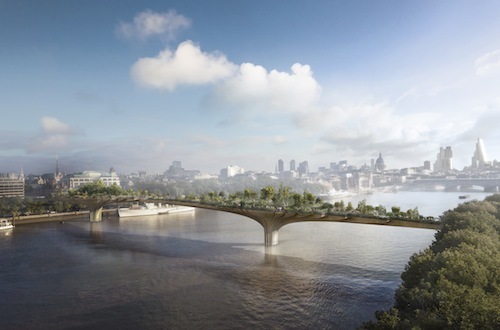 Some brilliant ideas in architecture and design are being presented at galleries and museums around the world right now. From a modernist master in Sydney, to an innovative thinker in London, here are five exhibitions to plan for in the coming months.
1. Provocations: The Architecture and Design of Heatherwick Studio, Hammer Museum, Los Angeles, CA
February 20 - May 24, 2015; travels to the Cooper Hewitt, Smithsonian Design Museum, New York, NY, June 21 - October 25, 2015
He reinvented the concept of the basic drawbridge with "Rolling Bridge," which spans a canal in London. Then he awed the masses, clinching the top prize for the design of the UK Pavilion at Shanghai Expo 2010 with "Seed Cathedral." British architect Thomas Heatherwick is renowned for coming up with inventive solutions to common design challenges by combining new materials and technologies with innovative engineering. And his studio's projects span the gamut from Longchamp bags to London city buses. This exhibition offers visitors the opportunity to experience a selection of Heatherwick Studios' groundbreaking work, through videos, photographs, prototypes and large-scale models.
2. Rebuild by Design, Danish Architecture Center, Copenhagen, Denmark
February 6 - April 16, 2015
Hurricane Sandy wreaked havoc on New York City and the surrounding region, but from the wreckage rose a profusion of design inspiration. This exhibition presents 10 ideas for preparing the northeastern seaboard of the United States for future super storms. Each proposal was a winner or a finalist in the competition "Rebuild by Design," a federally sponsored competition for improving the region's resilience to the effects of climate change. Innovative projects like the Big U, a protective recreational strip that hug's 10 miles of particularly vulnerable coastline along Manhattan's southern tip, are already in development, and plans are on view in this eponymous exhibition.
3. Designs of the Year 2015, Design Museum, London, UK
March 25 - August 23, 2015
Each year, for the last eight years, a team of design experts have selected approximately 75 items ranging from an inventive automobile to a well-designed public park for this London exhibit. To be included, each piece must "promote or deliver change, enable access, extend design practice or capture the spirit of the year." Stars of previous editions have included a Zaha Hadid cultural center, Shephard Fairey's Obama poster and Yves Béhar's "One Laptop Per Child" program. Providing a picturesque, one-stop way to get an overview of some of the most innovative and inspirational design ideas from around the world, this year's event promises to include an impressive array fashions, gadgets, airplanes and architecture.
4. Measuring: This Much, That Much, How Much?, 21_21 Design Site, Tokyo, Japan
February 20 - May 31, 2015
Length, width, depth. They're critical parameters in the lexicon of design. But measurement takes the shape of so much more than that. For example, in Japan the size of a room is measured by the number of tatami mats needed to cover its floor. This exhibition ponders the sociocultural circumstances that gave rise to various units of measurement. Perceived as "communication tools" the units of measurement examined include those used for less tangible materials, like air and sound, as well as more recently developed units like pixels and bytes. By exploring the vast breadth of different types of measurements, the exhibition aims to present an aspect of inspiration for designers, as well as offer a thinking point for visitors to get a better appreciation for the design of everyday things.
5. Harry Seidler: Painting Toward Architecture, Museum of Sydney, Sydney, Australia
November 1, 2014 - March 8, 2015
A protégé of Bauhaus masters, Harry Seidler called upon his training and collaborations with Marcel Breuer, Martin Gropius and Joseph Albers to imbue Sydney with a modernist footprint. Iconic skyscrapers and residences like Australia Square, the MLC Centre and the Rose Seidler House testify to the great architect's legacy a half century after their construction, and nearly a decade after his death in 2006. This exhibition tells Seidler's story, beginning with his escape from Vienna after the Nazis occupied Austria in 1938. Original drawings, paintings, models and photographs showcase his masterful work in the years that followed, including collaborations with artists like Alexander Calder, Frank Stella and Sol LeWitt.
Sign up for our weekly newsletter to get the best of ARTPHAIRE delivered straight to your inbox!
--Celeste Sunderland has lived in New York, Berlin, Paris and the San Francisco Bay Area. A graduate of The University of Rhode Island's Journalism School, she spent nearly a decade working in digital media production, and has been writing professionally for print and online publications for over fifteen years. In addition to writing for ARTPHAIRE, Celeste has her own blog Tidepooler.com, inspired by a photograph by the German photographer Olaf Otto Becker.
PHOTO GALLERY
Top 5 Design & Architecture Exhibitions For You Calendar
REAL LIFE. REAL NEWS. REAL VOICES.
Help us tell more of the stories that matter from voices that too often remain unheard.