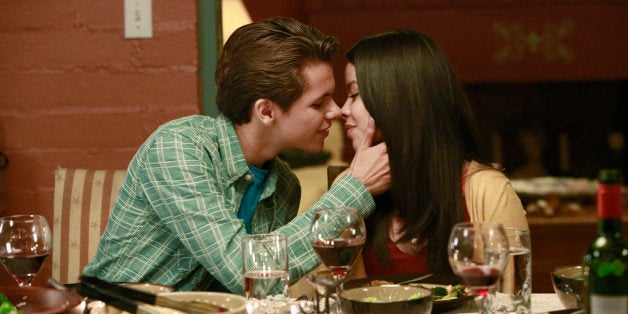 Growing up, I had no idea what "coming of age" meant for one main reason: I never asked. I always assumed that it was a synonym for being a teenager, but until I actually became one, I was blissfully going along with a foreign concept. Now, I understand it to describe the topics of young adulthood: self-confidence, friendships, relationships, peer pressure, sexuality and other forms of self-identification.
As a movie/TV fanatic, it's hard to pinpoint just a few shows that fall into this category. Most, if not all, television programs project some type of messages for viewers to decipher. But, not all television programs were designed for teenagers/young adults. When it comes to "coming of age" shows, The Wonder Years and Freaks and Geeks may pop into someone's mind. The programs on the list below are are just of my own favorites that dive into relatable issues of today's youth in the last couple of decades; they're arranged in no particular order.
1. The Fresh Prince of Bel-Air And His Royal Family. Let's be honest, how many of you learned all the lyrics to the theme song? Will's mom knew what she was doing when she sent him to live with his "auntie and uncle in Bel-Air." Subjects spanning from race to social class to gun violence were all discussed transparently. It was the perfect blend of comedic one-liners and dramatic monologues, both a credit to the writers and actors. Every single character had something that I could relate to on some level, something I think is rare in television. There was Hilary's materialistic view on life, Carlton's yearning to be successful, Ashley's determination to achieve her dreams and Will's ability to be hilarious or serious-in-the-moment. They were a dysfunctional family, but hey, who isn't?
2. Boy Meets World Meets Awkward Pubescent Teenager. BMW is one of those few programs that encapsulated all of the pre-teen and teenaged angst and portrayed it from a young person's point of view. We followed Cory Matthews for seven years and watched as he grew from a boy to a man and all of the roadblocks that popped up along the way. We learned that friendships get put through the wringer, but those that survive are the ones you were meant to keep. We found out that advice from adults isn't always condescending or patronizing, but can lead us to realize our potential. With the help of Cory's girlfriend -- and later to be wife -- his best friend, his family and the irreplaceable wisdom of Mr. Feeny, he survived it all. Eric's goofy nature, Shawn's rebellious attitude and Topanga's unyielding perseverance all made for the epitome of a "teen show." While it was predominately told from Cory's perspective, each character had a background and a history. (If you didn't know, a new spin-off series, Girl Meets World is set to air later this year!)
3. Ugly Betty In The Big Apple. One of my favorite previously aired shows, and one I find totally underrated, is the story of Betty Suarez. While she's already graduated from college, this series chronicles her life fresh out of school. In a business where the modern "standards of beauty" threaten her self-confidence, Betty finds a way to brush off her co-workers' snide comments and disapproving looks. She makes friends and alliances, as well as a few enemies -- to be expected. She lives at home with her proud-Hispanic father, her outgoing sister and her fashion-conscious nephew. They serve as both a support system and a reminder of where she comes from. The underlying messages of heritage, privilege and the modern work place all explore life after high school and college, but through the lens of innocent idealism.
4. Glee And Their New Directions. When Glee first aired, I was hooked from the very first episode. Musicals were never my thing, but Glee made it clear that it was no High School Musical. Sure, it's your average band of misfits, but there was something different about this show... something extra unique -- and it wasn't just the spontaneous song and dance numbers. From Rachel Berry's devotion to musical theater, to Unique's ground-breaking revelation, there's something that speaks to millions of people. Eating disorders, teen pregnancy, untimely deaths (RIP Cory Monteith) and suicide attempts are just a few of the real-life issues Glee tackled head-on. Both the students and the adult's lives are given thorough story lines, all of which teeter on the edge of reality and the unbelievable. While the series may come to an end in the near future (creator Ryan Murphy has stated the next season will be its last) I'll carry the lessons I've learned from this show for years to come.
5. The Fosters, A Modern Family. In my last article, I talked about the major breakthrough in the show. It's only right that I include it on this list. The Fosters is not just a series about acceptance, but it's about finding family and the love that comes with it. Although I can't empathize with being in the foster care system, I can understand having two moms, as well as growing up in a multi-ethnic family. The Fosters never fail to express that Lena and Stef are just as caring, supportive and adoring as every other parent out there. The show also explores what it's like to be a child of divorce, having a parent with an addiction and having a parent in the prison system. Such topics are not handled lightly, but with great care and consideration. The Fosters examines the different hands of cards teenagers get dealt, and how they choose to play them. Sometimes we win, sometimes we lose and sometimes we fold.
What are some of your favorite "coming of age" shows? Let me know in the comments below!
REAL LIFE. REAL NEWS. REAL VOICES.
Help us tell more of the stories that matter from voices that too often remain unheard.