2015 was an interesting year, to say the least. Kanye West announced he's running for president, the internet freaked out over the color of a dress, the phrase "Netflix and Chill" took on a whole new meaning, and, most recently, everyone became a Star Wars fan. Although this year had its ups and downs, there were some incredible women who continued to be positive role models, yet their Girl Power was not nearly as talked about as Drake's Hotline Bling dance was. Here are some women that will inspire you to reach new heights in 2016.
Who is she?
Thirty years after women became 50 percent of the college graduates in the United States, men still hold the vast majority of leadership positions in government and industry. This means that women's voices are still not heard equally in the decisions that most affect our lives. In Lean In, Sheryl Sandberg examines why women's progress in achieving leadership roles has stalled, explains the root causes, and offers compelling, commonsense solutions that can empower women to achieve their full potential.
Sandberg is the chief operating officer of Facebook and is ranked on Fortune's list of the 50 Most Powerful Women in Business and as one of Time's 100 Most Influential People in the World. She gave an electrifying TEDTalk in which she described how women unintentionally hold themselves back in their careers. Her talk, which became a phenomenon and has been viewed more than two million times, encouraged women to "sit at the table," seek challenges, take risks and pursue their goals with gusto.
Why she's awesome
Not only is Sheryl a powerhouse in the technology world, but she also has a family, including a beautiful daughter, who she makes her number one priority. She often discusses the idea that women tend to leave their successful careers when they start a family, however Sheryl is walking proof that a woman truly can have it all. Her decision to receive a degree in Economics from Harvard Business School has paved the way for the respect she has earned to date. Oftentimes, when we picture a powerful business woman, we think of the cut-throat woman who isn't afraid to tear others down. I've never liked that image very much. Sheryl shows us that we can be powerful, kind, successful and empathetic all at the same time. Those are some serious goals.
"Women have made tons of progress. But we still have a small percentage of the top jobs in any industry, in any nation in the world. I think that's partly because from a very young age, we encourage our boys to lead and we call our girls bossy."

Who is she?
Wojcicki, CEO of YouTube, admits it can get a bit messy checking emails after her five children go to bed, or texting with her kids while at work. It's better to keep work and family life separate for each to thrive, she says. "In the mornings, I'm focused on getting the kids off to school, which is a huge project in and of itself. They'll need signatures for homework or a field-trip form. But as soon as they are gone, I get ready and go to work. And once I'm at work, I'm really able to focus on work."
Wojcicki also carves out time to serve as a board member for global literacy charity Room to Read. The organization serves as a link between Wojcicki's work and personal life.
"This is a chance for people all over the world who otherwise do not have good access to education to be able to improve their literacy and empower themselves," says the YouTube topper. "With Google, people are able to go online and learn new facts, new skills and hobbies and see places they've never been before. And I see how empowering that is."
Why she's awesome:
I seriously don't think this woman sleeps. Susan makes her family her top priority, while simultaneously giving back to the community, AND she is the reason I have spent hours watching makeup tutorials and behind-the-scenes bloopers of Friends, as well as learning more about amazing mentors. She loves the technology and corporate world not because it makes her successful, but because it empowers others. She has a passion, and she found a way to make a career out of it. Susan is living the ultimate dream, and one day I hope to be half as empowering as her.
"I have tried to be a leader. I have tried in my role of being one of the first women at Google, let alone the first woman to have a baby, to really try to set the tone that this is a great place to work for diversity reasons."

Who is she?
Beyonce Knowles is a multi-platinum, Grammy Award-winning recording artist who's acclaimed for her thrilling vocals, videos and live shows. At the Grammy Awards, Beyonce walked away with six honors -- the most wins in a single night by a female artist. She also tied the record for most Number one hits on Billboard's Pop Songs chart, which is based on radio airplay. She made the Forbes Top 10 list of entertainment's highest-earning women. Beyonce has now won 16 Grammys. Not only has she taken over the pop music world, but she has also appeared in television and film.
Why she's awesome:
First of all, if you haven't heard of Beyonce yet, you are seriously living under a rock. Not only is she clearly a successful pop star, which is every girl's dream, but she is actually a really great role model for young girls. The music industry is not always the best place to find positive women to follow, so Beyonce is a refreshing change. She uses her social media to rejoice alternative cultures, and she recently gave $7 million to a Houston charity providing housing, therapy, food and health care for the homeless. She's a mom who seems honestly fervent in regards to loving her daughter and she's very close to her family. However, she does her best to keep private family business out of the media, which is unfortunately rare. To top it all off, she's proud to call herself a feminist and she has continuously indorsed power and individuality in her lyrics, as well as a healthy body type. Basically, you can say what you want about her, but it's undeniable that we could all take notes on confidence from the Queen Bey.
"Your self-worth is determined by you. You don't have to depend on someone telling you who you are."

Who is she?
The story of Malala Yousafzai is so inspirational; you couldn't make it up. Named for an Afghan folk heroine, the activist Pakistani teenager was shot in the face and left for dead by the Taliban in 2012 -- but recovered and went on to speak out about the gross injustices in girls' education in her country and around the world, becoming the youngest-ever Nobel Prize laureate. Her first book, I Am Malala: The Girl Who Stood Up for Education and Was Shot by the Taliban became a New York Times Bestseller.
Why she's awesome:
Malala is honestly one of my favorite people in the world. Upon hearing her story, I immediately got a copy of her book. To have such bravery at such a young age is incredibly admirable. She truly lives her life for others, which is something we could all learn a thing or two about. Malala's story will really put your life in perspective. It's so easy for us to complain about going to school or doing homework. Malala, along with many other young girls in Pakistan, would give anything to receive an education. If this girl isn't one of your heroes, you need to do some research on her. You won't be disappointed. Malala is the true essence of Girl Power.
"People say Malala's voice is being sold to the world. But I see it as Malala's voice reaching the world and resonating globally. You should think about what is behind Malala's voice. What is she saying? I am only talking about education, women's rights and peace.

Kerry Washington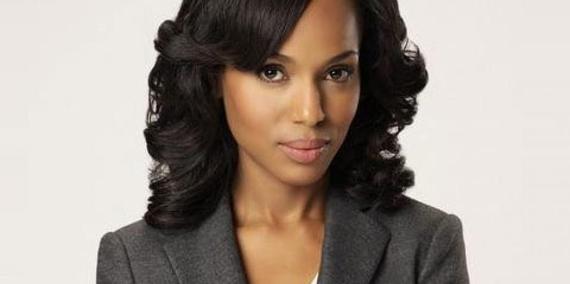 Who is she?
Kerry Washington is an American actress. Since 2012, she has gained wide public recognition for starring in the ABC drama Scandal, a Shonda Rhimes series in which she plays Olivia Pope, a crisis management expert to politicians and power brokers in Washington DC. For her role, she has been nominated twice for a Primetime Emmy Award for Outstanding Lead Actress in a Drama Series, Screen Actors Guild Award for Outstanding Performance by a Female Actor in a Drama Series and a Golden Globe for Best Actress in a Television series. Kerry is also a member of V-Day, a global movement that brings awareness to violence against women and girls.
Why she's awesome:
Kerry is one of the most elegant and refreshing celebrities walking the red carpet today. Not only is she a great role model for little girls growing up in Generation Selfie -- who are bombed endlessly with the message that tweeting topless photos of themselves is better than not being mentioned on Twitter at all -- but she is also a wonderful role model for alternative celebrities, some of whom I wish would take cues from her, however I'm not counting on it. I applaud Kerry for making the choice not to post on social media when she gave birth to her child. She keeps her personal life private, and isn't fanatical about fame. She didn't seem to care that she would lose out on a profitable publicity opportunity and didn't seem to mind not being the focus of attention -- an idea that in this day and age almost disqualifies her from being a superstar. Here's hoping that more celebrities and, honestly, the rest of us, follow her lead.
"I always felt like my value was much more in my intellect than it was in my appearance."

So, there you have it. As you are making your New Year's Resolutions, keep these brave, powerful and inspiring women in mind. My favorite thing about this list is that they are all SO different. Different ages, backgrounds, ethnicities, careers. However, they have one thing in common: MAJOR Girl Power. This shows us how Girl Power can come in all shapes and sizes. Forget about society's expectations... When given the choice of being as strong as these women, or as popular as a Kardashian, I would pick Girl Power over social status in a heartbeat.