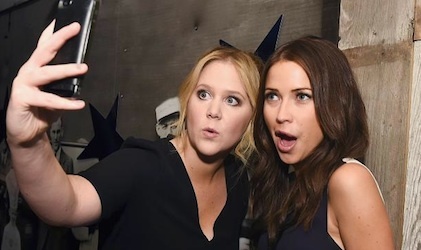 "The Bachelor/ette" franchise may have finally been completely ruined for us last night after Amy Schumer's guest appearance during one of Kaitlyn's group dates. That's how brilliant she was, turning the show into what it really should be, what it was meant to be. Schumer was her usual, inappropriately hilarious self, but it's a testement to her craft that she was able to refrain from bringing up any "Bachelor" aborshes, no matter how tempting -- the comedian can read an audience (or else the censors just kicke in). After mentoring several contestants on penning their own stand-up routines, hosting the group date at the Improv, and realizing after only half a day that she wants to spend the rest of her life with Kaitlyn, Schumer proved that she should be on every episode of "The Bachelorette," either as the host (sorry, Chris Harrison) or the bachelorette herself, returing every season, again and again. Now we fear the show may truly be unwatchable from here on out -- it was just that good:
Oh, who are we kidding? There are still plenty of love lessons to be learned from the mistakes of those who continue to foolishly go on national television to find love. Here are a quick five from last night:
There is no shame in walking away from a fight. In fact, it's a sign of character to know your own limits, exhibit more reason than machismo, and be an embassador of peace and love. Plus, why would you want to risk getting your nose broken before a date? Dumb as rocks. Just as everyone who voted for Britt should have walked away from this "process," everyone other than the "200 pound human brick wall" should have walked away from the ring.
There's a fine line between confidence and cockiness: don't cross it. (We're talking to you, JJ.)
If someone's made it to age 31 without ever having been in love before, there's a reason for that -- and it's probably not a good one. (A person using the term "love virgin" is grounds enough for walking away.)
When trying to get someone interested in you, don't complain to them that they're not showing enough interest in you. Prove you're worthy of attention; don't whine that you're not getting any (Kupah).
As Britt and Katy Perry will tell you, "After a hurricane comes a rainbow. Maybe a reason why all the doors are closed? So you could open one that leads you to the perfect road." Getting rejected -- whether on national television or not -- could be the best thing that happens to you.
REAL LIFE. REAL NEWS. REAL VOICES.
Help us tell more of the stories that matter from voices that too often remain unheard.