Gov. Bruce Rauner, House Speaker Michael Madigan and Senate President John Cullerton meet in Springfield.
Madigan and Cullerton emerge to describe the meeting as "cordial."
Rauner publicly derides Democrats Madigan and Cullerton as beholden to, dependent on and operators of a corrupt political system.
Rauner added a new twist this week when he began airing a 30-second TV ad that singled out Madigan, the state's most powerful Democrat, as the source of the state's financial woes and chief impediment to their solution.
"Mike Madigan and the politicians he controls refuse to change. They're saying no to spending discipline. No to job-creating economic reforms. No to term limits. All they want is higher taxes -- again," the ad's narrator states.
It's an unprecedented move politically and has perplexed most observers. If you're trying to make progress in an important negotiation, why be cordial to your adversary in private only to rip him so publicly? But Rauner was elected on a pledge to break all the china in Springfield's insider cabinet and this, presumably, is part of that effort.
For their part, Madigan and Cullerton have scrupulously avoided returning fire upon Rauner's invective. In a pair of media appearances this week -- Cullerton on WTTW-TV's "Chicago Tonight" on Monday and Madigan in a Capitol press conference the next day -- they offered up some interesting quotes that encapsulate the substance and curious tone of the budget talks.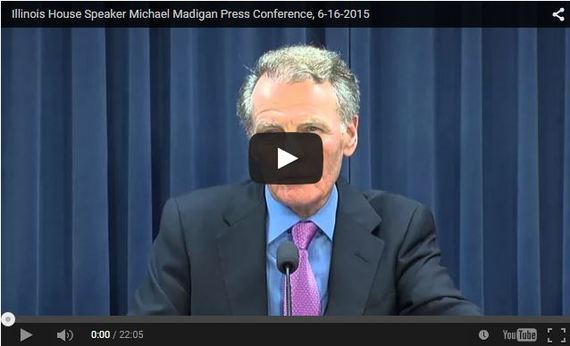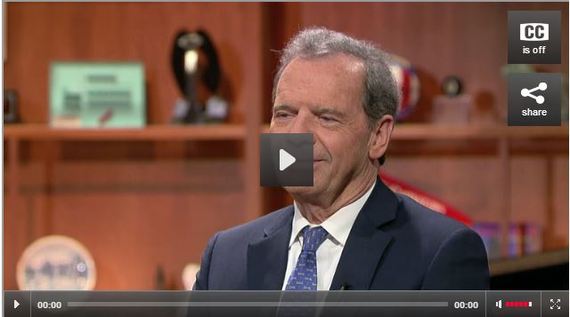 Here are five of the most notable quotes from Madigan and Cullerton during their recent appearances.
10. (Madigan) When I meet with the governor I'm going to reiterate what I told him a few weeks ago. That the No. 1 problem facing the state of Illinois is the budget deficit and the elimination of that budget deficit will only be done in moderation, not in the extreme. And any actions by anybody in the extreme are not helpful.
9. (Cullerton) We cannot have the state shut down. People maybe in the Chicago area don't realize how important it is what the state does... We also have to make sure that the schools open. The schools literally could not open. Over a third of the money that comes to schools comes from Springfield. And so what's at stake is critical.
8. (Madigan, responding to the question, "Is the governor credible right now?") No comment.
7. (Cullerton) I just want to work together to pass a budget that he can sign and work with him on his other items that are not related to the budget to see if we can address the issues that he wants to address. I'm not going to do any name-calling. I'm not going to react to his name-calling. I would urge him to not do his name-calling.
6. (Madigan) I'll accept his (Rauner's) argument that the current budget deficit and the problem of the accumulated debt of the state has been caused over several years. It's a multi-year problem that's developed. It's going to require strong action by a lot of people in the government to solve those two problems. That's why I continue to argue that if we're to eliminate the budget deficit, if we're to bring down the accumulated debt, everybody has to be reasonable and everybody has to function in moderation, not in the extreme.
Sign up for our daily email to stay up to date with Illinois politics.
Calling all HuffPost superfans!
Sign up for membership to become a founding member and help shape HuffPost's next chapter