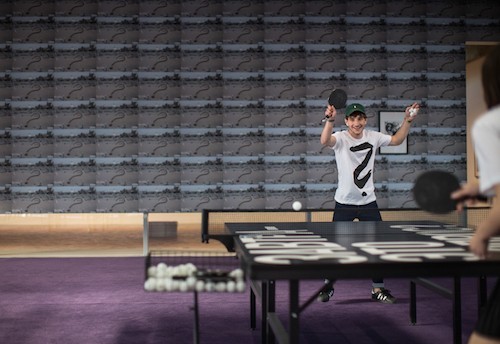 In the globalized world, it is possible to travel anywhere in the world, and see exemplary contemporary art that can't be viewed anywhere else. Below, we round up five shows in far-flung locations that can't be missed this summer.
Garage Museum of Contemporary Art, Moscow
Through August 23, 2015

One of five exhibitions heralding the opening of the Garage Museum's new home, which was designed by Rem Koolhaas and is located in a Soviet-era concrete building in Gorky Park, "Tomorrow is the Question" is the first solo exhibition of works by Rirkrit Tiravanija in Russia. Born in Buenos Aires, Tiravanija is best known for projects that involve relational aesthetics -- cooking meals, creating structures for living and socializing with viewers are central elements in his work. At the Garage Museum, he creates an installation based on his time spent in Russia participating in popular activities -- playing ping-pong, producing t-shirts and eating pelmeni, which are Russian dumplings. Occupying the Central and Skylight Galleries in the structure, which was originally a 1200-seat restaurant that opened in 1968, and was largely preserved by Koolhaas, Tiravanija has created a leisure space marked by a plush purple carpet, black ping pong tables, a t-shirt factory and a stand serving pelmeni. The installation will open up the museum to the city, drawing in crowds to what is arguably the most important space to see contemporary art in Russia.
Ullens Center for Contemporary Art, Beijing
June 27 - August 30, 2015
Known best for stop motion animations that deal with trauma, memory and the troubled history of his native South Africa, Kentridge has been admired in China ever since displaying work at the Shanghai Biennial in 2000. In "Notes Towards a Model Opera," Kentridge shifts his focus from his homeland to China, where he examines its particular aesthetics and socialist ideals. Spanning the artist's 25-year-long career, the exhibition begins with early films and drawings starring the semi-autobiographical figure of Soho Eckstein, the real estate tycoon who inhabited many of Kentridge's early films about apartheid. It then explores installations such as "I Am Not Me, the Horse Is Not Mine" (2008), a multi-media presentation based on Nikolai Gogol's "The Nose," which later led to Kentridge designing and directing an 2010 production of Shostakovich's 1930 opera "The Nose" at the Metropolitan Opera in New York. The highlight of the exhibition at the UCCA is the eponymously titled "Notes Towards a Model Opera," a work that fills the main gallery. A catalogue that includes a dossier of Kentridge's personal annotations and drawings, as well as a profile by author Andrew Solomon, and essays by China art historian Alfreda Murck and UCCA director Philip Tinari will accompany the show. After the UCCA, the exhibition will travel to the National Museum of Modern and Contemporary Art, Seoul, as well as other venues throughout East Asia.
May 27 - August 2, 2015

World of Xijing work of the Xijing Men, a collective formed in 2006 by 2006 by Gimhongsok, Chen Shaoxiong, and Tsuyoshi Ozawa, artists from Korea, China and Japan respectively. All born in the 1960s, the three artists are interested in exploring contradictions between personal life and institutional systems. Xijing is a fictitious city they created together. The exhibition presents all of the stories of this city. Organized into six "episodes," it reveals the politics, economy, culture and society in this fictional location -- a place constructed from myths and fabrications. In the final gallery, "Epilogue," each of the artists displays a personal project that pokes fun at the art world economy, as well as the relationship between the East and the West. Gimhongsok appropriates Robert Indiana's sculpture Love, for example, and Ozawa uses soy sauce to recreate Western paintings admired by Japanese people. More than creating a realm detached from reality, the show introduces a large audience to three artists considered to be seminal in the post-conceptual Asian art world.
Museum of Contemporary Art Tokyo
Although the designation "Asia-Pacific" is readily accepted by the Western world, it is a term fraught with contradictions, invariably based on political agendas and ideological assumptions that render those who live within the region as "others" to their own identities. Time of Others presents work by 18 Asian-Pacific artists who, although not bound by any specific race, ethnicity, religion or socio-economic status, are nonetheless seen as "others" within the vast region they inhabit. Rather than highlight differences, the exhibition attempts to form an "assemblage" of all of their identities, creating a textured and lush definition of what it means to be Asian-Pacific in the contemporary, globalized world. A curatorial collaboration between Museum of Contemporary Art Tokyo, The National Museum of Art in Osaka, the Singapore Art Museum, and the Queensland Art Gallery, after Tokyo, the exhibition will travel to Osaka, Singapore and Brisbane in 2015 and 2016.
5. Wael Shawky: Crusades and Other Stories
Mathaf: Arab Museum of Modern Art, Qatar
Part of the Qatar Museum Authority established by Sheikh Hamad bin Khalifa Al Thani, the Arab Museum of Modern Art is currently one of few institutions devoted to modern and contemporary art made in the Arab world. This summer, it will host an exhibition by Wael Shawky, who was born in Egypt, and concurrently has an exhibition open through August 31, 2015 at MoMA PS1 in New York. In Qatar, he presents two recently completed film trilogies inspired by 20th century literature. Told from an Arab perspective, "Cabaret Crusades" (2010-2014) draws on Amin Maalouf's novel "The Crusades through Arab Eyes" (1983), and "Al Araba Al Madfuna" (2012-2015) juxtaposes stories by the Egyptian writer Mohamed Mustagab with Shawky's own experiences living in Egypt. The exhibition is enhanced by over fifty ceramic and glass marionettes used in "Cabaret Crusades," as well as drawing from both trilogies.
Brienne Walsh is an ARTPHAIRE contributor, as well as a freelance writer who contributes to Art in America, Interview Magazine, The Huffington Post, Glo, NY Mag, The New York Times and the NY Daily News, among other publications.
PHOTO GALLERY
Top 5: More Summer Shows To See Around The World
Calling all HuffPost superfans!
Sign up for membership to become a founding member and help shape HuffPost's next chapter