How much is that doggie in the window? More than you might think. While the cost of dog food and toys can be squeezed into most people's monthly budgets, the costs involved in dog-friendly housing, veterinarian bills and quality pet care can really add up, especially in big cities.
To find out where you'll pay the most to have a dog, Redfin, Trupanion and Rover.com analyzed data on 116 major cities, and found...
The most expensive cities to have a dog are:
San Francisco, California
Fort Lauderdale, Florida
Aurora, Colorado
Portland, Oregon
Chula Vista, California
The least expensive cities to have a dog are:
Phoenix, Arizona
The Woodlands, Texas
Nashville, Tennessee
Detroit, Michigan
Fayetteville, North Carolina
The ranking is based on the following criteria:
Housing: How much more you'll pay for a dog-friendly rental compared to the average cost of all rentals in the city, based on data from Walk Score, a Redfin company.
Healthcare: Average monthly premium and $250 deductible to insure a mixed breed male puppy with Trupanion, a company that offers medical insurance for cats and dogs.
Pet Care: Average daily rates for dog sitting and day care, based on data from Rover.com, the nation's largest network of dog lovers for hire.
While having a dog is worth every penny, it's important to know how many pennies you'll need to give your dog the care he or she deserves. Here's what to keep in mind.
Housing
If you've added a new best friend to your life, prepare to pay more for housing. According to the analysis, dog-friendly rentals cost 6 percent more than the average cost of all rentals in the 116 cities that it looked at.
Since the cost of living varies widely between cities, the Redfin ranking was based on how much more you'll pay for a dog-friendly home or apartment in that area. In the top five most expensive cities, you'll pay anywhere from 11 percent (in Chula Vista, Calif.) to 20 percent more (in Aurora, Colo.) for a dog-friendly rental, while in the least expensive cities, dog-friendly rentals are actually cheaper (-21 percent in Phoenix), or only slightly more (3 percent in Detroit).
The reason why landlords in some cities can charge more is a simple case of supply and demand. On average, across all 116 cities, 16.5 percent of rentals allow dogs. In the most expensive cities, only 12.3 percent of rentals allow dogs. In the least expensive, 20.5 percent allow dogs.
Health Care
Trupanion has seen an increase in veterinary costs across the country over the past five years. And though the cost of living is a large factor in the general cost of veterinary care for a city, the analysis found that cities that have high housing costs don't equate to high veterinary costs. The cost of medical coverage in the most expensive cities to own a dog ranges from $38.81 in Fresno, Calif. to $46.74 in San Francisco. For those cities that are considered less expensive, medical coverage ranges from $52.11 in Scottsdale, Ariz. to $36.84 in Philadelphia.
Pet Care: Dog Sitting and Daycare
Our dogs are our family. When we leave home, we want them in the hands of other dog lovers who'll give them the TLC they deserve. Whether it's a local dog walker who'll take your pal on a stroll, a doggy daycare provider who'll play with your pet while you're at work, or a pet sitter who'll give your dog a sweet staycation while you enjoy your trip, finding the perfect pet care can be the difference between peace of mind and stressing out. According to data from Rover.com, the average cost of a loving pet sitter is $29 per night nationwide. That's on top of dog walking and daycare, which many city dwellers pay for every week.
The following infographic breaks down the costs of dog ownership in each city that made the list.

Having a dog may cost a little extra, but that smile on your dog's face when you come home? Yeah, that's priceless.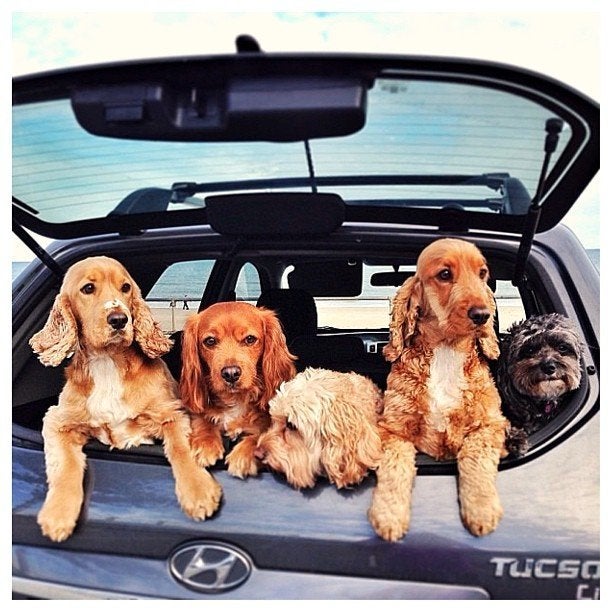 Best Places For Dog Owners