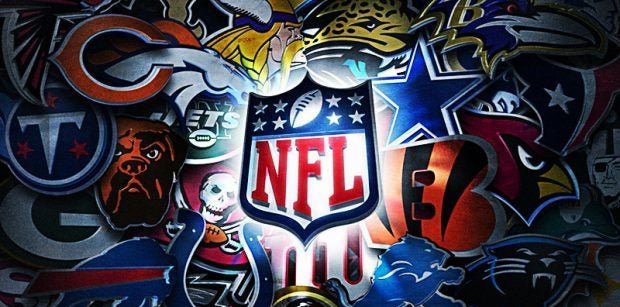 As the fantasy football season comes to a close, we look back on the women who made it happen. Yes, I said women.
I had the opportunity to chat with ESPN's Fantasy Guru Matthew Berry last month and asked him to name the top five most influential women in fantasy football. I was not shocked by the silence, the hesitation, or the stutter. However, once we got the (foot)ball rolling, I was pleasantly surprised and amused to find that he was having difficultly narrowing down his list to five.
You heard it here first – there are more than five women who've made a name for themselves in the fantasy sports arena. And that means that you (or me, please let it be me) can do it too. Below are the women, according to Barry, that the female fantasy enthusiasts of the world can aspire to become.
1. Dawn Hudson, EVP Chief Marketing Officer at NFL
It's no easy task reporting directly to Roger Goodell, a man who might receive more harsh criticism than all the Kardashians combined. But it's especially nerve-racking when you're the first female executive ever to report to Roger Goodell, and the top items on your to-do list consist of domestic violence disputes, brain injury lawsuits, and something known as Deflategate.
But Hudson, having spent 11 years at PepsiCo and some time as the chairman of the LPGA, couldn't bring herself to turn down Goodell's offer. Rebuilding the NFL's image became Hudson's top priority and she seemingly made fantasy football her side hustle.
"She is someone who is very attuned to fantasy and the promotion of fantasy. It's very important to her," Berry said. "It's great to have someone as influential, smart and powerful as she is who's such a huge proponent of fantasy. She really gets it."
2. Stacie Stern, General Manager at Head2Head Sports
Self-proclaimed as the First Lady of Fantasy Sports, Stacie Stern works full-time as the General Manager for Scottsdale-based Head2Head Sports while hustling on the side as a member of the Board of Directors for the Fantasy Sports Trade Association. From humble beginnings as the store manager for Van's Golf Shops, Stern has now become a championed voice for the legality of fantasy sports.
According to Berry, in addition to being a GM, wife and mother, she has spent the greater half of the year testifying in front of state legislatures and meeting with lobbyists, editorial boards and media companies, campaigning on behalf of fantasy sports.
"She's done a lot of great work behind the scenes for the entire [fantasy] industry," Berry said.
Stern clearly knows how to juggle all the balls in her court.
3. Stephania Bell, ESPN's injury analyst
You would think Berry was a little subjective with this one, given that Stephania Bell is his podcast co-host of Fantasy Focus and colleague at ESPN. However, leaving it at that would be doing Bell an incredible disservice. In addition to being an avid fantasy player herself, Bell has spent close to the last decade at ESPN cultivating contacts around the various sports leagues and staying abreast with the latest medical procedures and technologies. Why is sports medicine a focal point of hers? After getting a degree in French from Princeton University she went on to become a licensed physical therapist.
"We joke on the podcast about how many degrees she has," Berry said. "No one I know works harder than she does. She created an entire niche area at ESPN in sports injury analysis, she was the first to create it, and now all other companies have it."
Bell has become the foremost authority on concussions, does consulting and speaks on various panels on sports injuries.
4. Megan Van Petten, Executive Director at Fantasy Sports Trade Association
In essence, Van Petten runs the union for the fantasy sports industry. An $11 billion dollar industry with over 57 million players between the US and Canada, Van Petten is responsible for the interaction between companies and players as well as growing the fantasy sports industry.
"She does a great job of organizing the industry and overseeing our bi-annual conferences, which is important because, as big a business fantasy sports is, it's still a fairly small community," Berry said.
Van Petten has held the position since 2010 and plays a major role in helping coordinate the research, strategy, operations, and structure of the entire industry. More or less, Van Petten has been responsible for and in charge of growing the fantasy sports industry into what it is today. Golf clap, please.
5. Sarah Walsh, SportsCenter anchor
How does Berry describe her? "My friend."
"I think in the early stages of [Fantasy Football Now] having someone like Sarah bring a professionalism and sports polish to fantasy was needed," Berry continued. "[Fantasy sports] can get bogged down with information and stats, but she's really good on television. And as good as she is on television, she's an even more awesome person."
Now that we all want to be best friends with Sarah Walsh, here's one more accomplishment to add. She is the longest running host on a national fantasy show in the country. Same show, every Sunday. More reliable than a Dolphins win, and more inspiring than maybe anyone I probably have ever met.
Not only did it (eventually) become easy for Berry to name five influential women in the fantasy sports industry, but these women have been extremely instrumental in making the world of fantasy sports into a successful and growing enterprise. Although a highly male-dominated industry, the women who fight their way through really take the industry by the reigns. And it's not solely five women in a swarm of football players. There are women like Cassidy Hubbarth, Hannah Storm and Kay Adams joining the team every day to continue to make an impact on an industry that doesn't need to stay a man's game, if we have a say.
Support HuffPost
The Stakes Have Never Been Higher
Related
Popular in the Community