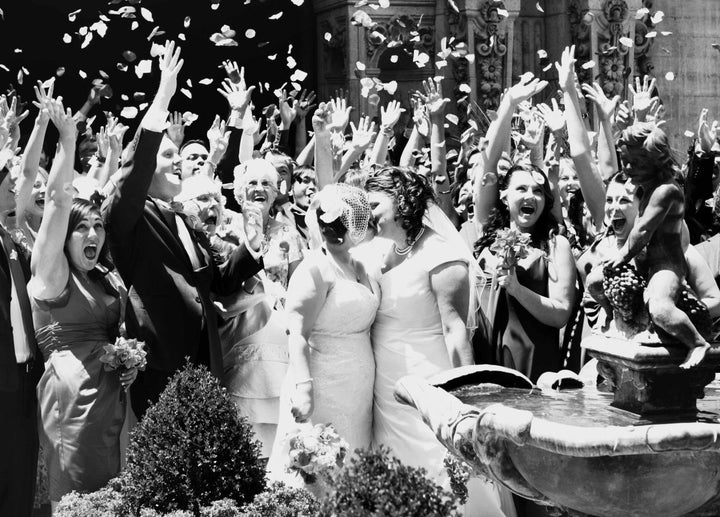 As engaged couples prepare for the upcoming wedding season, there is more competition than ever for great venues and the services of talented professionals. Relatively new to this mainstream mix in 2013 are greater numbers of same-sex couples who will be affirming their life-long commitments to one another in legal and non-legal ceremonies. This will certainly be true in states where marriage equality has recently been enacted -- yes, that's you Maine, Maryland and Washington state! -- and where it's speculated it shall follow shortly -- I'm looking at you Rhode Island, Illinois, Minnesota, Hawaii and Delaware!

Regardless of whether same-sex couples will be booking legal elopement weddings or staging ceremonies and receptions in their home states, coupes will be asking themselves how they will document this significant milestone. Ask friends to take pictures? Rely on Instagram for a slick filter and efficient viral "just married" announcement? Most likely, yes, and also... Same-sex couples will be looking for, meeting with, and booking the services of wedding photographers. Thankfully, there are more photographers than ever who are ready, willing and able to serve them. But is that enough? Not always. That's why I'd like to debunk five of the top myths about gay and lesbian engagement and wedding photography.

MYTH #1: Photographing an opposite-sex couple is the same as photographing a same-sex couple.
While it can be said that beautiful wedding photography is beautiful wedding photography regardless of sexual orientation, it cannot also be said that the process of creating beautiful wedding images of same-sex couples is the same as the process for photographing straight couples. Traditional wedding photography relies on some basic assumptions built around a white gown and a tux (or dark suit), masculine and feminine gender roles, and expectations of the physical differences between a man and a woman. Generally speaking, these assumptions don't translate well to most same-sex couples. For example, while a dip pose (a wedding playbook standard) might easily translate to the average straight couple, the pose could fall flat--literally and figuratively--for a same-sex couple.
MYTH #2: Booking a contract with a gay-friendly photographer is credential enough./
In the aughts and early days of gay weddings, most same-sex couples were relieved to find and happy to sign contracts at the minimum threshold of finding a photographer who identified as gay-friendly. This is changing, and changing quickly. Increasingly, same-sex couples want more than vendors who are gay-friendly; they want vendors who are gay wedding-competent. From the standpoint of booking a photographer, the difference can mean a gallery of wedding photos that is good or a gallery that is great.
MYTH #3: A photographer who identifies as LGBT (lesbian, gay, bisexual or transgender) is always the best person for the job.
One thing for sure: booking a photographer who identifies as LGBT means that there are a lot of nuanced background details a same-sex couple won't have to describe about what it means to be gay or what it means to plan a gay wedding. There can be some real advantages to "keeping it in the community." Even so, sexual orientation or gender identity one way or the other does not a qualified photographer make. When booking a photographer, same-sex couples need to think about budget, desired outcome, references, and compatibility. Wedding photography is a significant investment and it's important to make sure that the photographer has the experience and know-how to do the job well.
MYTH #4: Professional photography networks, associations and educational programs are doing enough to prepare photographers for engagement and wedding sessions with same-sex couples.
Though more educational seminars than ever have introduced the importance of understanding who same-sex couples are and what their needs are, most professionals have not been presented with the background training to delve more deeply into the nuanced differences that do exist between straight and gay weddings. This is certainly true in the photography industry, which, with the exception of Capturing Love: The Art of Lesbian & Gay Wedding Photography (which I've co-authored with Thea Dodds), does not offer any pose books or specific education on working with same-sex couples. Best bet for couples: take a look at a potential photographer's body of work and consider booking an engagement session first as a lower stakes way to get to know the photographer and his or her style and your compatibility.
MYTH #5: Same-sex couples are only getting married and booking photographers in states where it's legal.
Interest in the gay wedding market has often followed the headlines of advances in marriage equality and partnership recognition (like civil unions), but that doesn't mean that the only places that couples are tying the knot is where it's legal. Same-sex couples have been having ceremonies for many years now, and the advances in marriage recognition and growing ease with which LGBT persons can be "out" means that couples are more likely to have weddings and/or receptions in their hometowns, with an option to travel for an out-of-state marriage license if they so desire. In either case, most of us want to have a photographer on hand as a way to document these important milestones in our lives.
Click through the slideshow below for beautiful same-sex wedding photos.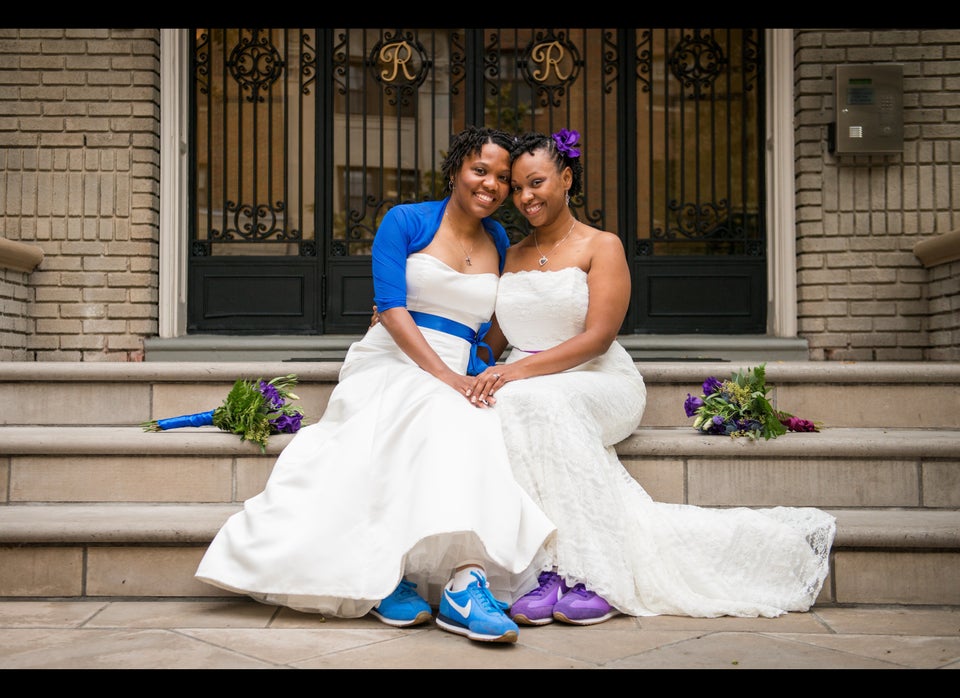 Capturing Love: The Art of Lesbian & Gay Wedding Photography
Related