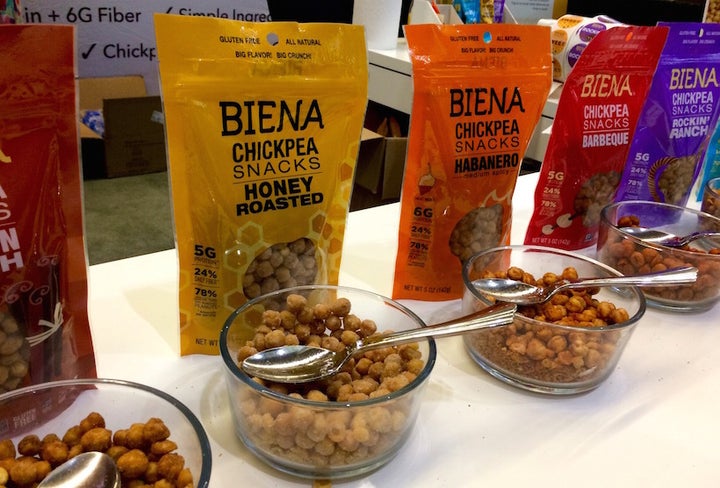 Every year thousands of Registered Dietitian Nutritionists and other food and health professionals gather at the yearly conference and expo of the Academy of Nutrition and Dietetics. The conference, which took place in Boston this week gave us a glimpse of some food and nutrition trends. Here's what they are and how you can use them.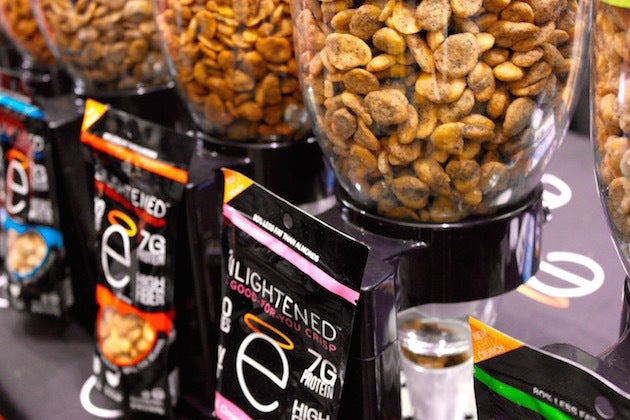 During the conference, attendees get an overload of healthy snacks in the form of bars and chips. This year there was a large number of smaller companies that were presenting protein and fiber snacks made with ingredients such as dried fruit, grains, plant protein. There was a large presence of "free from" snacks such as: free from sugar, dairy, GMO's etc. etc. Nature's Bakery Fig bars are dairy-free, trans fat-free, cholesterol free and kosher, Protes pea-protein based chips are non-GMO, gluten free and vegan, while the Rxbar that uses dates as its sweetener, informs us on the front of their package that it has no added sugar, soy, dairy, or gluten and no B.S. Savory was also big with flavors such as basil and sundried tomato bars from Mediterra, spicy habanero roasted chickpeas from Biena, and Siracha flavored broad bean crisps from Enlightened.
Opinion: Snacking has always played a huge role in the current diet. Eating on the run, after a workout, before a workout, stuck in traffic…and the list goes on and on, so it's no wonder that this area is huge for development of new flavors and nutrition profiles that reflect the trends of a certain period. And if someone will be snacking, it is great that they will be getting less sugar, more fiber and some new interesting flavors, but I often wonder whatever happened to simple and natural snacking? Why not just a fruit and some nuts, or cheese and whole grain crackers or a yogurt with a few walnuts and honey?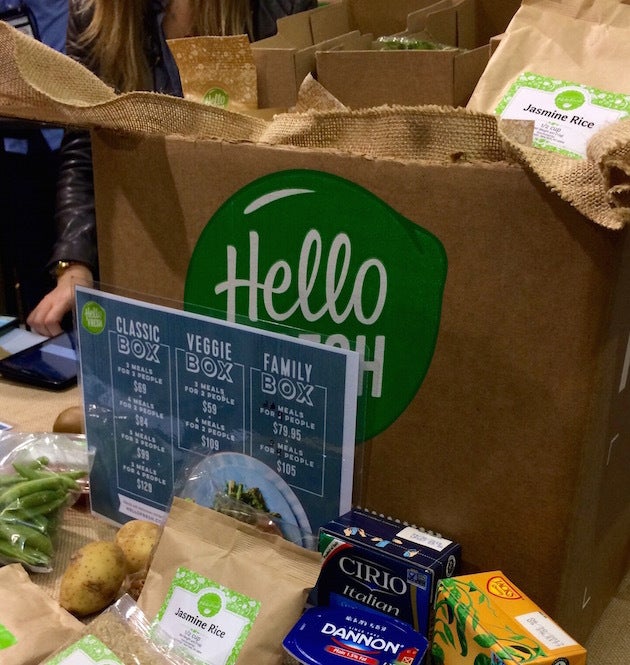 I often hear how it takes a lot of time and effort to truly eat healthy. Well, this year there were several meal delivery companies present at the conference to help. This has been a trend for a while, but here we have a focus not only on homemade meals, but a step further with meals personalized for specific nutrition concerns. Sun Basket delivers pre-measured ingredients to you for each meal, the ingredients are organic, non-gmo with meats and seafood from sustainable sources-all you have to do is cook them. Hello Fresh is another company that also sends out ingredients for all your meals every week, prepackaged in separate boxes with a choice of a veggie plan as well as a family plan. In addition, it boasts recipes from Jamie Oliver and has a worldwide presence.
Then you have precooked meals focused on weight loss that require no preparation from BistroMD. With this program a Registered Dietitian designs a custom menu for you and the meals are delivered to your door.
A different concept is offered by Gathered Table, which is more of a tech company. By signing up you receive customized meal plans and grocery lists for a variety of nutrition needs such as vegetarian, gluten-free, nut-free etc. It also comes with an app where you can use to check off your ingredient list while shopping. And it appears to be a more affordable idea as a meal can cost only $2.00.
Other tools for eating healthier were in the form of prepackaged salad kits, Eat Smart offers salad kits and blends that include a variety of greens and vegetables, plus protein sources such as nuts and cheese and dressings or vinaigrettes.
Opinion: I think this is a great trend and definitely a step above the frozen diet meals of the past. I have to say that I believe that the ingredient delivery companies is a great first step for someone who is willing to cook and this removes a few steps from the process- by having all the ingredients pre-measured and sent to you. It could also be a stepping stone to eventually buying, cooking and preparing on your own, as these delivery services can be costly in the long run. The reality is that most home-cooks have a set of favorite recipes that they cook over and over, so preparation is much quicker and not as time-consuming. Anyone can master a few recipes which can eventually lead to quick preparation of meals. Cooking is key to eating healthy, and this was also reflected in many of the sessions offered at the conference.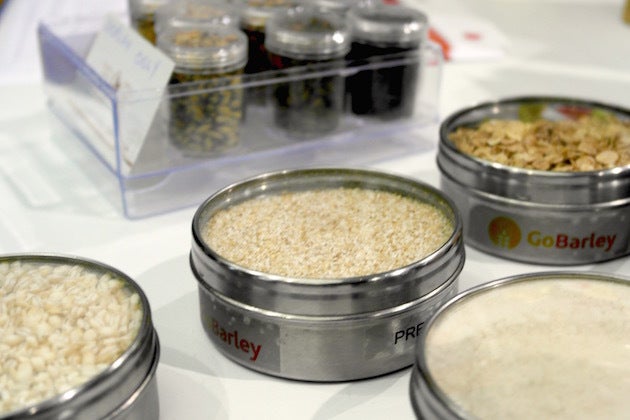 Grains are big, but more so less popular grains such as barley and sorghum. Some may call them ancient grains which are basically grains that have changed little over time. Barley had a good presence on the expo floor, Barleymax a brand based in Australia offers muesli mixes and breakfast bars with wholegrain barley and oatmeal, while the Barley Council of Canada had some great recipe ideas. Sorghum, another grain often used for sorghum syrup, also comes in the form of popped sorghum that can be used in salads and soups.
Opinion: It is good to have variety in our diet and that includes our grains. The western diet is dominated by wheat and oats, but many cultures use other grains. There are numerous traditional recipes with these grains and it's worth trying them out, rather than just substituting these alternative grains in not so healthy recipes such as cookies and cakes.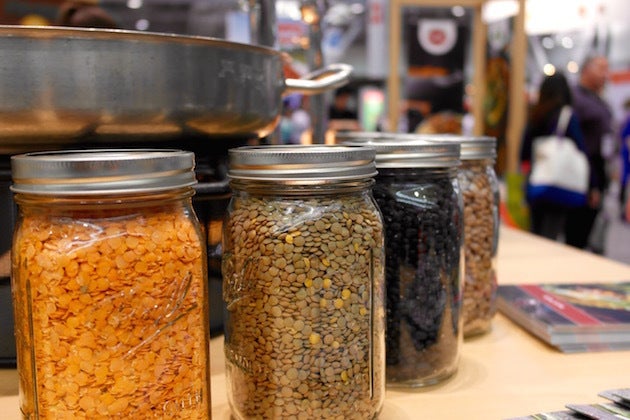 Meat free meals, plant protein, grains, beans, nuts, vegan snacks had a strong presence at this year's expo floor but also in several culinary sessions that focused on pulses and how to prepare them. Following a plant based diet is no longer associated with a restrictive way of eating, but a delicious way of eating. The trend of meat taking a secondary position on the plate has been present at restaurants for a while now, with the vegetables being treated as the main course.
Opinion: This is a great trend that I hope has some staying power. If we look at the traditional Mediterranean diet, apart from the fact that most meals are vegetarian, when meat is included it is usually as a side dish. And it should be noted that it is not necessary to be fully vegan or vegetarian to gain all the health benefits. Plant based diets with small servings of meat are an easy and acceptable way for most people to improve their diets.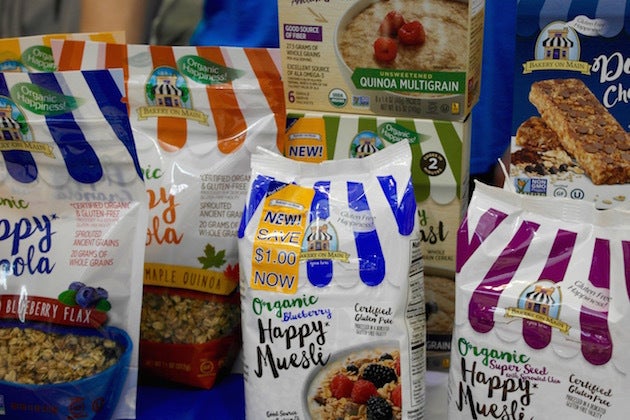 This year it seemed like big food got less attention -for a variety of reasons, and that meant a stronger presence of the smaller companies. Terms such as organic, natural, non-gmo, ethical, sustainable were the buzzwords on the packaging and at the booths.
Opinion: I'm glad this conversation has started. Consumers often look only at the nutrition component of foods without looking at how they were produced. On the other hand, others choose products just because they are organic even though they may not necessarily be healthy. There has been a lot of discussion among health professionals on what all this means. In some cases these words are used as marketing tools so it is important to understand what they truly mean.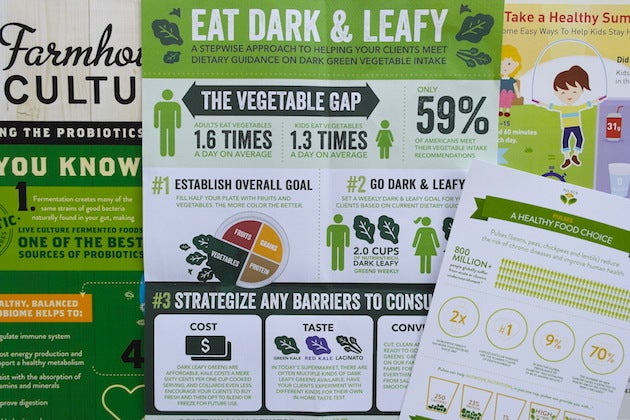 Not so much a nutrition trend, but I'm glad many companies used infographics instead of long reading materials that many consumers have no time to read.
Elena Paravantes is a Registered Dietitian Nutritionist, Writer and a Mediterranean Diet Expert.
For more information, inspiration, tips and recipes on the Mediterranean Diet visit: OliveTomato.com
Related
Popular in the Community