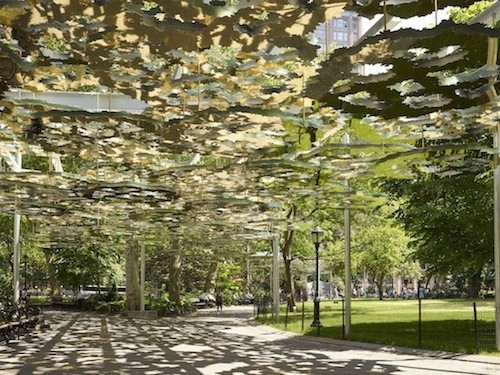 1. "Please Touch the Art" at the Brooklyn Bridge Park: Featuring the work of Jeppe Hein, a Denmark-born artist currently based in Berlin, "Please Touch the Art" is an interactive exhibition consisting of three works scattered throughout the Brooklyn Bridge Park. Appearing Rooms is a single site work. Located on Pier 1 in the 85-acre park, it consists of jets of vertically spouting water that are timed to create shifting "rooms." Viewers are invited to enter them -- and use them as sprinklers, if they want. Mirror Labyrinth NY, also on Pier 1, consists of vertical plants of mirror-polished stainless steel arranged in three radical arcs. Visitors are invited to view their fragmented visages as they wander through the space, which in form, is reminiscent of the large scale burnt sienna assemblages by Richard Serra. Finally, Modified Social Benches consists of sixteen bright red sculptural forms scattered throughout the park. Visitors are invited to use them as spaces to read, relax or socialize while they enjoy views of Manhattan across the East River. The exhibition is open through April 17, 2016.
2. "Living Pyramid" at the Socrates Sculpture Park: One of New York's many hidden treasures, the Socrates Sculpture Park was founded in 1986 by the sculptor Mark di Suvero. This summer, it is home to The Living Pyramid, a site-specific earth work by New York-based artist Agnes Denes. It consists of a four-sided pyramid that curves upwards to a point thirty-feet above the ground. It is created from several tons of soil and planted grasses and wildflowers, and is reminiscent of a living, breathing Mayan pyramid as drawn by the sloping, whimsical hand of Dr. Seuss. The Living Pyramid is Denes first public artwork in New York City in over three decades. The last was Wheatfield - A Confrontation: Battery Park Landfill, Downtown Manhattan, a 2-acre field of wheat planted on a landfill two blocks from the World Trade Center. The Living Pyramid will be up through August 30.
3. Fata Morgana in Madison Square Park: Fata Morgana is a term that originates from Morgan Le Fay, the enchantress in Arthurian legends. In modern parlance, it is used to describe a mirage. At Madison Square Park this summer, Brooklyn-based artist Teresita Fernández created her own Fata Morgana out of 500-feet of golden, mirror-polished discs that cover the winding walkways of the park. Immersed in the work, pedestrians are given the illusion that they are walking underneath a canopy of lush foliage. The golden glow of the light flickering off the metal lends the experience a magical element -- this is no ordinary forest, but rather, some sort of glittering fantasy. Fata Morgana is the largest sculpture commissioned by the Madison Square Park Conservancy, which was founded in 2004 to bring free public art programs to New York. The installation will be open through the coming winter of 2015/2016.
4. High Desert Test Sites Near the Joshua Tree National Park: Located roughly three hours by car from Los Angeles, High Desert Test Sites is a non-profit that supports cultural experiments in the desert near the Joshua Tree National Park. It encourages art that belongs in the natural landscape where it is made, and equally, is able to melt into that landscape to let new projects emerge. Founded by a group of artists and collectors that include Andrea Zittel, who for the past fifteen years has lived on A-Z West, a 35-acre encampment where her every activity becomes a work of art, High Desert Test Sites is supporting a number of installations and happenings this summer. They include Halsey Rodman's "Gradually/We Became Aware/Of a Hum in the Room," an architectural structure intended for two locations -- the desert of the High Desert Test Sites and Art in General's sixth floor gallery in New York City. The temporary installations are part of a larger scheme of permanent installations that include Noah Purifoy's "Outdoor Desert Art Museum," a 7.5 acre sprawl of Purifoy's assemblages created between 1989 - 2004 and George Van Tassel's The Integratron (Landers), which is based on the design of Moses' Tabernacle, the writings of Nikola Tesla and telepathic directions from extraterrestrials. If you're in Los Angeles, and looking for an unmatchable experience, there's no better place to visit this summer.
5. The Spheres at MacArthur Park: Seven years in the making, the Spheres at MacArthur Park will fill the MacArthur Park Lake in Westlake with 7,000 enormous, hand-painted, inflatable sphere. Staged by Portraits of Hope, a non-profit responsible for projects involving New York City taxis and Los Angeles coastal lifeguard towers, the installation will involve participation by hospitals, schools, social service and community groups. In total, between 3,500 - 7,000 people, many of them children, will be involved in painting the spheres, which will vary in size between 4 - 6 feet in diameter. Each will have bright floral or aquatic themed designs. If you're in Los Angeles, be sure not to miss the event, which will read like a dream left over from the days of Woodstock. The project is estimated to be installed for four weeks sometime at the end of July, or in the beginning of August.
Sign up for our weekly newsletter to get the best of ARTPHAIRE delivered straight to your inbox!
Brienne Walsh is an ARTPHAIRE contributor, as well as a freelance writer who contributes to Art in America, Interview Magazine, The Huffington Post, Glo, NY Mag, The New York Times and the NY Daily News, among other publications.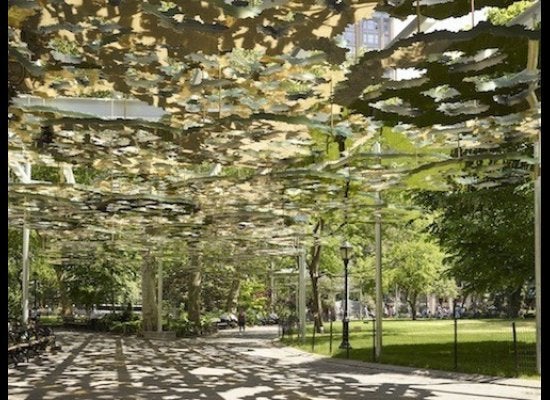 Top 5 Public Art Installations To See This Summer
Related
Popular in the Community