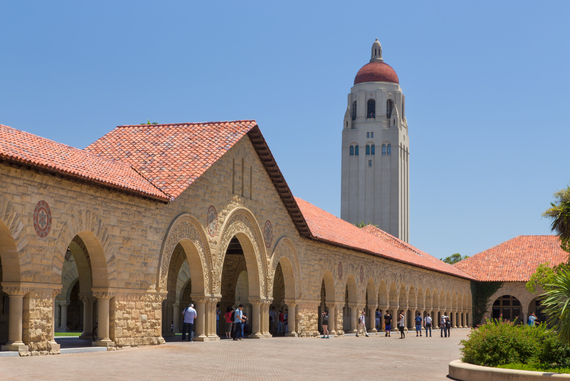 Coauthored by Yesenia Rascon, NerdScholar
When applying to college, most students take into account three deciding factors: academics, finances and campus life. But what does it mean to attend a public school over one that is privately funded?
Applying to a private school can be daunting for families, especially for those unclear on the true cost of college, but there are many benefits that override the high tuition costs. According to the National Association of Independent Colleges and Universities, nearly 90 percent of students at private colleges receive financial aid, and 79 percent of students graduate in four years, compared to 49 percent at public colleges. To learn about other benefits, NerdScholar asked the experts for the top five reasons students should apply to private schools.
1. Financial stability helps students to graduate in four years.
Private schools are largely funded by tuition and donations from outside sources. "Private colleges are often a 'better deal' financially than public universities. They often provide enough grant and scholarship aid to offset the sticker-price differential," says Chris Hooker-Haring, the dean of admission and financial aid at Muhlenberg College. "When you add the fact that they are graduating students in a four-year time frame at a much higher rate, the financial equation often tilts in favor of the private colleges."
2. Educational curriculum is flexible and innovative.
Private schools are free of state regulations and can therefore craft programs that are best for the school and the student body.
It may seem simple, but attending a private college or university allows for a higher level of flexibility in a student's educational curriculum. Professors and academics at private colleges are not required to submit their syllabi to a state legislature for approval and/or discussion; they are permitted to update their syllabus to feature study of current events in real time. --Matthew Barsalou, communication management supervisor at Trinity University.
3. Close interaction among students and with professors.
"Private colleges and universities provide students with the greater opportunity for an educational experience that takes place in a learning community with smaller class sizes," says George Walter, vice president of enrollment services at La Salle University. Students in private schools are less likely to be in large classes taught by teaching assistants, because professors are willing and able to teach their lectures. "In addition," says Walter, "there is a greater level of personalized support services for students outside of the classroom." In their free time, professors could serve as academic and professional mentors to students.
4. Campus culture tailored to students' values and personalities.
Each private school has a campus culture that reflects the student body and all of its unique qualities. Steve Langerud, director of global development at Maharishi University of Management, says that a benefit of private education is "matching a culture to your goals, values and personality." Private colleges are often more clear and distinctive in their culture. Finding the right fit is an important part of a college experience and preparation for life after college.
5. Job preparation through critical thinking and perspective.
Private schools seek to prepare students for the real world by teaching them life skills that will ensure success in any job market. Private colleges "stress perspective, critical thinking and learning how to learn," says José Antonio Bowen, president of Goucher College. He adds that "private colleges prepare students to explore the unknowns they will encounter in their careers, where they will be required to analyze new information and reinterpret what they know and how they apply that knowledge."
REAL LIFE. REAL NEWS. REAL VOICES.
Help us tell more of the stories that matter from voices that too often remain unheard.