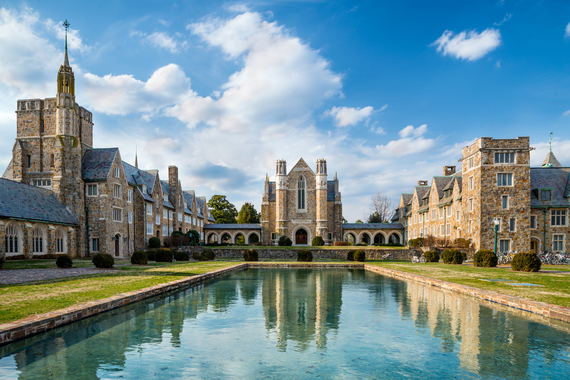 Coauthored by Gianna Sen-Gupta, NerdScholar
Liberal arts colleges are top higher education institutions that emphasize strong foundational skills, such as writing, critical thinking and communication. At a liberal arts college, students aren't expected to follow certain career paths starting their freshman year but instead are challenged to build a wealth of knowledge across a variety of disciplines.
But with the growing popularity of careers in the sciences, technology, engineering and math fields -- also referred to as STEM -- some might question why a liberal arts education is useful for today's incoming college students.
Martha Kanter, the under-secretary of the U.S. Department of Education, said it best when she cited the achievements of liberal arts alumni at a 2010 higher education conference: "Just 3% of American college graduates are educated at a residential liberal arts college. Yet the alumni of liberal arts institutions account for almost 20% of all U.S. presidents." She added that, "On a per capita basis, liberal arts colleges today produce nearly twice as many doctorates in sciences as other institutions."
To offer more insight on the benefits of attending a liberal arts college, NerdScholar's admissions experts share their top reasons for applying this fall.
1. Building relationships in a close community.
According to Jim Bock, vice president and dean of admissions at Swarthmore College, students at liberal arts colleges have countless opportunities to work directly with world class faculty.
"The liberal arts create a scholarly community where professors and students learn and study together, building lifelong relationships with people from backgrounds different than their own," adds Silvio Vazquez, dean of admissions at Westmont College. "Small classes promote lively, thoughtful discussions and allow teachers to know their students and work with them individually."
The same is not always true in large research universities, where students have few opportunities to speak directly with professors. In a liberal arts school, students almost always "work closely with full professors, not graduate assistants," says Mitch Finer, director of enrollment at the New College of Florida. He adds, "even our first-year students can have a significant role in major faculty research projects."
2. Long-term career growth and flexibility.
"Our world is changing rapidly," says Tracy Manier, dean of admission at St. Edward's University, "and a liberal arts degree allows students to navigate changes by elevating valuable, lifelong skills. A liberal arts curriculum emphasizes writing, critical thinking and a cross-disciplinary perspective.
These are necessary skills when navigating a changing economy. "In other words," Manier adds, "an education in the liberal arts best prepares students for professions that don't yet exist."

3. A well-rounded education.
"Liberal arts schools take a holistic approach, touching students in all aspects of personal growth, including intellectual, ethical, professional, social, and wellness," says Dr. George Forsythe, president of Westminster College. "Developmental programs are individualized to match the interests, needs and activities of the students, challenging them to take responsibility for their own development and encouraging them to learn from their experiences. As a result," Forsythe adds, "students develop a strong sense of self that allows them to face the complex mental, social, emotional and spiritual demands of modern life."
"This is not only critical for a healthy democracy," says Manier, "it is imperative to the future of our world as we confront radically complex global challenges."
4. Programs tailored to student interest.
Liberal arts schools encourage students to explore a variety of interests, both inside and outside the classroom. "There is no cookie-cutter dimension to it," says Jonathan Webster, associate dean of admissions at Washington and Lee University. "Majors and minors cover the leading-edge material of a subject, but students are able to chart their own paths within [their] programs. On the social side," he says, "students who want to get involved in campus life right away find myriad ways to do it, without obstacles."

5. Questioning conventional wisdom.
Students can put their liberal arts education to use by questioning commonly held beliefs, even in the rigid fields of science, technology, engineering and math. "A liberal arts education helps students to think deeply about a wide range of subjects and to understand how people in different fields ask questions and solve problems," says Tristan Deveney, associate director of admissions at Clark University. "For some students," he says, "taking a course in history or environmental science might show them how they can make a contribution to addressing an issue that matters to them, which they might not have found if they had focused too narrowly on only one subject."
Popular in the Community