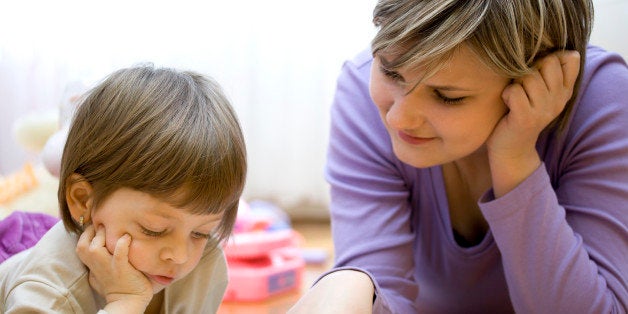 The start of a new school year gives you a chance to create a fresh start, and that includes setting off on the right foot with a new babysitter or having an important refresher conversation with your current sitter.
Now is the time to share with your child's caregiver these top five back-to-school reminders. While the conversation may be a bit awkward, these messages go a long way toward ensuring the best possible care for your kids while you are away.

1. "For safety reasons, you should always be paying attention to my children."
Translation: "Stay off your phone and don't text with your friends." You don't have to look long to find a gut-wrenching, terrifying news story about a child suffering an accident while his caregiver was preoccupied texting or talking on her cell phone. Don't assume your babysitter knows safety rules that feel like second nature to you as a parent. Before you take off for your well-deserved time away, remind her of the importance of being attentive, set rules about having friends over and talk about what she should do in case of an emergency. Now is the time to update your emergency contact list, including cell phone numbers and your home address, and be sure to leave a copy with your sitter. You can keep your kids free from most accidents just by educating yourself and those who care for them.
2. "Since you'll be driving my kids, let's talk about rules of the road."
If your babysitter is charged with dropping off or picking up your kids from school, lessons, activities or play dates, check to see if she has a valid driver's license and a clean driving record. There are driving record background check services available online. Your babysitter will have to agree to the check, since you'll need information such as her social security number, but you can help by paying for the service. You should have a frank conversation regarding your expectations for driving, including no talking on a cell phone or texting while driving. Also make sure your caregiver understands the importance of car seats and knows how to properly install and fasten them.
3. "Helping my kids with their homework will earn you bonus points."
It's awesome when your childcare provider goes the extra mile by taking the time to help cover activities you'd be doing if you were home. Most babysitters are more than willing to lend a hand, but may not realize where their help is useful. Let your babysitter know that you'd love for her to help your child knock out his homework or log his daily reading time. What's more, if your preschooler could benefit from some one-on-one practice tracing the ABC's, learning to write his name or mastering colors and numbers, let your sitter know that her guidance would be valuable.
4. "Back me up in my efforts to keep them strong and healthy by making nutritious snacks."
Make your babysitter your wingman in your fight to keep your family's nutrition and health on track. Rather than rushing out the door and hoping for the best while the kids are in her hands, take a few minutes to let your babysitter know what you'd like your child to eat while you're away. You want her to spend her time playing with your kids, rather than slaving away in the kitchen, so don't require her to prepare time-consuming or Herculean meals and snacks. Instead, make it a practice to keep nutritional snacks in the house. Choose snacks that your children are accustomed to eating so there is no battle of the wills. Another thoughtful idea is to pick up a special, healthy treat they can prepare together, such as frozen yogurt sundaes or smoothies. Your kids will get a treat you can feel good about and your sitter will appreciate having an activity that keeps everyone happy. And, of course, make sure your sitter knows about any and all food allergies and understands precisely how to administer your child's Epipen in case of emergency.
5. "I'm paying you to play with my kids."
Babysitting has its challenges, including knowing what to do to keep the kids entertained. You can help your babysitter stay engaged and fight the urge to call and text a friend or rely on the TV by providing activities for her to do with the kids, such as a simple craft, a new game or an easy, age-appropriate recipe. You can also help by making suggestions for what keeps your child interested, including inside and outdoor activities, favorite books or toys. Your suggestions should help her keep the kids entertained and will hopefully inspire her to come up with her own fun activities and games to keep boredom at bay.
Think of these friendly reminders as part of your back-to-school plan to get organized, on track and ready to roll for the new year. They require just a few brief moments with your babysitter to emphasize what's really important and expected in her relationship with your family.