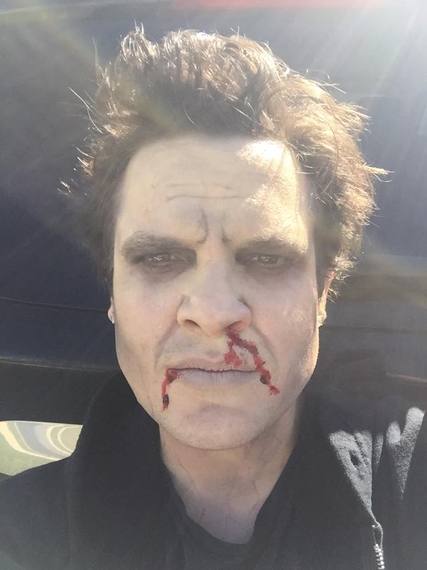 Anyone that knows me knows that Halloween is my favorite holiday. I visit haunted attractions from Virginia to New York, have horror movie marathons and dress up whenever socially acceptable (and sometimes not) in the six-week lead up to October 31. I've seen every horror movie you can think of. I've bought more costumes than a drag queen. I watch all The Simpsons "Treehouse of Horror" specials each and every year. Yes, I'm a freak for Halloween. But I'm not alone.
Millennials count Halloween as their #1 holiday. In fact, Halloween has now become the #2 highest grossing holiday in the country overall, grossing about $6.9 billion. Over 40 percent of millennials will go to a haunted attraction this year. Which is why I thought it was the perfect time to write about the Top 5 scariest haunted attractions for millennials.
1. Brighton Asylum (Passaic, NJ) -- Brighton Asylum offers only one haunt, but it's enough if you go on one of their "contact days". These days are when the haunt becomes extremely interactive and there is no "off limits" to the actors touching you (a trend that's quickly growing in haunted attractions). What's even cooler about this haunt is that they offer special weekends throughout the year including "Santa's Slay" in December and "Dark Valentire" in February.
2. Frightland (Middletown, Delaware) -- I had to look no further than my own backyard for this one. I've been going to Frightland in Middletown, Delaware since I was a kid. Frightland is such a Delaware icon that I had to get involved somehow. Now, my Elyk Studios Photography business works with the team. With 8 haunted attractions including a 1 mile long hayride, and an attraction in an actual haunted 150 year old barn (I plan on investigating this further for a future piece), Frightland never fails to scare the pants right off of me. Even better, Frightland helps raise funds for Luekemia Research Foundation of Delaware. They were named one of the scariest attractions in America by both Forbes and Travel Channel and those honors are more than well deserved.
3.Pennhurst Asylum (Spring City, PA) -- Another attraction that's sort of in my backyard, Pennhurst Asylum is housed in...well, Pennhurst Asylum. Once a hospital for those with mental and physical ailments, it was shut down by the state in the early '80s. A few years ago, the property was purchased and a few of the buildings have been turned into a haunted attraction. This is high intensity and definitely not for the faint of heart. The wicked history on the property makes it all the more scary.
4. Netherworld (Atlanta, GA) -- Netherworld is big on film quality set pieces and a ton of robotics. There are two different themed haunts in this attraction that are changed frequently. Netherworld is one of the most famous haunts in the United States and is run by a team of former movie and TV professionals, including a crew that works on AMC's The Walking Dead. Bonus that these guys are heavily involved with the Don't Be A Monster anti-bullying campaign.
5. Blackout -- New York City / Los Angeles -- I haven't actually been to Blackout. I've certainly tried when I'm in New York in October, but it never fails to be sold out. After signing a waiver, you go through this attraction alone. Nudity, violence and what essentially boils down to torture for the guest who dares to enter Blackout. This is for the toughest of the tough. The reviews are unanimous in saying that this is borderline too much... which is why it sells out almost every show. This is so intense, in fact, that you must be 18 or older, sign a waiver and you are given a safe word if you must chicken out early.
All of these haunted attractions do a great job with high action, great pacing, not forcing large groups through (it ruins the scare -- and the experience -- for most of the group), superb action and dedicated actors. Frightland definitely gives the most value for the price with 8 haunted attractions. Blackout is definitely the most intense, as many people must use the safe word each night to leave early. All 5 are unique in their vision and execution and therefore have made my list of the Top 5 Scariest Haunted Attractions for Millennials.
So what do you think? Did I miss a great haunted attraction? Is there one in your area that never fails to make you wet yourself in fear? Lets talk in the comments.
Kyle has appeared multiple times on the Emmy-winning Oprah's Lifeclass series on "Fatherless Sons" on OWN . His song, "A Letter 2 My Younger Self (Fatherless Sons)," is available as a free download and the music video is available on YouTube. He is writing his first book, MAN UP! An Action Plan for Fathers in conjunction with Fatherless. Check out the Kyle McMahon website for more information. You can follow him on Twitter, Google+ or Facebook.
Follow Kyle McMahon on Twitter: www.twitter.com/kmacmusic
Related