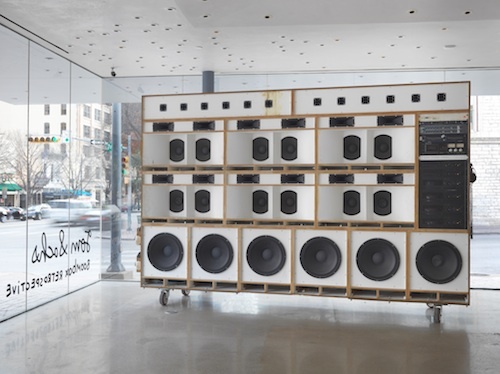 From Beijing to Brooklyn, these five exhibitions spotlight some of the most conceptually thrilling, technically arresting artists working today.
Looking back at ARTPHAIRE visionary Tom Sachs' 16-year-span of homespun sound systems, it's clear the artist has an appreciation for recorded music. From a solar powered tape deck to an umbrella-shaded stereo setup on a hand truck, Sachs' impressive assemblage is on display at The Contemporary Austin's Jones Center, The exhibition includes early boomboxes, made from repurposed materials, which had their debut at Mary Boone Gallery in New York in 1999, as well as newer pieces forged from bronze and ceramic. A sculpture from Sachs' Hello Kitty series and an interactive bodega complete the amusement.
2. Sarah Sze, Victoria Miro, London, England
January 30 - March 14 (Mayfair), January 30 - March 28 (Wharf Road)
Her penchant for big, penetrating works that engulf entire spaces with their intricate construction makes Sarah Sze just the right person to take over Victoria Miro's vast rooms. The London gallery is hosting its third exhibition of the artist's work, and the first in Europe since she represented the United States at the 2013 Venice Biennale, with a showcase of three installations - one for each level of the Wharf Road site. With materials like newspapers, rocks, and furniture, Sze's pieces experiment with gravity and scale, testing the limits of different masses and volumes, while shifting perspectives of space and time. At the gallery's Mayfair location, a site-specific installation takes the shape of a field of small sculptures, or a map of "chance occurrences," which in turn acts as a metaphor for the essentially fruitless desire to dissect and understand vast amounts of information.
Black is so very beautiful in ARTPHAIRE visionary Kehinde Wiley's glorious portraits of men and women of color from around the world. Posed like radiant queens and proud generals, the artist's models are positioned in a powerful light. Against vibrantly patterned baroque backgrounds, they take on the guise of Old Master aristocracy and biblical heroes, shattering societal stereotypes. The Brooklyn Museum's survey includes 60 paintings and sculptures spanning Wiley's 14-year career, including his early interpretations of Harlem street life, selections from his World Stage series, and new stained-glass "paintings" displayed within a chapel-like structure.
For her debut exhibition at Montreal's Musée d'art Contemporain (MACM), the French artist Sophie Calle showcases two recent series. "The Last Image" is a collection of photographs of blind people Calle shot in Istanbul in 2010. Each photo is accompanied by text, which describes the last thing each of her subjects remembers seeing before going blind. The second series "Voir La Mer" (2011), is a video installation that documents the experience of 15 individual people, of various ages, setting their eyes on the sea for the very first time. Conceptually moving and visually striking, the works in the exhibition characterize Calle's quest for exposing the mysteries of individual identities, while unearthing exquisitely personal narratives.
5. Liu Wei: Colors, Ullens Center for Contemporary Art, Beijing, China
February 7 - April 17, 2015
The juxtaposition of objects has always incited a certain provocation toward Liu Wei's work. His photographic piece "Looks Like a Landscape," which featured the upward oriented buttocks of a series of nudes positioned like a rolling Chinese mountain range, made him a star at the 2004 Shanghai Biennale. Three years later, an immense structure made of discarded doors and windows from schools and hospitals painted the institutional green of communist China took him to the next level of notoriety with its commentary on regime decay and accelerated urbanization. Though the artist's output is vast and varied, one constant that continually arises is geometric order. For Wei's largest institutional solo show to date, UCCA showcases new videos, paintings, and architectural cityscapes that offer insights on contemporary China's newly possible perspectives.
Sign up for our weekly newsletter to get the best of ARTPHAIRE delivered straight to your inbox!
--Celeste Sunderland has lived in New York, Berlin, Paris and the San Francisco Bay Area. A graduate of The University of Rhode Island's Journalism School, she spent nearly a decade working in digital media production, and has been writing professionally for print and online publications for over fifteen years. In addition to writing for ARTPHAIRE, Celeste has her own blog Tidepooler.com, inspired by a photograph by the German photographer Olaf Otto Becker.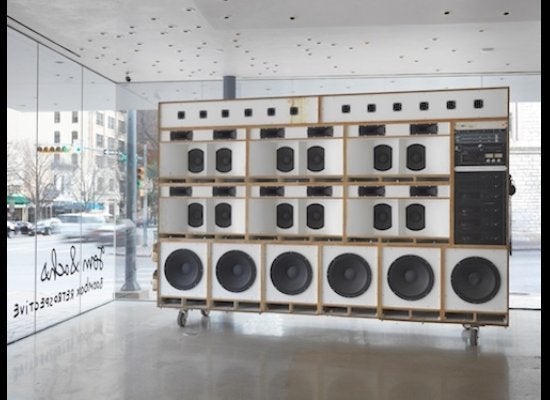 Top 5 Solo Exhibitions To See This Season
Popular in the Community