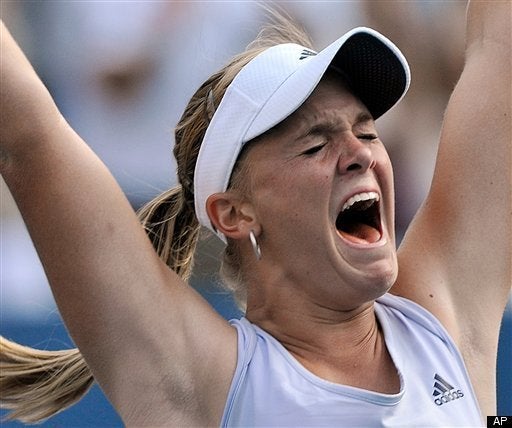 17 year old American Melanie Oudin upsets her third straight Russian to reach the quarterfinals of the U.S. Open.
There are no American men in the quarterfinals for the first time in U.S. Open history.
But they still have Johnny Mac. After Novak Djokovic's win last night he did an impersonation of McEnroe, and then the two of them played a few points. You don't see that in any other sport.
Derek Jeter went hitless in a day-night doubleheader with Tampa Bay. He needs 4 hits to become the all-time Yankee hit leader.
Congratulations to the Pittsburgh Pirates. By losing yesterday they officially set the record. 17 straight losing seasons. Nobody, in any major sport, has done it better.
You would think that NFL players would make an attempt to act like altar boys. After Michael Vick and Plaxico Burress, they've got to realize that even NFL players suffer consequences for their actions. Now comes San Diego linebacker Shawne Merriman. His girlfriend wanted to leave his home so he allegedly choked her and got himself arrested. He claims she was drunk. I'm guessing they won't be saying their "I dos" anytime soon.

3. If You're Scoring at Home
Its my duty to report that the Chicago Bliss beat the Miami Caliente 29-19 in the first game of the Lingerie Football League season the other night. It's full contact women's football with very skimpy outfits. At one point in the game there was a brief scuffle. Makeup issues?

4. Holiday Leftovers
Red Sox reliever Jonathan Papelbon was fined $5,000 for slowing down baseball games. That's news to me. Didn't think baseball could be any slower.
----
Maria Sharapova says when she watches the U.S. Open on TV she turns down the audio. Either she doesn't like the announcing, or she gets jealous when the other players out-shriek her.
----
How cool was it to see 17-year old Melanie Oudin after she upset Sharapova? Melanie was nearly crying tears of joy in her post-match interview. A star was born!
----
A Jewish singer became my 600th follower on twitter, @lenbermansports. Coming soon, "Len's Top 5, the Yiddish musical!"

5. GUI
Gaming under the influence. During a chess tournament in India, a top French player dozed off just 11 moves into the match. He wasn't bored, he was drunk. He had to forfeit. A dead giveaway may have been when he asked for the check, instead of declaring "check."
And now this message. My third kids book, "The Greatest Moments in Sports" (complete with a CD of some of the great moments) is due out November 1. If you pre-order you get a discount!
Happy Birthday: Former Knick Latrell Sprewell. 39.
Bonus Birthday: The great Sid Caesar (Your Show of Shows). 87.
Today in Sports: Mark McGwire hits his 62nd homer surpassing Roger Maris' record. Now Barry Bonds holds the record. (I say lets reinstate Roger's mark as the official home run record.) 1998.
Bonus Event: Bess Myerson becomes the first Jewish Miss America. 1945.
REAL LIFE. REAL NEWS. REAL VOICES.
Help us tell more of the stories that matter from voices that too often remain unheard.