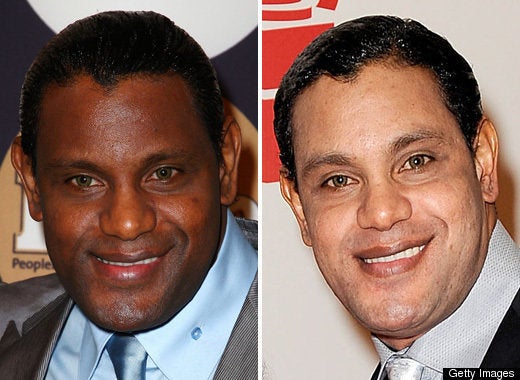 Basketball legend Kareem Abdul-Jabbar has leukemia. He says his
prognosis is good.
Hideki Matsui and Johnny Damon both file for free agency. Both would
like to stay with the Yankees.
In Monday Night Football, Pittsburgh beat Denver 28-10. Both teams
are now 6-2.
One of the good guys, former Ranger defenseman Brian Leetch was
among those inducted into the Hockey's Hall of Fame last night.
Syracuse coach Jim Boeheim bagged his 800th career win when Syracuse
beat Albany 75-43.
Isiah Thomas is looking for his first college coaching win after
Florida International got beaten by defending national champion North
Carolina 88-72.
After watching Andre Agassi on 60 Minutes I'm conflicted. OK, he took
crystal meth, hated tennis, wore a bad wig and thought his marriage to
Brooke Shields was a mistake. Clearly he had secrets nobody knew
about. When he made his "miraculous" comeback in 1998 it was a "warm
and fuzzy" story. Clearly it was all a lie. So how many other sports
lies do we all buy into? And do we really need to know what lurks in
the darkest corners of athletes lives? What ever happened to just
"root, root, rooting for the home team?"
Yesterday I talked about the slide in World Series TV ratings from
the first Yankee championship in 1996, despite the increase in
population. Many of you sent along your reasons why baseball is "less
popular." But here's the perspective of Matt Bourne, the VP of
business public relations for Major League Baseball: "If you look at
just about every other property both sports and entertainment, you
will see dramatic viewership and ratings decreases over the past 10-20
years, despite the increase in population. The reasons are plentiful
including the increase in number of ways people are able to spend
their free time, the unbelievable strides made in video games, the
boom of the Internet, and the increase in the number of television
channels which cater to the specific interests of individuals
splintering the audiences. The fact remains that there are very few
programming options that can aggregate the kind of audience that the
World Series was able to over the past two weeks."
He does allow that the NFL has defied the odds with their TV ratings.
4. The Greatest Moments in Sports
Today marks the official release of my new kids book, The Greatest
Moments in Sports. It includes an audio CD of some of the great
moments. We don't rank the moments, 1 through 25, but I do select the
#1 all time sports moment. Care to guess? Anyway, I'm very proud of
this book, it's my 4th, 3rd kids book. What a perfect holiday gift for
the youngster on your list.
For a rundown of book signings and national radio and TV appearances,
go to my newly designed website (under construction), ThatsSports.com
I apologize for the blatant commercial, but hey, you're not paying
for my Top 5 right?
Now back to our regularly scheduled program
There's a debate raging. Sammy Sosa's skin looks lighter in recent
photographs, and some are wondering if he's "going Michael Jackson on
us?" A friend of Sosa's says he's merely going through a skin
rejuvenation process.
So if you're scoring at home. He corked his bat, he's used
performance enhancing drugs (he reportedly flunked a drug test). And
now he's onto appearance enhancement.
Is that the alteration triple crown?
Happy Birthday: Former NYU basketball great Barry Kramer. 67.
Bonus Birthday: Actress Mackenzie "I slept with my father" Phillips.
50.
Today in Sports: Miami quarterback Dan Marino becomes the first to
pass for 28 miles. (50,000 yards). 1996.
Bonus Event: Sunny days, sweeping the clouds away. The debut of
Sesame Street on PBS. 1969.
Extra Bonus event suggested by subscriber Tom B. The birth of the
U.S. Marine Corps. 1775.
REAL LIFE. REAL NEWS. REAL VOICES.
Help us tell more of the stories that matter from voices that too often remain unheard.