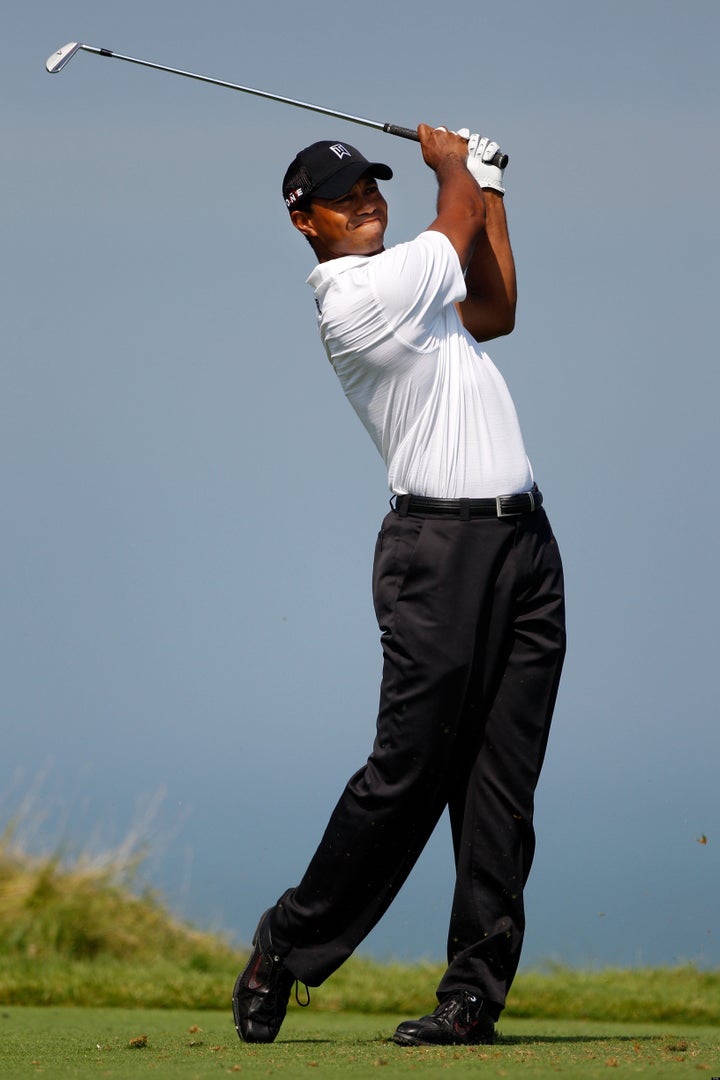 TGIF everyone, here's my Top 5 for August 13, 2010 from Len Berman at www.ThatsSports.com

1. Quick Hits
* 5 players including Ernie Els shared the lead at 4-under par after the first day of the PGA Championship. Tiger Woods and Phil Mickelson shot 1-under.
* The Mets suspend pitcher Francisco Rodriguez for 2 days after he was charged with assaulting the father of his girlfriend. Rodriguez was ordered to stay away from both of them.
* Braves third baseman Chipper Jones may hang 'em up after knee surgery derails his season.
* Wonder how many Phillies fans left the game last night with the Dodgers leading 9-2 in the 8th? The Phillies scored 4 in the 8th and 4 in the 9th to win a wild one 10-9.
* Karl Malone, Scottie Pippen and Dennis Johnson are among those who will be inducted into the Basketball Hall of Fame tonight in Springfield, Mass.

2. Meet the Mutts

It's been a swell week for the Mets. Their star pitcher was slapped with a civil suit charging rape, and their star reliever is someone who allegedly did some slapping. Charged with roughing up his girlfriend's dad. Fans have been conditioned to the fact that some athletes are nowhere close to being role models for our kids. But guys, are we even trying?

3. Stat of the Week

The other day, Braves rookie Jason Heyward hit a homer on his 21st birthday. Only three others have done that, Hall of Famers Ted Williams, Frank Robinson and Alex Rodriguez. All 3 are featured in my new kids book being released in a few weeks, The 25 Greatest Baseball Players of All Time. One Top 5 subscriber has already warned me, if A-Rod is in the book, he's not buying it. Hey, don't blame the messenger. I didn't have a vote. I had a Blue Ribbon Panel of former players, executives and media types. Feel better now? If you change your mind you can pre-order at: here.
By the way, come back for the republication of my book in 20 years. Who might make it then? Pujols? Mariano? Strasburg? Jason Heyward?

4. Friday eMailbag

Like everyone else, subscriber L.F. was mystified by the Knicks hiring of Isiah Thomas (he's since been unhired), "Isiah must have the same blackmailing information on Jim Dolan that Glen Sather does!!!"
And J.C. on Facebook at "Len Berman's Top 5," This hiring has made me want to take my fan talents to South Beach, so this year I will be cheering for the Miami Heat."
Editor's Note: The fans strike back!

In regards to no Americans in the top 10 in tennis, and dwindling Americans on golf leaderboards, J.P. writes "So it goes with boxing. Incredibly, the heavyweight rankings are just about devoid of Americans."
Editors Note: It's a good thing the Little League World Series guarantees an American team in the final.

5. Spanning the World

Our Spanning the World highlight doesn't have a happy ending. At a Houston Astros game a foul ball was heading for the guy's date, so what did the guy do? He bailed! He jumped out of the way and the ball hit his girlfriend on the arm.
You'll be shocked to know the couple is now splitsville, but she claims it's not because of the foul ball. As they say on SNL, really?

Happy Birthday: Flyers hockey great Bobby Clarke. 61.
Bonus Birthday: Fidel Castro. 84.

Today in Sports: The legendary racehorse Man o' War was upset by a horse named Upset at Saratoga. It was his only loss. 1919.
Bonus Event: All hail. The first taxicab begins operating on the streets of New York. 1907.

The Top 5 is going on summer break. We'll return Monday August 23rd. Have a great week everyone!
Related
Popular in the Community