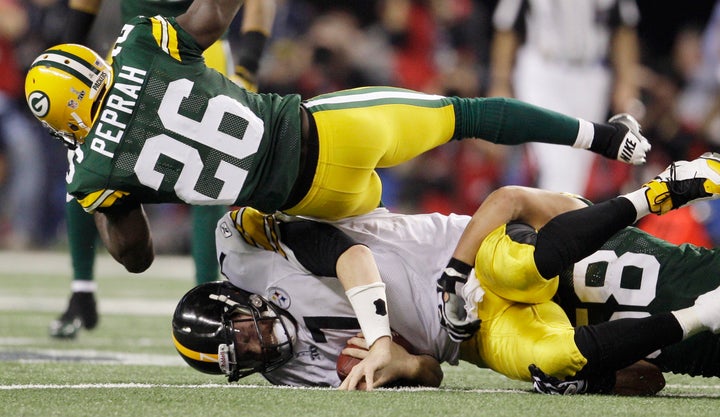 Happy Tuesday everyone, here's my Top 5 for April 26, 2011 from Len Berman at www.ThatsSports.com.

1. Quick Hits
* Victory for the players, they can go back to work today. A Minnesota federal judge has lifted the NFL lockout. The owners are appealing.
* In the NBA playoffs, Memphis has put San Antonio on the brink, leading three games to one.
* In the NHL playoffs, San Jose has ousted L.A. while Tampa Bay has forced a seventh game with Pittsburgh.
* Former Texas Rangers president Tom Schieffer will oversee operations of the Los Angeles Dodgers.
* The NCAA says Ohio State football coach Jim Tressel lied to cover up improper benefits some of his players received from a tattoo parlor. But he's won 83% of his games at Ohio State, so not to worry if your coach is officially a liar.
* Lakers bench player Derrick Caracter was arrested after shoving a cashier at an IHOP in New Orleans. Charges include public drunkenness.
* NFL Hall of Fame running back from the 50s, Joe Perry of the 49ers, is dead at the age of 84.

2. Team Chemistry Part II

Yesterday I talked about the upcoming Derek Jeter book claiming both Brian Cashman and Don Mattingly urged Jeter to "fake it" and pretend he liked A-Rod. I suggested what's the point? Ruth and Gehrig didn't talk to each other and they still won championships. On Facebook at "Len Berman's Top 5," Steve H. reminded me of the Bronx Zoo Yankees of the 70s. He's right. Reggie and Thurman hated each other too. But Lisa S. on Facebook makes a great point. She says she expected more of Jeter and was disappointed that Jeter let his personal feelings fracture a clubhouse.
You mean "Captain" is supposed to mean something in sports?

3. The Biggest Losers

Subscriber David L. has created the "winter frustration index." He takes cities that have won both hockey and basketball championships, and then adds up the droughts. New York's totals 55 years. Their last Knicks championship was in 1973, Rangers 1994. But topping (or bottoming) his list is Philadelphia. The 76ers last won in 1983, the Flyers in 1975. That's a grand total of 64 fruitless seasons. Which means if the Flyers win the Stanley Cup, New York takes over the crown. Or would that be a dunce cap?

4. Royal Overkill

Guilty. I always try to figure out the sports connection. Every time I see a headline about the Royals, I think less of Kansas City, and more about Buckingham Palace. So what's the sports deal with this royal wedding? Sure, David Beckham's on the guest list. Then I saw what journalist Bob Greene wrote. He equated the interest in the wedding to fans of pro sports teams. "Are the lives of the teams' supporters truly improved each time the team manages to win a game? They are if the victories help the fans, if only briefly, manage to push aside whatever gray clouds may be hovering over their own daily lives, and let the triumphs of players they don't know be their own triumphs."
So the royal wedding, like sports victories, makes us forget our own little humdrum existences. Now, if only some in the crowd booed and drank beer at Westminster Abbey. And maybe a scoreboard urging the wedding guests to "Get louder?"

5. Full Service

The jig is up in Malaysia. 26 female caddies have been arrested at a resort for caddying by day, turning tricks for the golfers at night. And if prostitution isn't bad enough, some of the girls had fake work permits. Hookers faking it? Shocking.

Happy Birthday: Swimming Hall of Famer and a terrific lady, Donna de Varona. 64.
Bonus Birthday: Funny guy Kevin James. 46.

Today in Sports: Only 60 to go. Roger Maris hits the first home run of his record-setting season. And isn't he the real single season home run champ? 1961.
Bonus Event: Hey look, it has rings! Copernicus can see Saturn from here. 1514.
To sign up for Len's free daily Top 5 email click here.
Related
Popular in the Community