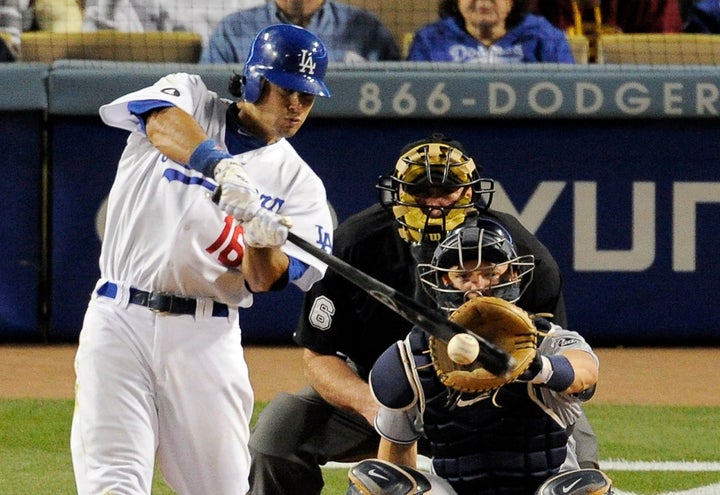 Happy Tuesday everyone, here's my Top 5 for May 3, 2011 from Len Berman at www.ThatsSports.com.
* Dallas overcomes a 16-point deficit to beat the Lakers 96-94 in game 1. Atlanta wins game 1 in Chicago 103-95, as the road team wins both openers.
* Word is that Chicago's Derrick Rose, at age 22, is the youngest winner of the NBA MVP award.
* In the NHL, Boston has taken a two games to none lead over Philadelphia with a 3-2 overtime win.
* Researchers announced that former Chicago Bears star Dave Duerson, who committed suicide in February, had developed the same brain disease found in many deceased NFL players. He had shot himself in the chest to preserve his brain for research.
* The NBA Kings will remain in Sacramento at least one more season.

2. All Rise

Yesterday, I wrote on Facebook how refreshing it was to hear the crowd outside the White House Sunday night break into impromptu versions of the national anthem. After all, the anthem is often ignored at sports events. (And, courtesy of subscriber David M., a crowd also gathered and sang at Penn State.) Subscriber Kevin C. who works for a major sports network, reminded me that after 9/11 broadcasters would air the National Anthem. Before then, they used to "bury it." Play it during commercials or during the pregame show, so as not to "bog down" the telecast. Kevin points out that broadcasters have gone back to doing it the old way. So thank you, Navy Seals, for reminding us once again how important our national anthem is. Now, let's hear it!

3. Unbreakable?

Andre Ethier of the Dodgers hit safely in his 28th straight game last night. He is halfway home to Joe DiMaggio's record. The Dodgers record is 31, set by Willie Davis in 1969. So it brings up the inevitable arguments: which records will never be broken? Probably Joe D's. Cy Young's 511 wins for another. And try this one on for size. Cy Young also holds the record for most complete games pitched, 749. I think that one's fairly safe. The active leader in Major League Baseball? Roy Halladay of the Phillies. 60.

4. What Goes Around...

A look at the Bonus Event below will still agitate Brooklyn Dodgers fans of a certain age. Journalists Pete Hamill and Jack Newfield famously ranked Walter O'Malley third on their list of the worst human beings in history, behind Hitler and Stalin. OK, so that's an exaggeration much like the belief that what the Dodgers are going through now is divine retribution for their leaving Brooklyn. But the truth is, the Dodgers are a mess. They haven't appeared in the World Series since 1988, their longest World Series drought since... ever. The owners are fighting in divorce court and Major League Baseball has taken over operating the team. Maybe, after 54 years, the baseball Gods are finally voicing their opinions. They're a bit tardy, but most appreciated by those die-hard Brooklyn fans.

5. Let's Go to the Videotape
You gotta love YouTube. Earlier this month, a high school baseball player in Tupelo Mississippi named Caleb Walker made a great jump home. He didn't slide, he jumped over the catcher.
OK, not bad. But a year ago, a college kid at Fordham named Brian Kownacki set the standard.
Is it time to change the name from YouTube to CanYouTubeTopThis?
Today's Birthday: Arguably the best fighter pound for pound, Sugar Ray Robinson, was born on this date 90 years ago today. 1921.
Bonus Birthday: Walk like a man. One of the Jersey Boys, Frankie Valli. 77.
Today in Sports: Joe DiMaggio makes his Major League debut and goes three for six with a triple. The Yankees proceed to win the next four World Series. 1936.
Bonus Event: A dark day for the borough of Brooklyn. Dodgers owner Walter O'Malley agrees to move Da Bums to Los Angeles. 1957.
To sign up for Len's free daily Top 5 email click here.
REAL LIFE. REAL NEWS. REAL VOICES.
Help us tell more of the stories that matter from voices that too often remain unheard.