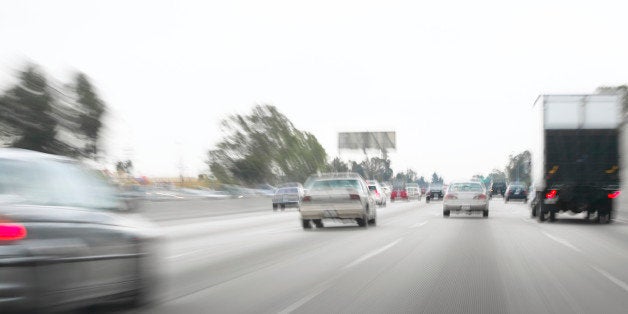 It's happened -- the connected car has been discovered. At the 2015 International Consumer Electronics Show in Las Vegas last month journalists, policymakers, and industry members alike buzzed over the advanced automotive technologies that connect drivers to the road by more than just their hands to the steering wheel.
Newspaper headlines told the story: "Cars Drive to the Fore at Annual CES Confab," USA Today said. "CES is All about the Car of the Future," Business Insider wrote. "Cars are Stars at Electronics Fest," an article by Bloomberg read.
As one U.S. Federal Trade Commissioner told a panel audience, "It's hard not to be blown away by the vehicle technology here."
Everything from cars that drive themselves out of a garage when summoned with a smartwatch, camera systems that know when drivers' eyes wander from the road, cars that serve as wifi hotspots, sensors that tell a car when to brake, heads-up displays that show drivers navigation information without looking down at consoles, radios controlled by voice activation and much more were on display.
Public pondering over their significance is growing as quickly as this burgeoning industry is. So here is my contribution in the form of my top five thoughts on the connected car:
1. A car is not a toaster. Much discussion has turned to connected cars' place in the "Internet of Things," the machine-to-machine wirelessly connected world. Certainly the car is one of the most tangible in the IoT. Its uses -- both as a mode of transportation and as a connected platform for other technologies -- make it one of the IoT "devices" consumers most are most quickly adopting.
But a connected car is not the same as other connected machines. It is mobile, and it is transportation. It is technologically sophisticated, with many systems that interact. It is a communications-enabled platform upon which other technologies reside (navigation software, cameras, sensors, entertainment content delivery systems, etc).
2. The benefits of connected car innovations will be widely felt. Until now, most connected technologies -- email, smartphones, etc. -- all benefitted the consumers that bought them and used them (and there is nothing wrong with that). But the connected car has the potential to spread its benefits to all of society -- not just its owner. For instance, vehicles equipped with cameras that detect drowsy drivers can avoid crashes, saving innocent lives. And by avoiding a crash, this technology can avoid a traffic jam and therefore cut down on emissions too.
Data from traffic tracking apps are another piece of the connected car technology puzzle that, when shared with other users, have combined safety and environmental benefits. Traffic data can help drivers avoid congestion and cut carbon emissions, and can even be used to give transportation officials information needed to engineer highways more safely.
Connected cars will save lives, save time, save money, and save fuel; they are more than mere conveniences or consumer toys. These powerful societal benefits -- achieved by incentivizing individuals' behaviors to benefit the rest of society -- have been difficult to achieve in the past relying solely on laws and regulations aimed at restricting individuals and industries' actions. So when technologies are developed that "reward" individuals for doing what is in the best interest for the group, it is something we should all support.
3. The connected car ecosystem is big, and consumers benefit when the parties get together. The auto industry used to be comprised of automakers and their parts suppliers. But now the connected car platform includes many more players -- connectivity providers, chipmakers, navigation software creators, camera and sensor manufacturers, app developers, and more.
The car ecosystem has exploded and many innovative companies -- big and small -- are jumping in to the industry. These companies are forming partnerships to create new and exciting pathways to develop smarter, safer, and more societally beneficial transportation.
This creates competition and energizes the space, incentivizing players to come up to multiple solutions to improve products and the lives of people impacted by them. Consumers -- even ones who don't own cars -- benefit from this phenomenon.
4. Spectrum, spectrum, spectrum. Wireless systems depend on spectrum, the electromagnetic waves that communications signals travel on; it is the 'fuel' of wireless. Spectrum is an extremely valuable and limited resource that must be managed effectively to meet the needs and demands of consumers, public safety, and government users.
The explosion of connected mobile devices, and the unique and critical safety benefits vehicle communications will provide, make sound spectrum policy essential to enhance safety and promote continued innovation.
5. Connected cars may change the way we look at data. There are so many amazing ways connected car data can help individual drivers. A car that has been in an accident can automatically call for help. A driver can find a lost car in a parking lot. Diagnostics can make our vehicles run better. We can choose to share information with our insurers to reduce rates.
But when we share connected car data we can also help more than just ourselves. Sharing traffic congestion data allows cars behind us to avoid slowdowns, thus cutting our carbon footprint. Likewise, we can warn other drivers of dangerous road conditions. We can allow cars to share their proximity to one another in order to avoid crashes. Feedback on auto parts can help pinpoint products that may not be functioning correctly.
So many advantages for our communities can be gained from car data that in the future, the decision not to share data might be viewed as a selfish act.
No one knows exactly how the future of the connected car will play out. But the merging of auto and tech fueled by wireless connectivity is certain to provoke thought for a long time. As Silicon Valley's hometown newspaper the San Jose Mercury News reported, "At the 2015 Consumer Electronics Show in Las Vegas, it's the automakers who are dominating the conversation."