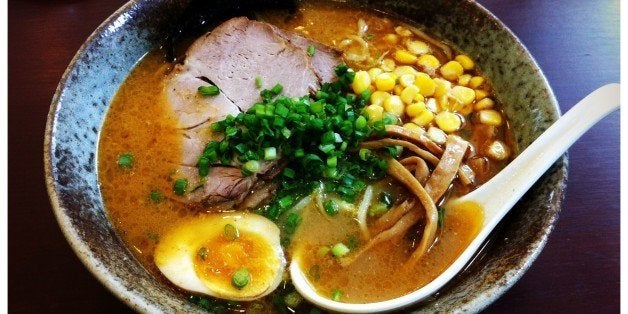 Since moving back to Manhattan's East Village, I've quickly remembered the foodcentric convenience that I'd grown accustomed to in my earlier years in the neighborhood. Essentially any cuisine, at any time, is available -- and often for delivery. Although my heritage is Indian, I tend to prefer the Asian cuisines found farther East, like Malaysian, Vietnamese, Korean, Chinese, Japanese, and Thai. The East Village boasts some of the tastiest (and most affordable) options in this culinary realm, and here are my Top 5 Asian East Village Eats organized by cuisine in no particular order:
I first experienced the spicy glory that is Han Dynasty in Philadelphia, and when they opened a branch in New York, I knew that my Dan Dan noodle consumption was going to quadruple. Initially, the extremely long lines and two hour wait times kept me away, but now I'm there whenever the Chinese craving presents itself. Intoxicating Szechuan peppercorns rule supreme in the concoctions, which can be ordered according to a number system of spiciness.
What to Order: Dan Dan Noodles (get them on the milder side unless imminent death is your thing), Dumplings in Chili Oil, Spicy Crispy Cucumber, Sesame Noodles, Chicken "Double Cooked Style"
90 3rd Ave (between 12th and 13th streets)
If you're looking for the usual cloying Pad Thai and wimpy papaya salad offensively popularized by Thai restaurants in the area, you're at the wrong place. But, if you're looking for an explosion of sweet-sour-spicy Northern Thai flavors, then Zabb Elee is pretty close to nirvana. Yes, there are pork ears and snake head fish (whatever that is) on the menu, but there are also myriad less esoteric choices which will leave you panting with a burning tongue and a happy (and very full) tummy.
What To Order: Som Tum Thai (non-wimpy Papaya salad), Pad Ped Moo Krob (crispy pork, thai eggplant with a spicy sauce-DON'T MISS THIS!), Kana Moo Krob (Chinese broccoli with crispy pork), many varieties of Larb
75 2nd Avenue (between 4th and 5th streets)
The East Village, and New York City in general, abounds with sushi eateries, but as a diner, one is often tasked with choosing between subpar fish (and the possibility of gastrointestinal illness) and a cheque of astronomical proportions. Thus, it is important to locate a somewhat affordable locale where the fish is identifiably fresh and of good quality. In Kanoyama, I have found it. Will the sushi be an otherwordly experience? Nope. But it's delicious, fresh, and isn't too bougie to shy away from Western inventions like the "volcano roll."
What To Order: Your fave raw fish creations and Japanese entrées.
175 2nd Ave (between 11th and 12th streets)
The Asian food I crave the most frequently is Vietnamese -- with its fresh, vegetable-heavy dishes, thin luscious noodles, and grilled meat and fish. Pho is restorative and comforting, bun (noodle salad) provides all the major food groups (to my mind, anyway), and who doesn't love banh mi sandwiches?! After being recently featured on New York Magazine's Cheap Eats List Sao Mai has gained popularity and is (sadly) no longer my secret spot. The service is, well, brusque to say the least, and not particularly quick, but the food more than makes up for it.
What To Order: Goi Xoai Song (Mango Salad topped with Soft Shell Crab), Pho Chin Nam (Beef brisket noodle soup), Bun Bo Nuong (Grilled Beef with Vermicelli Noodles)

203 1st Avenue (Between 12th and 13th streets)
Ramen: Minca

It may not be the world's best ramen, but the bubbling rich soup at Minca is absolutely delicious, reasonably priced, and doesn't involve uppity hostesses and two hour plus-long wait times (read: Ippudo). The broth is made from long-simmered chicken and pork bones, resulting in a souper (see what I did there?) rich flavor and silky texture, all the better to be soaked up by springy noodles and decadent pork charshu -- a study in calorific velvet.
What To Order: Minca Sio Ramen (Roast pork and garlic flavor), Spicy Miso Ramen.
563 East 5th Street (between Avenue A and Avenue B)