There was no way Tuesday's summit meeting on the Illinois budget could have lived up to its hype. No one with a shred of knowledge of the state budget process expected major progress bridging the gaping philosophical divide that separates the two sides in this dispute.
But after more than six months in which the chief budget architects -- Gov. Bruce Rauner, House Speaker Michael Madigan, Senate President John Cullerton, House Republican Leader Jim Durkin and Senate Republican Leader Christine Radogno -- never met together to discuss the budget face-to-face, it's fair to say that the meeting itself can be considered progress. If nothing else, it got a commitment from all to meet again, possibly next week.
There's something to be said for working face-to-face in the same room hour after hour, day after day. It has a way of wearing all parties down and focusing them on the ultimate goal. So even though Tuesday's event served mainly as political theater and a forum to stake out much-trodden ground, it had some value.
5. It's good to get together
As Cullerton noted in perhaps the only original line spoken all day, "I think we should pledge to continue to meet because, if we don't meet, how are we supposed to know how to reach a conclusion? What if I wanted to surrender to you? Where was I supposed to go?" This meeting also gave us a chance to watch a bit of interaction between the two sides, as when Cullerton opens his remarks by scolding Durkin about Durkin's opening speech (which we'll get to next).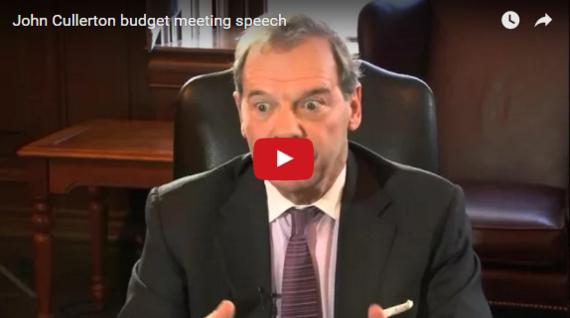 Durkin opened his speech with what sounded like a subtle jab at the "I Like Illinois" website that Cullerton founded in 2014 as a counter to negative depictions of the state. With Cullerton and Madigan as his captive audience, he let the state's top Democrats know that he believes they and their policies are the reason Illinois is in its current fiscal predicament. He also made it clear he has no use for Madigan's contention that the Democrats are protecting the middle class by thwarting Rauner's reform agenda.
"From 2003 to 2015, the Democrats controlled every lever of power in the state Illinois," Durkin said. He then rolled somberly through a series of actions -- unbalanced budgets, pension holidays, tax increases -- that Democrats had taken during those years, adding that each "did not protect the middle class." Watch Durkin deliver his remarks and you get the vibe of someone who knows that after years of being battered with very little recourse, he no longer has to take it.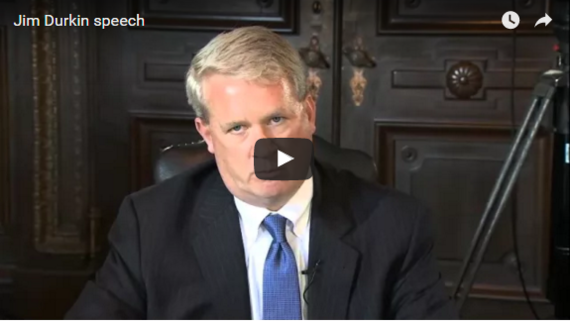 For Dietrich's thoughts on what Radogno, Madigan and Rauner had to say, head over to Reboot Illinois.
Calling all HuffPost superfans!
Sign up for membership to become a founding member and help shape HuffPost's next chapter