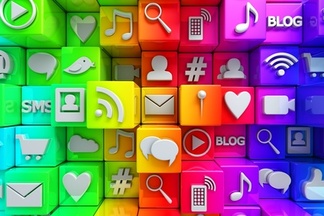 Wouldn't it be nice to create a Facebook or Twitter page and then magically get the right people liking and following you? And get those same people to spread the word about your company? Unfortunately, it just doesn't work that way. If you're looking for some practical and effective tips on how to develop a following on social media, you've come to the right place. Here are my top five ideas for building an engaged audience and getting results from social media.
1. Take the right approach to content
Social media isn't a place to advertise your products or services 24/7. Instead, it's a platform for providing your prospects and customers with useful and interesting content and engaging with them in two-way dialogue. Keep in mind the 80/20 rule; 80% of your content should be helpful information and the remaining 20% can be of a promotional nature.
When it comes to social media, you need to have the resources in place to come up with and consistently post great content, as well as respond to your followers and engage in two-way conversation. I highly recommend developing a social media content calendar. Also, be sure to get an understanding, to the best of your ability, of when your followers are online so you can post at the right times. Facebook Insights offers excellent analytics that break up when your followers are online by day and hour.
And make sure your social media profiles are compelling and SEO optimized. This means including attractive images or cover photos, where appropriate, linking to your website and/ or blog, and filling out an accurate and informative company description.
2. Engage with influencers and the social community
Identify industry influencers and those who have sway with your target market. Then find those people on social media and develop a relationship with them. For instance, you can share some of their posts you like, answer any questions they post to the community, and closely monitor their social channels so you can see which subjects and issues matter to them, and then engage with them about those things. You can use Hootsuite to see the Klout Score of your Twitter followers, which can give you an idea of how influential they are in driving action from their community.
But it's not just influencers you should engage with. Here are some other tips:
Communicate regularly on social media with your community.
Comment on blog posts relevant to your company or offering.
Follow those who may have an interest in your product or service offering and engage with them.
Act as a helpful resource by monitoring relevant conversations to your brand or product and responding when appropriate. Google Alerts, Mention, and Talkwalker will come in handy here.
When you do all of this, you'll find your social community begin to get larger and larger over time.
3. Run contests and sweepstakes
Social media contests and sweepstakes can be highly effective tools for growing your social following. Platforms like Offerpop make it easy to build and implement a successful social media promotion right on your Facebook or Twitter page. And you can design the contest so participants have to follow you on your social pages to enter. Be sure the promotion is compelling and enticing for your audience (the giveaway should be something your market is interested in).
Once the promotion has been implemented, spread the word by emailing your database, putting out a news release, and promoting it on your website, blog, and social media channels.
Paid ads on Facebook, Twitter, and other social networks can be a great way to increase exposure to your page and get some new followers. You can get pretty granular with the ad targeting to ensure you're reaching the right people. My advice is to experiment with paid ads and see what type of results you get, as this strategy works for some companies more than others, largely depending on the product/service offered and the target market.
5. Publicize your social presence
You likely have a lot of touchpoints with your customers and prospects. Think of all the places they come in contact with your marketing. Depending on your company, it could be through your emails, website, blog, storefront, login portal, print ads, business cards... the list goes on. Let people know you'd like to connect with them on social media and why they should do so (perhaps you'll be posting really useful information, running regular sweepstakes, and sharing new and exciting product news).
At the end of the day, there are many creative ways you can grow your social media following. I hope these tips will help you build an engaged fan base and take your social media marketing to the next level.
Matthew Collis is a marketing specialist with expertise in digital marketing and communications. He currently works for IXACT Contact Solutions Inc., a leading real estate CRM firm, where he plays a key role in overseeing marketing and communications programs as well as planning and implementing strategic marketing campaigns. Matthew has published articles in AGBeat, Inman News, and BusinessSoftware.com, among others. You can reach him at matthew.collis@ixactcontact.com or connect with him on LinkedIn here.
Related
Popular in the Community