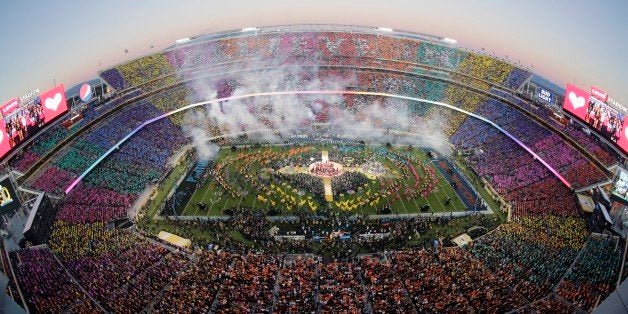 As we gather this Valentine's Day to celebrate our love and our newly granted equal right to love under the law, we should remember that despite all the progress we've made, efforts are underway to chip away at the rights we've already been granted and to block those we have yet to secure. So let's love today and continue to fight tomorrow so we can one day achieve full equality.
1. Marriage equality: This could be numbers one, two, three, four and five. While there are many important fights left to win on the path to full equality for LGBT people, we won a giant hurdle this past June when the highest court in the land ruled that our love was of no lesser value than anyone else's. This is the first Valentine's Day where married same-sex couples can boldly state that their love is truly, legally recognized in all 50 states. If that's not deserving of a big box of chocolate, I don't know what is!
2. More of us are out than ever before: From Caitlyn Jenner to Miley Cyrus and dozens in between, more celebrities have come out between last Valentine's Day and this one than ever before. Best yet, we're seeing more trans, gender non-conforming and sexually fluid people getting mainstream attention and helping to educate the general public. We've come a long way, despite how much father we still have to go. If we rewind, stories like "Eight celebrities who came out in the 90s" turned into "11 celebrities who came out in 2014" which turned into "53 people who came out in 2015." Exposure breeds acceptance, and the more people who come out, the more we'll pave the way for a time when "coming out" is passé and we can simply just exist.
3. Brands are more inclusive than ever: Marketers have thought about LGBT segmentation for some time now, and some brands have even jumped on that band wagon in really public ways earlier than others. It used to be that if a brand came out as LGBT-friendly, it would cost them. Now, being LGBT-inclusive is considered good for business and plenty are on board. In fact, big business has come to the rescue more than once, including to help facilitate a better outcome in the big RFRA fight in Indiana last year and the rinse and repeat version this year when lawmakers tried to pass a law that would allow discrimination in the name of religion.
4. There's more public acceptance of our love than ever before: Last Valentine's Day, 55% of the country believed that marriages between same-sex couples should be valid. Today, that number is more than 60%. It was only five years ago that the country was not on our side on this issue and the majority of states did not recognize our love. Rewind ten years and only one third of the country was on our side. We have come a long way in a short amount of time when it comes to moving public opinion and gaining acceptance for our relationships. Imagine the fabulous place we might be in another ten years if we continue on this trajectory.
5. The Super Bowl: I mean, c'mon. Just days before the holiday centered around love, the biggest sporting event of the year with arguably one of the most homophobic histories turns its tens of thousands of hardcore fans into a giant rainbow art project with "Believe in Love" messaging. Even if they were actually being used as a giant, non-LGBT-related Coldplay ad to promote their new album, it looked pretty queer and it pissed off the increasingly marginalized right-wing circus, so it counts for something in my book.
Feel free to share any I may have missed in the below comments.
Popular in the Community