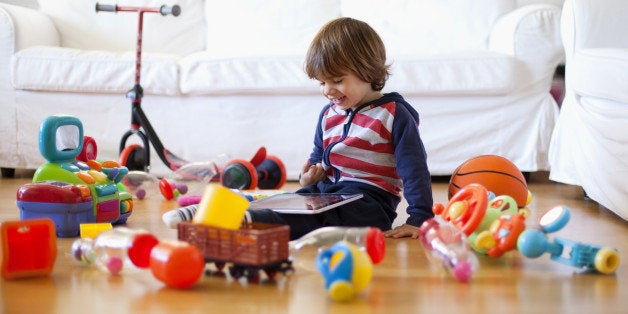 It never seems too early to start making your holiday gift lists (even if just in your head) because the holidays tend to creep up on us faster than we realize. Although I enjoy tackling my growing list and finding thoughtful gifts for loved ones, it can become a little overwhelming at times, especially when you need to pick out children's toys. Beyond stressing over whether your nephew wanted the blue or red toy truck, we face an unfortunate reality that now forces us to question if there are too many toxic chemicals in the toys we pull off store shelves.
'Chemicals of high concern' were found in thousands of children's products according to a study released in May 2013 by Environmental Health News (EHN). Most of us have heard the tragic reporting of children falling ill or dying from lead poisoning through ingested toys, and although this is a very rare occurrence, the Centers for Disease Control still warns that "toys that have been made in other countries and then imported into the United States or antique toys and collectibles passed down through generations put children at risk for such exposure (to lead)." Other prevalent chemicals found in toys include cobalt and ethylene glycol, which is commonly used as an antifreeze.
So how can you ensure that the toys you purchase during the upcoming holiday season are safe for kids and made of natural materials? Here are the top five ways to put your mind at ease and sidestep toys that are definitely not on Santa's list.
1. Check the material used to make the toys. Toy brands should clearly state that their products are made with materials safe for children to breathe in, touch their skin, and put in their mouths. Natural woods, non-toxic paints and dyes, and organic cotton are all materials used to make many safer toy alternatives.
2. Contact the manufacturer. If a comprehensive materials list is not available on the packaging, call the company or manufacturer directly and request a materials list. They may not want to volunteer all the information right away, but a little persistence goes a long way.
3. Shop from trusted retailers. At many large stores that have a wide variety of toys, finding safer options can be confusing and time consuming. However, there are retailers out there that do the research for you so the safer toy selection process is easier and takes the guessing out of it for you. Check out my Pinterest boards here for some great safer gift ideas for kids.
4. Test for lead levels at home. You can buy a lead test kit at a local hardware store for about $10. With this invaluable tool, you can easily test children's toys or other products to determine if they contain lead (remember even low levels can be harmful).
5. Check for toy recalls. You can check the Consumer Product Safety Commission's website for anything that has been deemed hazardous to children. This can help you with your purchasing decisions and in determining if anything you already own is not safe.
Simple steps like these can help calm anxieties and make parents feel empowered by their ability to keep their children safe and happy. Hidden toxins in children's products can be scary, but I believe that by continuing to build communities that spread awareness and information, solutions can be made.
Related