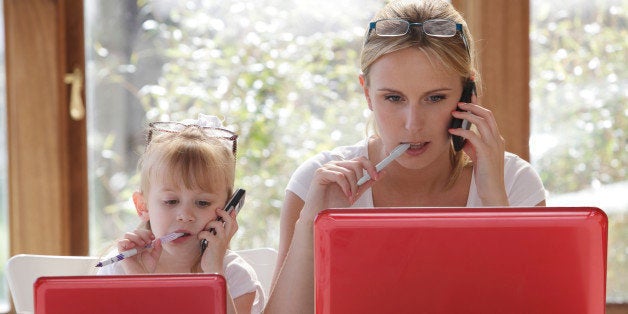 If you are a parent with children between 3 and 6, you can relate to the difficulty of balancing working at home while taking care of young kids. Both activities require your attention yet it's your smiling little angels who usually win out at the expense of your work productivity. Having a strategy in place to strike the right balance will reap huge rewards for both parents and kids. The following tips can be used as a template to help level the work-at-home playing field.
Give them their own jobs. Kids love tackling tasks around the house. Especially if you empower them by providing them with work that they can complete independently. For example, you could ask them to fold and put away laundry or putting books away on the shelf by size order. It could be a "clean up" contest with a family prize. Maybe a special lunch with mom or dad?
Get Creative. With young children, participating in craft work often requires adult supervision. An alternative would be to provide crayons and blank sheets of paper to draw and color. Coloring books work well also, but having kids draw and color their own art work requires them to use their imagination. It also has the added benefit of taking up more time. In addition, you could suggest that they create their own story.
Schedule parent and child play time each hour. Even if it's just 10 minutes of focused attention that will help reassure kids that they're not forgotten. Most of the time children are perfectly content playing independently. They just need a reminder that you're aware of their presence.
Educational Games. If you're a parent that owns an iPad, you'll have access to countless quality educational games via their App store tailored for the little ones. A great example would be Spot The Dot. It has enough variety and replay value to maintain a child's interest. Also of value are good old fashioned floor puzzles which work well to occupy time. Giant floor puzzles add additional fun due to the size of the pieces as well as the larger sense of satisfaction a child feels upon its completion.
Watch Educational Television Shows. Am I actually recommending that kids watch television? Yes, but with the precondition that the viewing time is limited and that the shows are quality children's programs. My short list of shows include Super Why, Blues Clues, Little Bill, Dinosaur Train, Sesame Street, Ni Hao Ka- Lan and Oswald.
All of the above suggestions can be utilized in conjunction with one another depending upon the time frame required. Children's interests vary so what ends up being effective will be a subjective endeavor attributed to trial and error. Parents more so than kids will need an open-minded approach. Remembering to breathe helps too.
How do you handle working at home with kids? Please comment below to add some ideas.