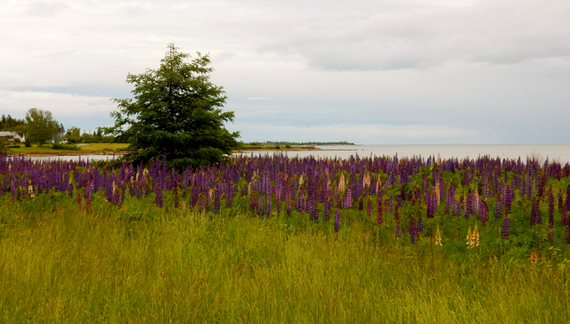 Maine is one of the most popular U.S. States in the summer. Typically, tourists inch along on US Route 1 to get to Kittery, York Beach, Ogunquit, The Kennebunk's, and several towns a few miles off of Route 1 further up the line, like Boothbay and Bar Harbor. But those with an appetite for authentic, weather-beaten, Maine-in-the-raw must exit bumper-to-bumper Rt. 1, and head east to the tips of Maine peninsulas or on ferries to hidden islands for the kind of blissful experience so many others miss. You'll best find the ebb and flow of Pure Maine away from the din of the crowds in the following communities. (Those with a penchant for the more popular Maine seaside spots can read about them in THIS Huff Po piece).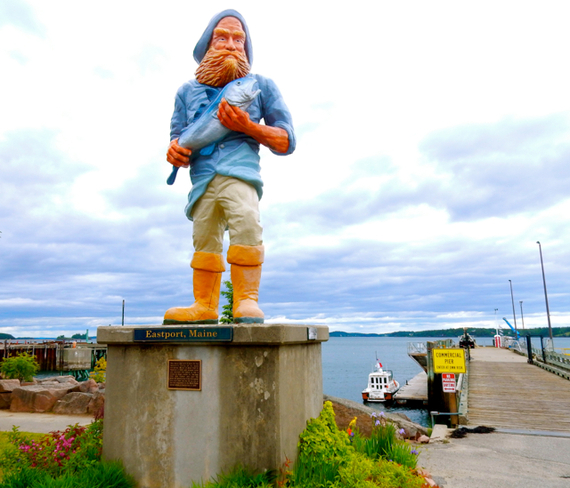 The following roundup provides a small glimpse of each destination. But for more in depth coverage - and other Offbeat Escapes in the Northeast - go to GetawayMavens.com.

CAPE ELIZABETH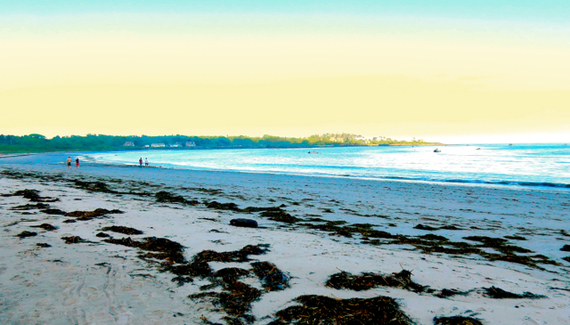 Cape Elizabeth and its nearly empty Crescent Beach State Park is just a 15-minute drive from trendy, busy Portland, Maine's largest city, which makes this quiet place even more desirable for those who want to have it both ways.
What You Know: Inn by the Sea, Cape Elizabeth's premier small luxury hotel is big dog friendly.
What You Don't Know: Inn By the Sea serves as an arm of the Animal Refuge League of Greater Portland (Maine), and both fosters and facilitates adoptions of rescued dogs one at a time. Guests come to stay a few days, fall in love with the dog of the moment, and take it home. There have been 54 adoptions to date.
Quirky Fact: Inn By the Sea has been attempting to bring back the endangered New England Cottontail Rabbit in its "Rabitat," an initiative that explains the rabbit paperweight in each guest-room and other bunny paraphernalia around the property.
STAY: Inn By the Sea. I've been writing about this environmentally conscious, dog friendly, 61-room luxury seaside hotel in Cape Elizabeth ME for years, and each time I visit, it just gets better. Only five miles from Portland, a stay here provides travelers with the best of all worlds: a high-end, environmentally conscious beach resort experience and forays into the foodie paradise of East Coast's Portland.

PHIPPSBURG PENINSULA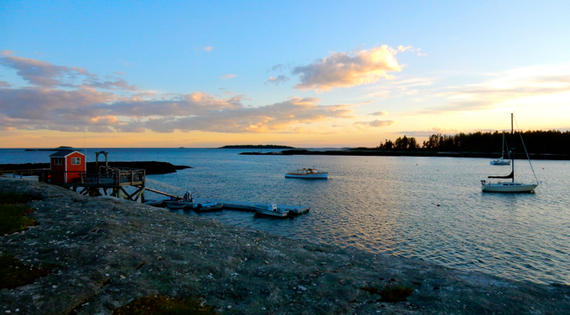 Maine was a shipbuilding center, and still is, which is why the phenomenal Maine Maritime Museum is located in Bath - home to the still-in-operation immense-boat-builder, Bath Iron Works. Bath ME is just 20 minutes from one of the last surviving true Maine Family Resorts, the Sebasco Harbor Resort on the hardly-trampled Phippsburg Peninsula, where exploring off the beaten path is a simple joy in and of itself.
What You Know: The Maine Maritime Museum complex, which includes over a dozen buildings, offers a compelling look at how boats were designed, constructed, and launched prior to computers and electronics. Most astounding is the contemporary white sculpture that outlines the dimensions of the Schooner Wyoming, the largest sailing vessel in the USA, built right here in 1909. At 50 ft. wide, 40 ft. tall and 329 feet long, built exactly full-scale, the artistic interpretation of the Wyoming takes up most of the property with a bowsprit that projects out nearly across the street. Don't miss the guided tour, which takes visitors through the many steps involved in shipbuilding: a grueling process that amazes even the most initially disinterested teen-ager.
What You Don't Know: Unless you have a house or have summered on the Phippsburg Peninsula, you might be unfamiliar with the vast 3-mile soft-sand nearly barren Popham Beach State Park, or the Hermit Island Campground on Head Beach, one of the most highly coveted ocean-front campgrounds in Maine, with sites that sell out quickly on January 1st when reservations open up.
Photo Op: Sebasco Harbor at the Sebasco Harbor Resort at sunset. Transcendent.
Local Flavor: For the most bare-bones lobster dinner, head to Spinney's in Popham Beach - Real casual, Real Maine, or provision up at Percy's, the unassuming general store next to Fort Popham, which features shelves stocked with good wines, live lobsters and great breakfasts. Head to The Pilot House at Sebasco Harbor Resort for a very good meal and to say hi to Fred the Seagull. One single seagull has been mooching food off of guests there for the last 20 years.

Local Character: Bob Smith, a huge fan of off-Route-1 "Pure Maine," is the buoyant owner of Sebasco Harbor Resort, and eats, sleeps and breathes his Resort and the lodging industry as a whole. To many visitors, Smith is the face of Phippsburg.
STAY: Sebasco Harbor Resort, Built For Multi-Generational Bonding. The kids are radiant, sticky with sundaes from the cute ice cream shack, and already talking about candlepin bowling in the evening - way past their usual bedtime. But who cares, here at Sebasco Harbor Resort, a throwback 200-acre summer camp built for multi-generational family gatherings. As one of the last of a "dying breed" of Maine Family Resorts, Sebasco Harbor Resort is as unpretentious as it gets, but rustic-chic enough to please Mom and Dad (with Spa and ocean-front 9-hole Golf Course), easy enough for Grandma and Grandpa to get around, and exciting enough for kids of all ages who will learn to golf, tie-dye t-shirts, swim, and kayak or SUP. And the setting, especially at sunset, is absolutely breathtaking.

CASTINE, THE BLUE HILL PENINSULA, AND DEER ISLE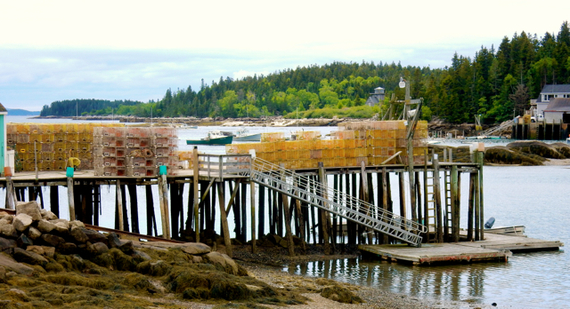 Far off the well-trod Route 1, Castine ME and the Blue Hill Peninsula as a whole allows an escape from the hordes just an hour from booming Bar Harbor. Time seems suspended here, especially at Castine's deep harbor waterfront and about 35 miles away from Castine, in Maine's last remaining fishing village, Stonington on Deer Isle.
What You Know: Maine Maritime Academy is based in Castine. And the tony town of Blue Hill ME, studded with art galleries, is a retiree favorite.
What You Don't Know: Heading North on Route 1, about 18 miles from Castine, you'll drive over a striking harp of a bridge spanning the Penobscot River. The Penobscot Narrows Bridge and Observatory, built in 2006, is the "Tallest Public Bridge Observatory in the World." You can actually take a minute-long, 400+ ft. elevator ride inside one of the soaring pylons that hold the bridge in place to an enclosed observation platform at the top- a very neat-o experience.
Photo Op: Dyce Lighthouse, Castine. In private hands now, it's still a gorgeous sight. A trail behind the property provides great vantage points.
Worth the Drive: It will take a good 6 or more hours to do the Blue Hill Peninsula justice- driving its perimeter, over the precarious Deer Isle Bridge to the art/fishing village of Stonington and back to Castine with a few pull-offs along the way.
Local Flavor: Nervous Nellie's Jams and Jellies, owned by Anne and Peter Beerits, is a few miles off Rt. 15 on Deer Isle. You can't miss the place - the property is festooned with Wild West facades right out of a 60's TV Western, and lots of funky sculptures created by Peter. The "no artificial anything" small batch jams and Chutneys are made onsite, and though Nellie's ships, a good number of fans make the pilgrimage - at all times of year - to say hello and stock up on the sweet stuff.
Local Characters: Pentagoet Inn owner, Jack Burke, worked with refugees in conflict zones around the world. His wife, Julie Van De Graat, owned Pink Rose Pastry Shop in Philly for twenty years. Guests from DC and Philly come to Castine ME and the Pentagoet Inn specifically for Jack's phenomenal knowledge of the area and for Julie's famous scones and muffins.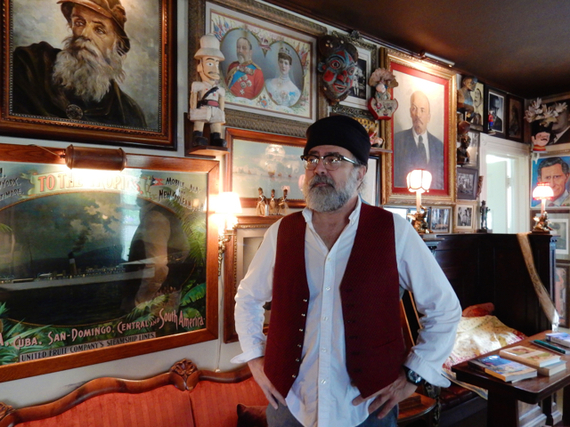 STAY: Pentagoet Inn. She's the lovely Queen Anne on the hill in town overlooking Penobscot Bay. On the Select Registry, the 1894 Pentagoet Inn caters to the quirky foodie traveler who really wants to escape from the world and unplug. According to Yankee Magazine, the Pentagoet is the "Best Classic Maine Inn," although there's nothing "classic" about the inn's low-lit pub- every inch of wall blanketed with photos and paintings of heads of state and officials, good and bad, oddball and electrifying, from around the world.
SEARSPORT AND ISLESBORO: SEA CAPTAINS AND ISLAND FOLK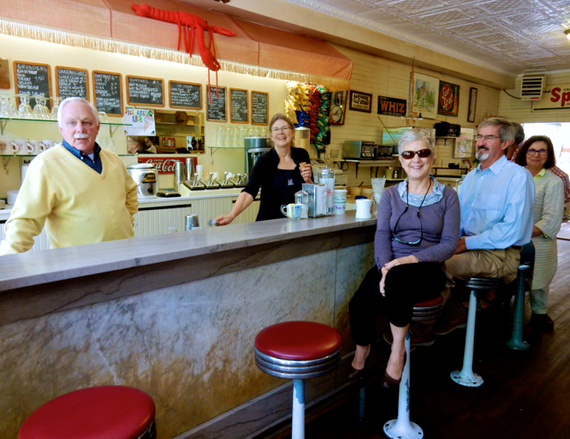 In Searsport and on the island of Islesboro, it's all about ship's Captains and Islanders - a Mid-Coast Maine that's far from the maddening crowds. From Searsport, it's about 20 miles (South) to Lincolnville, where you'll catch the ferry to throwback Islesboro. Once on the island, you'll discover a quaint historical society and laid-back locals. Back on the mainland in Searsport, explore great exhibits in the fantastic Penobscot Marine Museum complex and stay in an actual Sea Captain's grand home. These lesser known communities represent genuine, historic Maine at its best.
What You Know: Islesboro, accessed by a 20-minute ferry from Lincolnville, has been a summer retreat for generations.
What You Don't Know: At this point, Islesboro has no accommodations for visitors, but all are welcome to take the ferry over for the day to check out the Islesboro Historical Society, sip coffee, grab a sandwich, and hike bay-view nature trails.
Quirky Fact/Islesboro: All Islesboro residents (and visitors) MUST wave to each other while driving. It's pretty much mandatory.
Quirky Fact/Searsport: In the 1800's a good percentage of the country's sea captains hailed from Searsport, with an impressive number of seagoing wives. At a time when women generally stayed home, Searsport Captain's wives made their homes at sea for years at a time, having babies and raising children on board as well. You'll learn all about this curious fact at the excellent Penobscot Marine Museum in Searsport, a complex of 12 buildings that together illustrate all aspects of this industrious maritime community.

Local Characters/Islesboro: Sit at the old-fashioned stool counter in the Dark Harbor Shop on Islesboro, owned by realtor Bill Warren, for a sandwich and ice cream. You'll likely find a bunch of locals discussing island happenings here, as this place, which also houses a small souvenir shop, seems to be one of Islesboro's popular gathering spots.
Local Flavor/Searsport: Excellent chef, Mark James, will be creating a Chef's Choice Wine Pairing Dinners with 6 or 7 courses for $87.50 a few times per month at the Captain A.V. Nickels Inn. Dishes, like Crab-cakes and Scallops with Corn Salsa, Sauced Lobster Tail, and Shrimp with Fillet of Beef are beautifully and adeptly prepared and plated: A true indulgence. Call 207 548-1104 for schedules and reservations.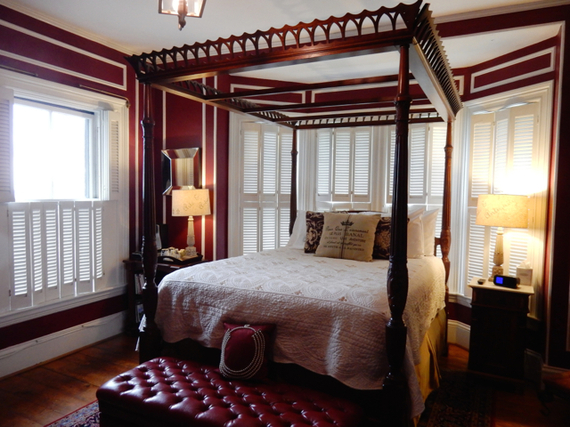 STAY: Captain A.V. Nickels Inn, Searsport. Mike and Brenda Liston retired from the U.S. Air Force and found this magnificent Sea Captain's home at the top a hill while cruising up Route 1 in Mid Coast Maine. They bought it in 2011 and transformed the Captain Nickels home into the luxury inn it is today. The exterior is grand enough, but the grandeur continues into sunlit rooms with high ceilings that feature hefty and intricately carved wood sideboards, wardrobes, seating and other stunning furnishings shipped from overseas. Luxe rooms, named after Nickel's ports of call, are beautifully designed, and include a decadent gourmet breakfast in the morning.

SCHOODIC PENINSULA: ACADIA NATIONAL PARK'S QUIETER SIDE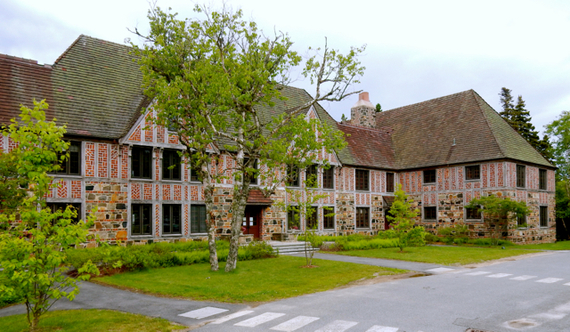 For those who want to "do" Acadia National Park, but don't want to deal with the crowds that converge on Bar Harbor each summer, stay on US 1 North another 20 miles from where the crowds veer off, and hook a right onto Route 186 to the next point of land. The Schoodic Peninsula is much more secluded than Mount Desert Island, yet encompasses 3,500 additional acres of Acadia National Park.
What You (Might) Know: If you choose to stay around this section of Acadia National Park, there are ferries that will take you from Schoodic Peninsula to Bar Harbor, where a free Mount Desert Island Park Shuttle awaits to transport you around the bulk of the NP.
What you Don't Know: Rockefeller Hall, the eye-catching stone and brick building that serves as the Welcome Center and administrative offices for the Schoodic Institute, was a gift from John D. Rockefeller, who had it built in 1933 for the US Navy. At the time (1919 to 1933) the Navy was operating it's "listening station" from what is now Acadia NP's Otter Cliffs. Rockefeller wished to preserve Mount Desert Island strictly as a National park, so he provided funding for the Naval Base to be moved one peninsula over. The Navy vacated the property in 2003, and it was turned over to the Schoodic Institute. Program attendees, and the general public, can drop in to learn more about this research and science-based partner of the National Park at the very interactive Welcome Center.
Photo Op: Drive on the 5-mile Schoodic Loop Road to Schoodic Point for rapturous (and practically private) views of the Maine Coast. Come while you still have the place to yourself.
Local Flavor: Pickled Wrinkles at The Pickled Wrinkle, Birch Harbor. An old Down east delicacy, these bountiful sea snails (whelks) sustained poor fishermen in tough times, offering a quick protein infusion when food was scarce. Boiled and pickled in vinegar, these things are an acquired taste for sure. Order them if you dare, and if you don't dare, there are plenty of other non-snail options. If available, don't pass up the ultra-delish hot Rhubarb Streusel for dessert.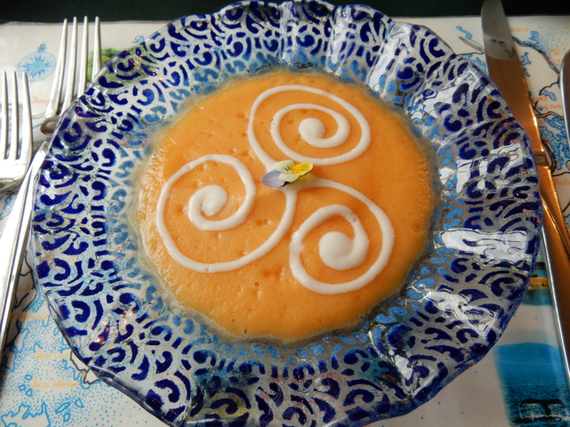 STAY: Acadia's Oceanside Meadows Inn. On 200 diverse acres, this fantastic place just 4 miles from the Schoodic Institute is not just an "inn:" it's a nature preserve, a lecture/event hall, and beach all in one. Plus, it offers one of the most beautifully presented and delicious B&B breakfasts ever. FYI - innkeepers are vegetarian, so do not expect a farm breakfast with sausage and bacon. You will experience, however, B&B breakfast nirvana.
LUBEC AND EASTPORT MAINE AND CAMPOBELLO ISLAND CANADA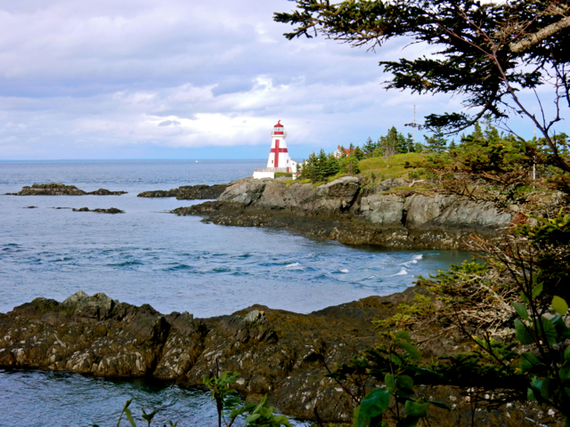 Lubec, Eastport, and FDR's summer cottage on Campobello Island in New Brunswick, brings you to the easternmost land in the United States, with a short foray into Canada. Yes, it's all the way up here: a good ten hours from New York City or 7 from Boston, but is so totally worth it. The region is beautiful and welcoming - just be sure to bring your Passport!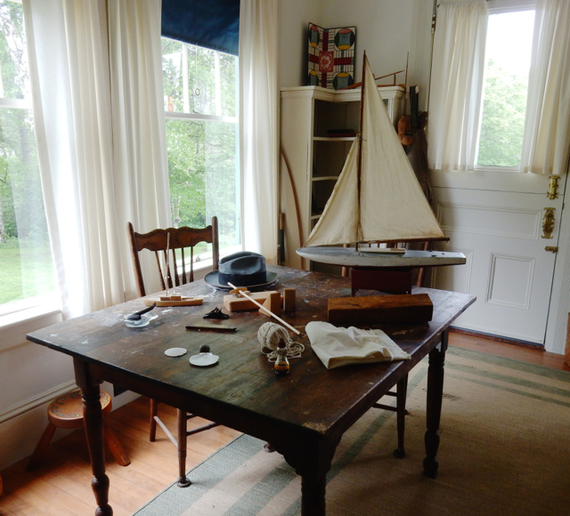 What You Know: Campobello Island - just a two-minute drive over a border crossing bridge from Lubec, ME was FDR's summer home. Now, it's an "International Historic Park" managed by both the US and Canadian governments. Tours are fantastic, but be sure to sign up for Tea With Eleanor - a free hour-long talk about the life of the First Lady over served tea and cookies.
What You Don't Know: Campobello Island is much more than the FDR Cottage and Visitor's Center. There's a great Natural Area (get maps from the Adventure Center you see on the right as you arrive on the island), two iconic lighthouses, and Whale Watching tours. So be sure to leave at least a few hours or full day to explore.
Photo Op/Lubec: West Quoddy Head Light State Park, Lubec. This red and white Cat In the Hat saltshaker lighthouse sits on the Easternmost Point of the Continental USA.
Local Characters/Lubec: Monica Elliot, owner of Monica's Chocolates, was a non-English speaking Peruvian newlywed when her Maine-based husband moved her to Lubec and then promptly suffered a debilitating aneurism. Monica was forced to earn an income and take care of him - so she learned how to make chocolate bonbons and became a not-so-overnight sensation. Thirteen years later, Monica's English is good, but her chocolates, sold around the world and from her lovely Lubec shop, are phenomenal.
Local Flavor/Eastport: At the turn of last century, sardine canneries lined the harbor-fronts of easternmost-Maine. Back then, sardines were preserved in mustard, and one mustard company from that era, Raye's Mustard in Eastport, is still in business. In addition to pure "Off The Stone" Mustard - you can also purchase aged and flavored varieties in the original 1903 factory.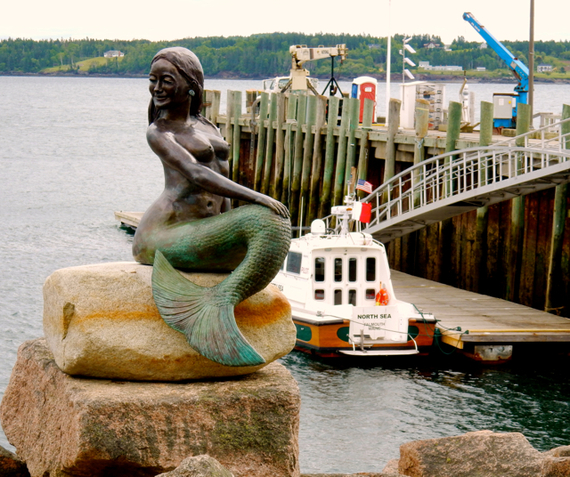 Worth The Drive: Eastport ME is a 45-minute drive from Lubec. Though remote, Eastport is replete with art of all kinds - from the nudie Little Mermaid and gnomish Eastport Fisherman statues in a wharf-front park, to several high-end crafts galleries, to the venerable Tides Art Institute and Art Museum. Tide's offers engaging programs with artists in residents, site-specific art installations and an eclectic gallery featuring the best of Maine artists.
STAY: Peacock Inn, Lubec. This 1860's Captain's house sits atop a hill in the charming coastal town of Lubec. Surrounded by flowers in the spring, with birds chirping and coffee brewing in the morning - it's a quiet, tranquil, and beautifully decorated haven. When all 7 charming rooms are full, mornings become a happy, social, "small world" time for conversation over a hot gourmet breakfast.