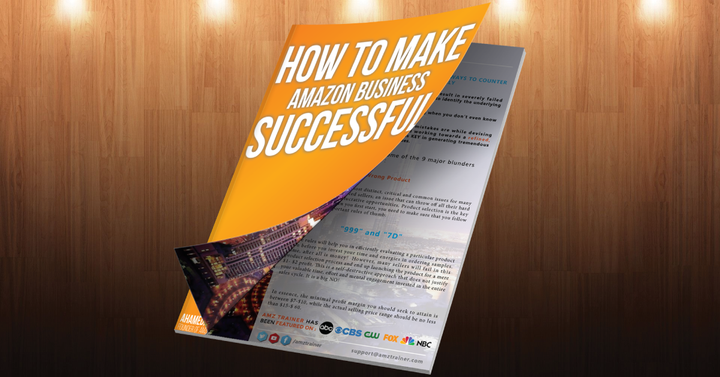 THE FUNDAMENTAL CAUSES AND WAYS TO COUNTER THEM EFFECTIVELY
One of the core implications that result in severely failed Amazon Businesses is the "inability" to identify the underlying issues from the onset!
How can you succeed at something when you don't even know what failures entail?
Knowing what the errors and mistakes are while devising a strategy to avoid them and working towards a refined, focused and effective system is KEY in generating tremendous sales and skyrocketing revenues.
Let's take a look at some of the 9 major blunders and how to fix them:
1) Choosing the Wrong Product
This is one of the most distinct, critical and common issues for many new and experienced sellers; an issue that can throw off all their hard work and waste lucrative opportunities. Product selection is the key to success! When you first start, you need to make sure that you follow these two Important rules of thumb:
These rules will help you in efficiently evaluating a particular product even before you invest your time and energies in ordering samples. Time, after all is money! However, many sellers will fail in this product selection process and end up launching the product for a mere $1- $2 profit. This is a self-destructive approach that does not justify your valuable time, effort and mental engagement invested in the entire sales cycle. It is a big NO!
In essence, the minimal profit margin you should seek to attain is between $7-$10, while the actual selling price range should be no less than $15-$ 60.
Thus, before you finalise your product selection, make sure it has these core value-proposition points:
Demand
Buying Potential
Traffic
Other key elements
Sticking to this essential check-list will ensure that your chosen category, type and line of product is a uniquely persuasive offer; one that comes out as a consistent WINNER! Moreover, once you obtain the proper experience, it is time to move on and change your strategic approach to launch high-ticket price items in order to increase your profit ceiling further up.
Furthermore, we have an exclusive list of Tips and Tricks for high priced premium items with sweet profit margin potential. As part of our valued offering, we have also designed a comprehensive eBook entitled "10 Strong Tips to choose your first product", available specially to all our valued subscribers. Without further ado, subscribe today to our newsletters and receive exclusively featured updates on how to start, scale and succeed in your Amazon business!
2) Difficulty in Finding the Right Suppliers
Once you have your product chosen and set for launch, the next challenge is finding reliable suppliers. You'd be shocked to learn that many Amazon Seller accounts and product listings have gotten banned in the past because of the quality issues of the products being offered. You need to diligently focus on quality and forbid yourself from launching a cheap quality product. This is because even if you make a sale, it will come back later to haunt you in the form of customer service issues, refunds and worse – being banned by Amazon! Thus, always maintain a professional and healthy relationship with suppliers so you can get the best out of them both in terms of product quality and reliability, as well as assured and timely delivery. Remember one thing, you are dealing with a end-level worker who works 14-16 hrs/day for far lesser pay.
Consequentially, business is all about relationships and how you utilize those relationships to harness unparalleled respect, service, trust and value. If you attain professional, cooperative and honest suppliers, 90% of your Inventory Management issues will never exist to begin with! Moreover, always make a habit to intricately check for samples; never miss the opportunity of sample evaluation because this is what sets the precedent for your overall product sourcing. Evidently, once you establish a functional and solid relationship with suppliers, your future orders will automatically become easy to manage with the mere sending of an email in order to have them diligently get the desired products ready for shipment to your designated Amazon warehouse.
3) Delaying Product Launch
After finding, sourcing and preparing to launch your product, the actual challenge in the entire journey begins now! You'd think you know everything based on courses and YouTube videos you've watched; however, truth is you don't! Not even close! That's because these resources do not go past this particular stage and leave out crucial steps + details vital for progress.
Thus, Pre-launch and Launch Checklists are critically important. It's highly dependent on how quick you send sales signals to the Amazon system to have them immediately start ranking your product for keywords. Keywords – is KEY! Launching your product is THE MOST important element for an Amazon business; failure to do so in a timely, efficient and proactive manner will invariably affect your sales and cash flow in the most negative way imaginable. Moreover, getting good initial reviews are imperative to the post-launch dynamic; the sooner you get 10-15 reviews, the better visibility your product will have, thus affecting ranking.
4) Poor Listing Optimization
One of the most overlooked aspects in the entire chain of events; many sellers frequently get this point wrong because of the lack of understanding, knowledge and application of the topic. According to recent industry relevant surveys, product images constitute 95% of the buying-reasons on Amazon. If you have poor images, there is no way you can stand out from the immense competition within the Seller's arena! "Differentiation" is absolutely vital to carving a unique and brand-loyalty worthy distinction amid your competitors.
In reality, the old school days are long gone and what matters is how compellingly you communicate your product's aesthetic and physical worth via professional, visually-pleasing images that garner a consistent stream of sales. Always include Action Shots / Live Shots to give a vivid and realistic visualization experience to potential buyers. Well laid out Title, Bullets and Product Description are without a doubt critically necessary to give the buyer a comprehensive idea about the product. The more you test and implement various changes on your product listing page, the more sales and keyword ranking you will effectively attain.
5) Struggle for Keywords Ranking
Keyword ranking is the very GPS to your product and its value proposition on the entire Amazon MAP! Sadly, it's one of the most commonly ignored aspects as well; resulting in utmost failure for a majority of Sellers. The world of Amazon business is heavily influenced by the effective use of keywords and keyword ranking. The more your products gets ranked for a wide array of keywords, the more visibility it will garner within the Amazon map and consequentially the easier it will be for the GPS to guide your potential buyers to your product when running search results.
Crucial: Make it a point to always improve your keyword ranking by writing a well formatted title with no special characters and also load your backend search terms with all primary and secondary keywords. Many Sellers include "," "-" in between the keywords, which is a fatal practice and a huge mistake. Make sure to separate the keywords by single "space". For example: Keyword1 Keyword2 Keyword 3 and so on.
6) Ineffective Promotions and Depleting Cash
Promoting your product listing and essentially your 'brand' is a lost cause if the core dynamics are not understood nor implemented. A poorly optimized listing with horrendous imagery is not a 'promotion', it is infact tantamount to 'flushing cash down the drain'.
Furthermore, the functional premise of running ads and promos is to gain recognition, stimulate keyword ranking, increase the BSRs and carve out distinct audience visibility. When your BSR increases, you effectively get ranked for a multiple spectrum of keywords and your listing appears on page 1 or 2. Hence, a poor listing results in all your efforts going in utter vain! It's imperative that you always focus on improving your listing before you do any one time or staggered giveaways.
7) Failing to Effectively Use Amazon Sponsored Product Ads
If you are an experienced Seller, you probably love to say, "PPC is broke and its not working for me :-(". However, we've heard the same from many Sellers – regardless of their level of expertise or experience. This is natural. The Pay Per Click (PPC) concept is more in tune with the lose money to earn money concept. This may be news to many, but it's a fact that Amazon Sponsored products are a great vehicle to push your product to page 1 on the very first day of launch!
Critical: Always review your Advertising reports and keep checking ACOS to keep informed and in the loop. If it's in a range of more than 25-30%, you need to lower the bid amount to control your spending.
Start with Auto Targeting and Manual Suggested Keywords campaign to allow Amazon in picking the essential keywords for you. This is a MUST DO step and many new Sellers miss the vital importance and very idea behind suggested manual campaign. As an exclusive offering, the AMZ Trainer platform is providing a state of the art PPC related training program; detailing some important secrets, golden nuggets and ninja tips to share with our valued subscriber base.
Make sure to signup below today without further delay!
8) Failure to Split Test, Tweak and Repeat!
This step is a silent killer that can wreak havoc upon your campaign if not taken seriously in time! The necessity for this just cannot be stressed enough. Testing and tweaking allows you to understand product-buyer response and make changes accordingly; thus saving time, money, effort and your overall product lifecycle goals. Amazon selling is not about launching and simply forgetting about your product. It constitutes diligently the following flow of events: Launch, Test, Learn, Tweak, Test and so on; without which your "foresight" as a Seller is as good as blind! Critical to results is Split Testing with Images, Title, Bullets and Product Description, whilst maintaining other necessary areas of your overall listing.
9) Overcomplicating the Process
Complicating things where they needn't be, is a sign of lack in understanding the key principals of Selling on Amazon. You'll be surprised to learn there are individuals as young as 17 – 19 years of age who are successfully and consistently earning $50K/month, whereas by the same token there are Sellers in 30-40s making the entire process complicated and thus losing out on lucrative income from the onset! Remember one thing: Selling on Amazon is not some course you enroll in and hope to "float through", it is in fact Business, and business is an art form. Like any form of art, the more your practice it, the better your final results will be for maximum throughput.
EXCLUSIVE: "AMZ Trainer is offering a FREE Course in the discipline of Amazon Business as part of our value-oriented program to help you understand the overall dynamics and processes involved in a successful Amazon Business. This proposition is a limited time offer and the offer may get removed at anytime! As one of the fortunate ones to have come across this, you are set to get this FREE Course and supercharge your knowledge base in learning more about the Amazon Business and immediately generating a passive income"
Got dreams? You won't attain your dreams if you don't believe in them first. Visualise your future and come onboard with us! We have a growing exclusive Facebook group harboring over 500 members and successful entrepreneurs who have embarked on the same journey as you aspire to. No sense in waiting anymore is it? Get all of this and more – for FREE! Provide your details below and get in touch with us TODAY!
Support HuffPost
The Stakes Have Never Been Higher
Related
Popular in the Community