I thought I was addicted to my phone before I even had a kid. And while I may not be so good at texting back nowadays, I have found it so much easier (to my reluctance) to run my house and my life with apps. I didn't want to be THAT person who relied on their phone for everything but it's like having an assistant!
The following are a list of life savers: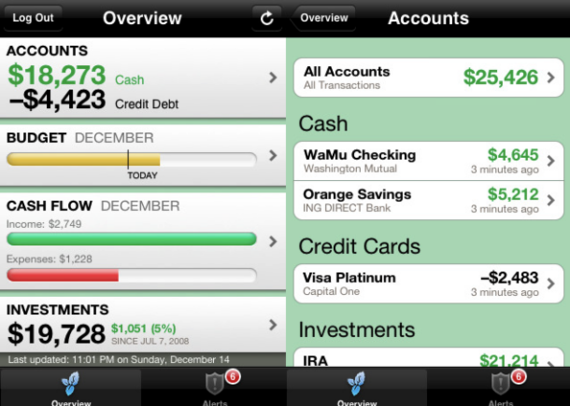 As Apple describes it best, "the free Mint app pulls in all your personal finance accounts and investments into one place, so you can track your spending, create a budget, receive bill reminders, and save more money."
And that's putting it very simply. Mint is your accountant and if you have an iPhone you can also now see your credit score for free.
Mint has been great for me and you can pretty much do anything including setting up a budget for childcare and seeing how much money you have left in your account to pay for it using easy things like charts and graphs to help you see where every dollar of your money is going too and how much you have left.
You can also set up bill reminders which is great considering the fact that my phone calendar is filled with annoying bill alerts instead of actual appointments.


Baby Tracker: Nursing
$1.99 on iTunes
If you are a breastfeeding mom like I was, this app helped me on days I was way too tired to think straight (especially in the first couple of months of having a baby). With a tap of a finger you can easily keep track of the length of nursing session, the side you nursed on last, and even if it was a breast or bottle feedings.
Mom Maps helps you find kid-friendly places all over different areas of the country. It is particularly useful when on vacation and you need to find any kid friendly place. You can search parks, playgrounds, restaurants, museums and indoor play areas, as well as reviews by parents or the best kid centered places to go.
This map is currently in 28 different cities across the U.S.
You can group message or video chat with the whole family. A conversation can easily be turned into a video chat for up to 10 people with the Google Hangouts app. If you ever wanted the opportunity to yell at all of your kids at the same time without being in the same room, this would be the time.
This app has over 350,000 recipes and it also includes your grocery list that you can share. You can also add your own recipes easily and view all your friends' recipes too if you are feeling very Martha Stewart-ish. What I consider the best part of this app is that you can find a dish by what you have in your fridge. Have chicken and broccoli at home? Plug it in for a dinner recipe. The other best part (OK the whole thing is great) is that you can make grocery lists and share them with other members so no one ever goes and buys the same thing. For kids with dietery restrictions you can also search for recipes excluding what they are allergic too.
My son loves this app because it has music. Yes, he's a cheap sell. But regardless of that fact the app is a timer to tell you when it is time to try to put the little one on the potty again going by the time he wakes up to the time he goes to bed. You also get weekly reports that let you know how things are going every step of the way with tips, tools AND coupons.
Related