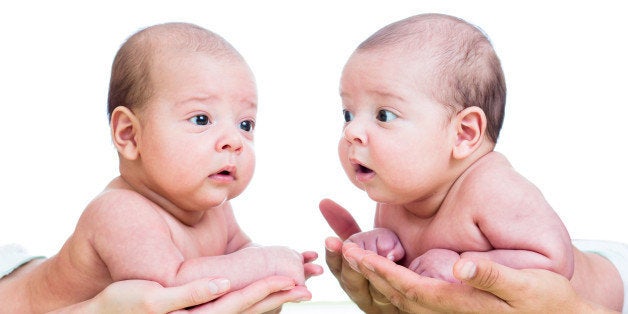 The top 10 list of baby names in the United States for 2015 was released by BabyNames.com, and royalty and courageous namesakes abound. As co-founder of BabyNames.com, I present the trends and tribulations of names most popular this year.
I predicted in May 2015 that the top girl name this year would be Charlotte (#1), thanks to the birth of Charlotte Elizabeth Diana aka as Her Royal Highness Princess Charlotte of Cambridge on May 2nd. Indeed, Charlotte was number one this year according to the BabyNames.com user survey, a predictive tool used to determine up-trending names in the United States. Also a princess, albeit fictional, is Aurora (#10), the name of Disney's Sleeping Beauty.
It is not surprising that Arya (#3), the name of the young heroine from HBO's Game of Thrones, has maintained its top 10 position as the popularity of the show continues to be one of the top-rated shows on cable and network television. Other courageous namesakes of both nonfictional and fictional heroines in the top 10 girl names include Amelia at #2 (Amelia Earhart) and Scarlett at #5 (Scarlett O'Hara), accordingly. Noticeably gone from the top 10 is Sophia, which has been on the most popular list for several years in a row.
The most common trend in the top 10 girl names, however, is that people seem to simply like naming their daughters with names that end in A. Among them, Olivia, Ava, Nora, Emma (as well as Aria, Amelia, and Aurora mentioned above) comprise 70% of the top 10 girl names.
In contrast, among the most popular boy names, the ending most frequently seen is "-in" and associated rhymes, such as Owen (#4), Jackson (#5), Declan (#7), Ethan (#8), and of course Benjamin (#3). Benjamin is also notable for being a Biblical name which, along with Noah (#9), maintains top 10 status.
Names with British/Celtic origins are also a common theme, totaling 60% of the top 10 boy names. These names include Oliver (#1), Liam (#2), Owen (#4), Henry (6), Declan (#7), and Alexander (#10). Just like Charlotte, the Windsor royal names are also seen in the top 10 boy names, including Liam (the diminutive for William) and Henry (for which Harry is a nickname). Plus, we cannot forget Alexander, notable since before Alexander the Great, and in the top 20 for several years to date.
It is important to also look at the upwardly trending names on the list, such as Atticus (#34), which garnered national attention when the name became more popular despite the character in To Kill a Mockingbird being more complex (arguably racist) in the follow up novel by Harper Lee (of note, the name Harper is #16 for girls). Another boy name rising in popularity is Finn (#11), which is a notable name from television shows ranging from Glee to the animated Adventure Time with Finn and Jake, both favorites among millennials.
Interestingly, Elliott (#16) and Jasper (#30) remain on their crawl upwards on the top 100 boy names, and both were reintroduced onto the list once the Twilight series was released. Although the interest in the books and films seems to have died out somewhat, the names maintain their popularity as the youth who popularized it become of child-rearing age. However, gone is the name Bella from the top 100 names for girls. This millennial phenomenon is also seen in naming with the rise of Hazel (#21) from the book and movie The Fault in Our Stars.
In summary, we at BabyNames.com see a great influence of millennials on baby naming trends as evidenced by the rising popularity of these names and the years the source material was popular. Therefore, we can expect that as the post-Millennials (Generation Z) age to their 20s, we will see computer-related names such as those popularized in video games (Marston, Raiden, Link and Zelda) and even keyboard-related names like Tilde and Dash. Until then, we will enjoy our baby Charlottes and Olivers.
Dr. Mallory Moss is a board-certified nurse practitioner in psychiatry and a founding partner of BabyNames.com. Dr. Moss' passions lay in community-based mental health and destigmatizing mental health diagnoses. Since its launch in 1996, BabyNames.com has been heralded as one of the top parenting sites on the internet. Dr. Moss was also the editor of the popular online parenting advice column, "Ask Grandma Maggie."