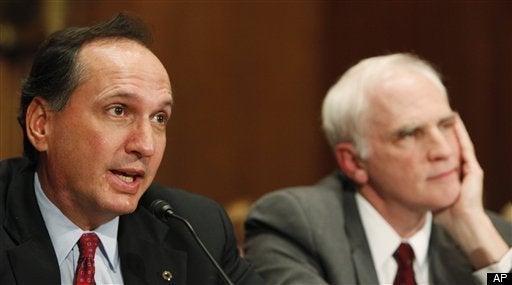 This story has been updated
After months of criticizing the Obama administration's proposal to create a consumer-focused agency dedicated to protecting borrowers from abusive lenders, the nation's top big-bank regulator has reversed course.
The regulator, the Office of the Comptroller of the Currency, now supports an independent consumer agency -- finding itself on the opposite side of the issue from an industry it polices and powerful lawmakers it answers to, who are firmly committed to killing the proposed agency.
The OCC's position has "evolved over time" and they are now "very much in favor of" the proposal, deputy comptroller for public affairs Robert M. Garsson told the Huffington Post on Tuesday. Garsson sent an email on Wednesday afternoon, stressing that "we've always supported having a strong rulewriting agency to write consumer protection rules."
Critics -- including members of Congress -- have argued over the past several months that the OCC has been against the idea from day one. And some advocates for financial reform are skeptical of the OCC's evolved position, calling it "a dollar short, a day late." For example, the OCC continues to prefer that the proposed agency have limited authority when it comes to examining the banks for compliance.
In an interview, Garsson acknowledged that the OCC had placed roadblocks in the path of the proposed consumer agency before evolving its position. One argument that was used by the OCC, the bank lobby and its friends in Congress to stir up opposition to the proposal was that the banking industry's safety and soundness, or its profitability, would inevitably clash with the consumer agency's mandate to protect borrowers, leading to situations where the consumer agency's views "would always prevail," ultimately hurting the bottom lines of the nation's roughly 8,000 banks and thereby drying up credit.
Garsson addressed that claim on Tuesday: "It's unlikely there will be any meaningful conflicts between safety and soundness and consumer protection. The potential for conflicts is very rare." [On Wednesday, Garsson clarified that this is the case so long as the consumer agency does not attempt to require banks to lower their standards for borrowers.]
Last July, the head of the agency, John C. Dugan, criticized the "proposal's attempt to completely divorce consumer protection from safety and soundness," telling the House Financial Services Committee that it "raises real potential problems." He added that "consumer protection cannot be separated from safety and soundness."
In a Tuesday e-mail, Dugan backed off those claims.
"It's hard to say in the abstract what sort of conflicts could arise, though I don't think there will actually be many instances in which there is a genuine conflict," he wrote.
"But where a conflict does arise, I don't think that a consumer protection regulator should be allowed to prescribe a standard that reduces the safety and soundness of an institution. And I'm not talking about consumer protection provisions that simply reduce a bank's profitability -- that's not something I would characterize as conflicting with safety and soundness, and a statutory provision could say so."
That sole issue which could affect the banking sector's health is underwriting standards and the OCC wants that carved out from a potential consumer regulator's portfolio -- though that is not currently part of the proposed CFPA's mandate. OCC officials say they want to be able to set minimum standards when it comes to how banks underwrite loans, which includes factors like minimum down payments, debt-to-income ratios and a verification of a borrower's income and assets (basic things that were largely ignored during the go-go years of home mortgage lending).
Garsson added that Congress should legislate that regulators set up a regime mandating minimum standards; the consumer regulator would be free to beef up those standards if they were set too low.
"Our thoughts on underwriting represent an evolution in how best to reconcile potential conflict between safety and soundness and consumer protection," Garsson said.
But to the disappointment of financial reform groups, the OCC will continue to push for federal preemption -- the practice of supplanting local laws with federal ones -- which the agency claims helps consumers because it allows national banks like Wells Fargo, Bank of America, JPMorgan Chase and Citibank to operate under one federal standard, rather than a collection of different consumer protection regimes. Also, the OCC says it "prefers" that it continue to examine banks for their compliance with the proposed agency's rules, and enforce them when banks run afoul.
Reformers say the preemption argument is nonsense -- big banks already operate under different rules in different jurisdictions for other facets of their businesses. But worse, they say, state and local regulators are best equipped to judge consumer protection in their areas, so why take that authority away?
To reformers, the OCC's history of preempting state consumer protection laws, particularly those that are stronger than federal regulations, show the agency's disregard for consumers. The OCC, in effect, fought for the nation's biggest banks to dismantle strong consumer protection measures.
As for examining the banks and enforcing the rules, reformers want that power in the hands of the proposed consumer regulator -- particularly when it comes to the nation's biggest banks.
So while the OCC's evolved position is sure to upset the powerful bank lobbying groups and their friends on Capitol Hill, it hasn't won it any praise from financial reform groups.
"This is a ploy. They're trying to pick up a few votes to preserve a system that failed," said Ed Mierzwinski, director of the consumer program for the National Association of State Public Interest Research Groups. "They are seeing the handwriting on the wall, that they're going to lose authority because they've screwed up for the last 20 years.
"It's a good story that they're saying this, but I don't believe it. They've lost the fight because they failed to protect the public, and they don't have any credibility left," Mierzwinski added.

"The idea that the OCC would have any leverage is outrageous," said one aide to a reform group. "Why in the world would anyone in Congress be listening to the OCC right now? The banking system collapsed on its watch, and it has made clear time and time again that it takes the side of bank profitability over consumer protection."
The nation's biggest banks -- all under the OCC's watch -- and their corporate owners under the Federal Reserve's supervision were among the biggest beneficiaries of taxpayer-funded bailouts. Taxpayers guaranteed the assets of a few of them, and the Federal Reserve allowed them to borrow money at near-zero rates, allowing them to boost their profits to make up for poor lending decisions during the boom years and eventual losses.
The OCC should be examining the banks to ensure compliance with consumer measures because "we're in the banks all the time, it's part of what we do as examiners, and nobody knows how to do that job better than us," Garsson said.
"Whatever the rules the agency writes, you can believe that we will enforce them," he added. "Examiners are really good at that. If there's a rule there they're supposed to enforce, they'll make sure it's taken care of."
Mierzwinski said the OCC had ample opportunity to crack down on banks' poor practices, yet failed to do so.
"The OCC is the perfect example of an un-enforcer," he said. "They're worse than an un-enforcer. They go out of their way to protect the banks from state enforcement.
"So why are we going to rely on them? We've been relying on them," Mierzwinski said. "That's the system that failed. So it's interesting to me that they're coming along, but it's a dollar short and a day late, and their terms are unacceptable."
Related
Popular in the Community