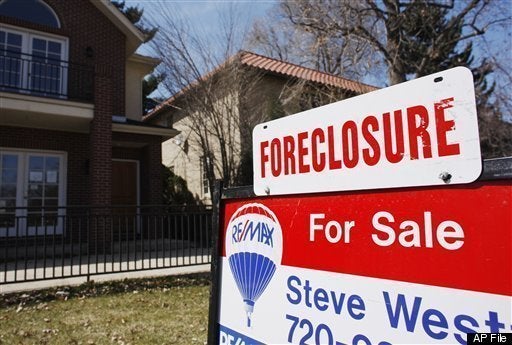 The nation's top bank regulator doesn't believe homeowners are being harmed directly by an ongoing foreclosure fraud scandal, despite multiple reports of banks mistakenly evicting homeowners who aren't even in foreclosure.
For example, Nancy Jacobini said she had been working on a mortgage modification with JPMorgan Chase after falling four months behind when the bank sent somebody to change the locks. "I did not receive any information at all in reference to a foreclosure," she told CNN.
The Office of the Comptroller of the Currency does not view anecdotes like Jacobini's as evidence of consumers being harmed by the unfolding foreclosure fraud scandal. (There are several other similar anecdotes.)
"The core issue remains the improper completion and submission of paperwork required by state law before foreclosing on seriously delinquent borrowers when alternatives to foreclosure are not possible," said Kevin Mukri, a spokesman for the OCC, in an email to HuffPost.
The nation's largest banks have temporarily halted foreclosures across the country after revelations that "robosigners" put their signatures on foreclosure paperwork without verifying any of the information in the documents. It started when a robosigner for Ally Financial (formerly known as GMAC) admitted to signing thousands of foreclosure affidavits without so much as looking at the exhibits. Original notes have been lost as Wall Street banks repacked and resold mortgages as securities.
"Immediately after concerns surfaced regarding Ally foreclosure processing issues, the OCC ordered large national bank servicers to review their procedures to ensure compliance with state and federal law before foreclosing on seriously delinquent borrowers," Mukri said. "As a result, several announced temporary suspensions of their foreclosure proceedings."
Consumer advocates say the scandal is not just about bogus paperwork for seriously delinquent borrowers doomed to foreclosure. They say anecdotes like Jacobini's are symptoms of the same problems at the heart of the robosigner scandal.
"Part of the purpose of having a human being actually look at a file and verify that a particular mortgage should be foreclosed is to prevent that kind of thing from happening," said Alan White, a professor at the Valparaiso University Law School. "OCC assumes incorrectly that foreclosures are initiated (and the robosigning starts) ONLY after all efforts at modifications and short sales are exhausted. This is clearly incorrect. Servicers routinely file foreclosure (with robosigned affidavits) at the same time that their loss mitigation departments consider requests for modification and short sales."
"They're exactly the product of a servicing system that is non-functional," said Ira Rheingold, director of the National Association of Consumer Advocates. "[The OCC is] afraid of saying anything that remotely points to the fact that the banks really have screwed this up, that the servicing industry is completely broken."
White and Rheingold said the well-documented shortcomings of the Home Affordable Modification Program show that servicers are dropping the ball for the seriously delinquent and not-seriously delinquent alike. Treasury Department guidelines require servicers to hold off on referring borrowers to foreclosure while they apply for HAMP, but homeowners and their lawyers say it happens all the time.

"There are several class actions pending for homeowners who allege that they are being foreclosed despite being eligible for HAMP modifications," said White. "In a case where a homeowner should be approved for HAMP modification, but the servicer has lost the paperwork or just hasn't responded yet, the robosigner will send the foreclosure documents to the court without checking to see whether in fact there is an alternative to foreclosure in the works."
Popular in the Community