For the second year running, Lincoln Townley has been commissioned by The British Academy of Film and Television Arts Los Angeles to create a collection of portraits to celebrate this year's honorees at The Britannia Awards being held in LA on Friday.
Jodie Foster, Ricky Gervais, Samuel L. Jackson, Felicity Jones, Ang Lee, and Ewan McGregor are the latest in a long line of celebrities to get the Townley golden touch. His painting of boxing legend Muhammed Ali sold for $623,000 earlier this year. Sir Michael Caine calls Townley the next Andy Warhol.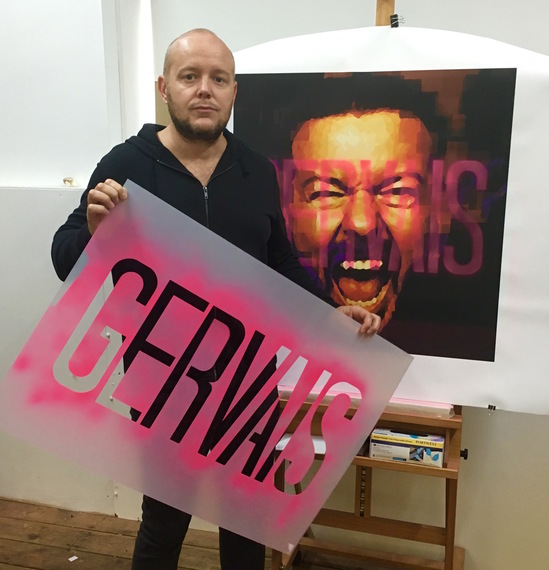 Townley has donated these latest works of art to BAFTA Los Angeles. The funds raised will go towards its ongoing educational and community outreach programming.
The Brit artist has achieved global success with his ICONS series - a collection of paintings of the most famous and influential people in the world.
The London born painter, married to actress Denise Welch, launched the Music ICONS series in September that took over a year to curate and was inspired by the deaths of music legends David Bowie and Prince. Townley was commissioned to paint the "Supermodels" to celebrate LA Fashion week.
Townley is also recognized for his other paintings that explore the darker side of the human personality. His latest show "Retrospective" at London's Saatchi Gallery sold out in three hours.
He has a unique ability to capture the essence of the world's greatest performers.
These are powerful men and women. They have a quality about them that captivates us all. They're like a canvas onto which we project our hopes, dreams and desires. It is testament to their skill and magnetism that they make this possible by opening their light and dark sides to us. We feel they belong to us and the pressures of being what we want them to be while sustaining a private identity of their own often pushes their resilience to the limit. They live life on the edge and that edge is what I've tried to capture in my portraits.
The Britannia Awards is BAFTA Los Angeles' big night out in Hollywood, where Brits and anglophiles come together to honor exceptional people who have dedicated their careers to advancing the art forms of the moving image and to celebrate the long-standing collaboration between the British and American film and TV industries.
Calling all HuffPost superfans!
Sign up for membership to become a founding member and help shape HuffPost's next chapter