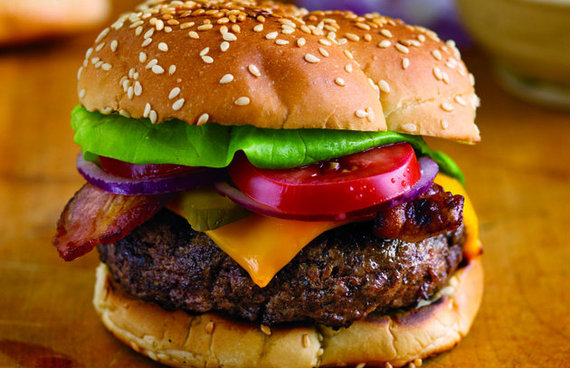 Independence Day is just around the corner, meaning millions of Americans will take to their backyards for a stars-and-stripes-themed barbecue. In fact, July Fourth is the number one grilling holiday, reports the Hearth, Patio and Barbecue Association (HPBA). And the most popular food for grilling--no surprise--is burgers. Eighty-five percent of the people polled by HPBA preferred burgers to hot dogs, chicken, and even steak. Booya!
There is an art to grilling the perfect burger, of course, starting with the meat you buy. (Extra points if you grind it yourself.) I prefer grass-fed beef with a meat-to-fat ratio of 80/20. (Beef that is too lean will yield a dry, flavor-deficient burger.)
Just in time for your summer celebration, here are some of the burger recipes on my website that have tallied the most views:
The Great American Hamburger: A hand-over-your-heart American classic, the kind of burger you crave when you've gone too long without one. Hold the truffled mayo and the sunny-side up egg. Step away from the pickled ramps. On the approved list are ketchup, mustard, pickles, American cheese, tomato, lettuce--you get it.
Inside-Out Blue Cheese Burger: For food safety reasons, the FDA strongly recommends that ground beef be cooked to an internal temperature of 160 degrees. (Use a good instant-read meat thermometer, and insert the probe through the side of the burger toward the center.) Unfortunately, the meat can become dry when cooked to medium-well. An antidote to a dry burger is a flavorful stuffing of blue cheese and butter. If you're not a fan of blue cheese, substitute another cheese, such as grated Gouda, parmesan, or smoked cheddar.
Hay-Smoked Burger with Rauchbier Cheese Sauce: This burger was a hit on the first season of Project Smoke. Raw beef patties are quickly smoked over hay, grilled, then served on toasted buns with a rich and creamy cheese sauce, the foundation of which is German smoked beer. Add other condiments as desired.
SIGN UP for Steven Raichlen's UP IN SMOKE newsletter to learn more about barbecue!
Steven Raichlen is the author of the Barbecue! Bible cookbook series and the host of Project Smoke on public television. His web site is BarbecueBible.com.